televisions
Samsung UN65HU8550 4K LED TV Review
A TV doesn't need to be curved to deliver a great picture.
Behind The Screens
The Samsung UN65HU8550 (MSRP $3,499) is a solid performer—not game-changing, but the large majority of viewers will take no issue with the picture it produces. I measured the same black levels as the top-of-the-line HU9000, and an even brighter overall luminance. Thanks to its Smart LED local dimming, the HU8550 also tested with better uniformity than most edge-lit LCD televisions.
It wasn't all sunshine, roses, and Care Bears, though. The HU8550 tested with a fairly skewed color gamut, meaning the accuracy and purity of its colors could be better. Discrepancies in saturation (how colorful) and hue (which color) also led to gradation errors during color transitions. Finally, like many LCDs, the HU8550's horizontal viewing angle is narrow—you won't get a good picture if you watch from severe off-angles.
Calibration
We calibrate each TV we review to show you what it's capable of under an expert eye. Most of our calibration settings aim to bring the TV closest to international ideals, such as those specified by the International Telecommunication Union. Others, such as ideal peak luminance and gamma, are ideals suggested by the Imaging Science Foundation specifically for operation within a very dark or completely dark room—the same condition we view, test, and calibrate in.
Below are my calibrated settings for the Samsung UN65HU8550, alongside Samsung's pre-sets in Movie mode. Changes involved lowering the Backlight setting from 17 to 10, reducing the TV's 100 IRE (peak level) luminance from about 70 fL to about 40 fL. Settings like Brightness, Contrast, and Color didn't need any tinkering. Most importantly, I used the TV's standard white balance and custom color controls to correct small errors in its grayscale and color production.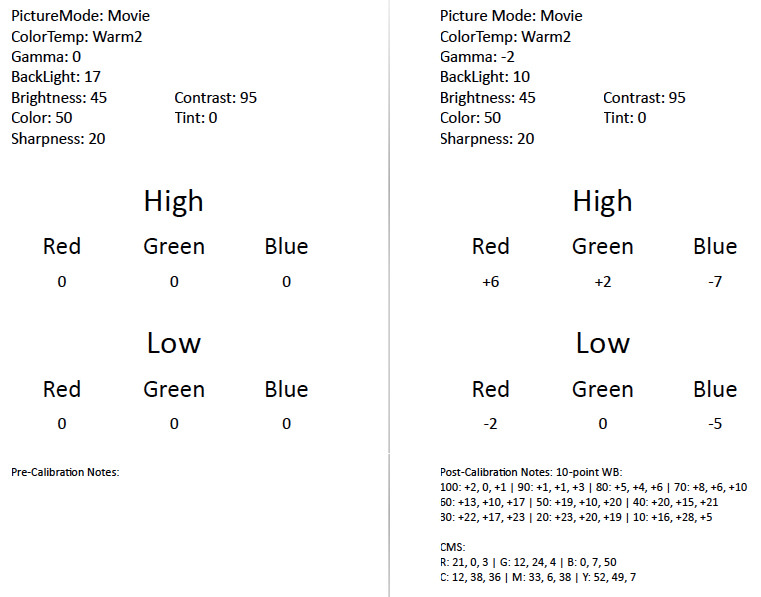 Advertisement - Continue Reading Below
Contrast Ratio
What makes a TV pull you in? Some of it is willing suspension of disbelief, but a lot of it has to do with the television's contrast ratio. A high contrast ratio—which these days is ideally a number in the multiple thousands—lends more immersion to content. We determine a TV's contrast ratio by dividing its luminance at peak white (or 100 IRE) by its luminance at black (or 0 IRE). Simply put, having a high dynamic difference between the brightest and darkest elements on-screen looks more realistic.
The HU8550 performed well here. Using an ANSI checkerboard pattern (a series of equally-sized black and white squares), I measured a black level of 0.08 cd/m2 and a peak white level of 214.10 cd/m2. This gives the HU8550 a contrast ratio of 2675:1, which is decent, but nothing exceptional.

Viewing Angle
There's almost nothing worse than a TV with a great picture that looks shoddy and washed out from the side, but unfortunately, that's most of them these days. The UN65HU8550 is no exception to the rule, but it's better than average: I measured a total viewing angle of 51°, or ±25.5° from center to either side of the screen.
This means that groups watching together won't be able to spread out all over the room, but you won't have to cram together on one couch either. The HU8550 offers a wider viewing angle than similarly sized models, so watching together is still very possible.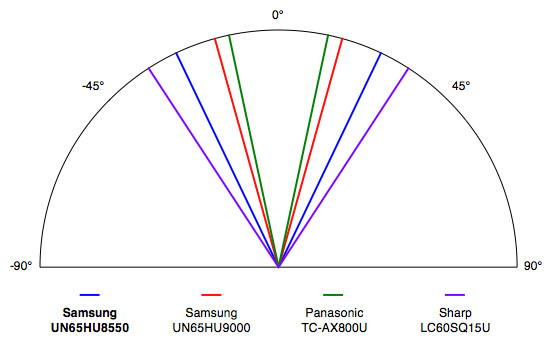 Color Gamut
A color gamut is a visual illustration of a product's color production (at 100% saturation) within a color space. In the case of TVs, we test color points and map them against the Rec. 709 color standard, which is contained within the CIE 1931 color space. The Rec. 709 standard contains ideal color points for a TV's red, green, blue, cyan, magenta, yellow, and white points. Deviating radically from those standards can really mess with the way movies and TV shows look, either by blowing out subtle details, or by stemming the vivacity and brilliance of colors on-screen.
Fortunately, the HU8550 tested with no major color issues—though it wasn't perfect, either. Testing revealed that the TV's green, magenta, and cyan points are all mildly but notably skewed into the wrong hue, which can spell trouble for more complex content with lots of subtle gradation and color mixing. Using the TV's Custom color space control, I was able to gently nudge these points into the ideal locations.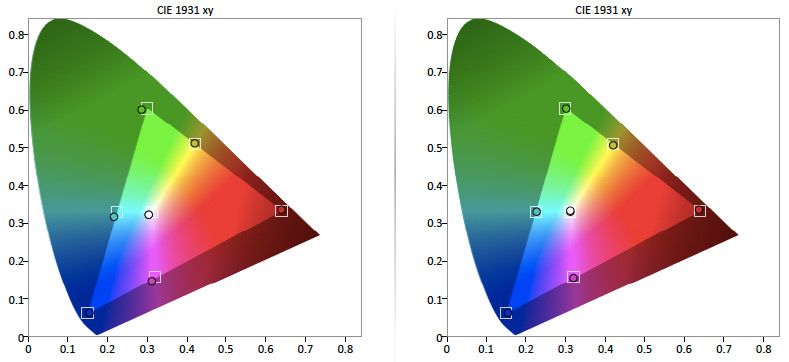 Grayscale & RGB Balance
In the world of digital displays, the grayscale refers to the transition in luminance from black (least possible luminance) through gray to white (maximum luminance). Ideally, all of the shades across a TV's grayscale have the same color temperature—meaning they're roughly the same "kind" of neutral tone. Televisions adhere to a grayscale point called D65, which refers to a color temperature of 6500K. This is the same color temperature that studios use when capturing and mastering content, so it's important for a television to do the same.
Errors in grayscale accuracy are generally expressed as a collective called DeltaE, wherein a DeltaE of 3 or less is considered acceptable, and will look best to viewers. In its Movie pre-set, the HU8550 tested with a DeltaE of 5.09—not bad, but it still needed a little tweaking during the calibration process. After calibration, I achieved a grayscale DeltaE of 1.25, which is well within acceptable error limits.
Error within the grayscale can usually be attributed to an imbalance in sub-pixel emphasis. Most TVs have a red, green, and blue sub-pixel build within their panels; ideally, each sub-pixel will be emphasized evenly, achieving the most neutral, colorless shades within the grayscale. Over-emphasizing green or blue will result in greenish or blueish blacks, grays, and whites, respectively.
Prior to calibration, the HU8550 tends to overemphasize the blue sub-pixel. This is the most acceptable overemphasis because humans are less sensitive to blue than to red or green, but it still requires correction. The HU8550's 2- and 10-point white balance controls allow an experienced calibrator to tweak the sub-pixel emphasis in conjunction with light-measuring equipment; using these controls, I was able to slim down and balance the sub-pixel emphasis, achieving the acceptable grayscale DeltaE detailed above.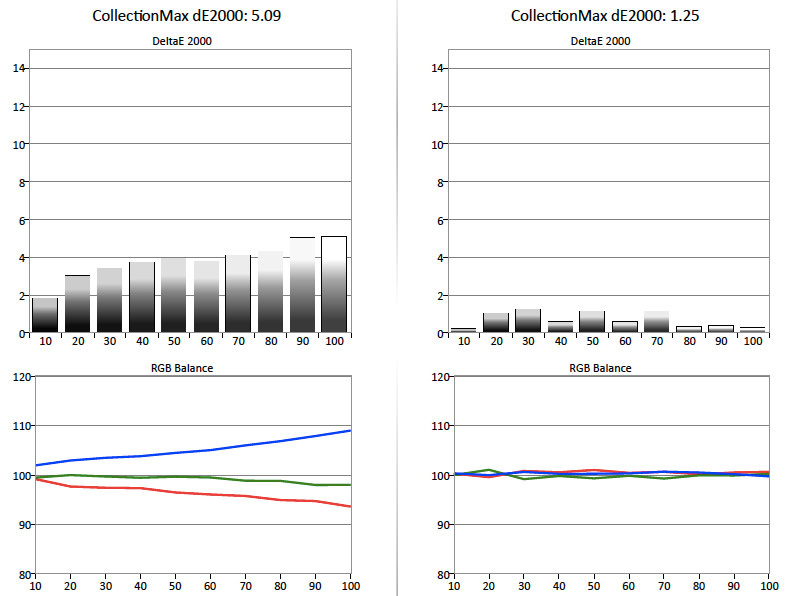 Gamma
If black (0 IRE) is the bottom of the dynamic range, and white (100 IRE) is the top of the dynamic range, gamma is what controls everything in the middle. A gamma curve determines how much luminance is added at each step of the grayscale, correcting the digital formula so that it looks correct to our vision, which is essentially analog. Different gamma sums are appropriate for different environments—a gamma of 2.2, for example, is ideal for a moderately lit room, while a gamma of 2.4 is ideal for a completely dark room.
Out of the box (with Smart LED set to Standard), the HU8550 tested with a gamma sum of 2.15. We noted a steady gamma of about 2.3 until about 80 IRE (80% across the grayscale), where the TV's local dimming causes a sharp drop in luminance increase between 80 and 100 IRE. This isn't really something most viewers will notice. During calibration we aim for a gamma sum of 2.4, and ended with a gamma sum of 2.38.
Our editors review and recommend products to help you buy the stuff you need. If you make a purchase by clicking one of our links, we may earn a small share of the revenue. Our picks and opinions are independent from any business incentives.
Our editors review and recommend products to help you buy the stuff you need. If you make a purchase by clicking one of our links, we may earn a small share of the revenue. Our picks and opinions are independent from any business incentives.
Advertisement - Continue Reading Below
Compare Prices
Our editors review and recommend products to help you buy the stuff you need. If you make a purchase by clicking one of our links, we may earn a small share of the revenue. Our picks and opinions are independent from any business incentives.
Get Our Newsletter
Real advice from real experts. Sign up for our newsletter
Thanks for signing up!