televisions
Samsung UN55H6350 LED TV Review
An awesome trifecta of handsome design, slick features, and a beautiful picture.
$5,599.96 at Amazon
55 in.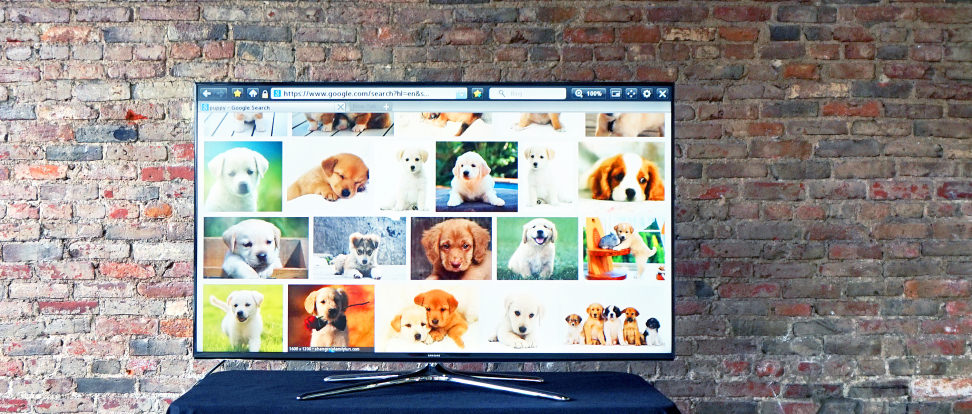 4K (UHD) televisions may be here to stay, but make no mistake, TVs with Full HD (1080p) resolution are still very much the standard for cable/satellite, Netflix, and current-gen video game consoles.
As such, the UN55H6350 (MSRP $1,399, online for $900) is still a perfectly relevant option. It's a Full HD (1080p) TV from Samsung that straddles the line between mid-range and high-end, offering a solid combo of top-tier smart features and a frills-free design. This means you're paying for what matters—a good picture—without too many extraneous add-ons.
Best of all, time in the lab proved that this Samsung not only looks good and works handily, it stands up to some of the better LED TVs we've tested recently. If you're craving high contrast, rich color accuracy, and solid motion performance, the UN55H6350 delivers the goods.
Picture Quality
Very solid performance right out of the box.
Any TV can benefit from a professional calibration—a tune-up that helps the TV present the cleanest and most pleasing picture possible. Ideally, however, you won't need to do much tweaking to get a great picture, and that's exactly what you get with Samsung's UN55H6350.
Time in the lab revealed very solid performance for an edge-lit LED TV, including satisfyingly dark shadow tones, bright highlights, clean, color-free neutral shades, and rich, accurate colors; basically, what you want when you hire a calibrator. Best of all, the TV doesn't rely on any video processing or software enhancements to achieve these results—they're indicative of pure panel quality, especially if you're using the Movie picture mode.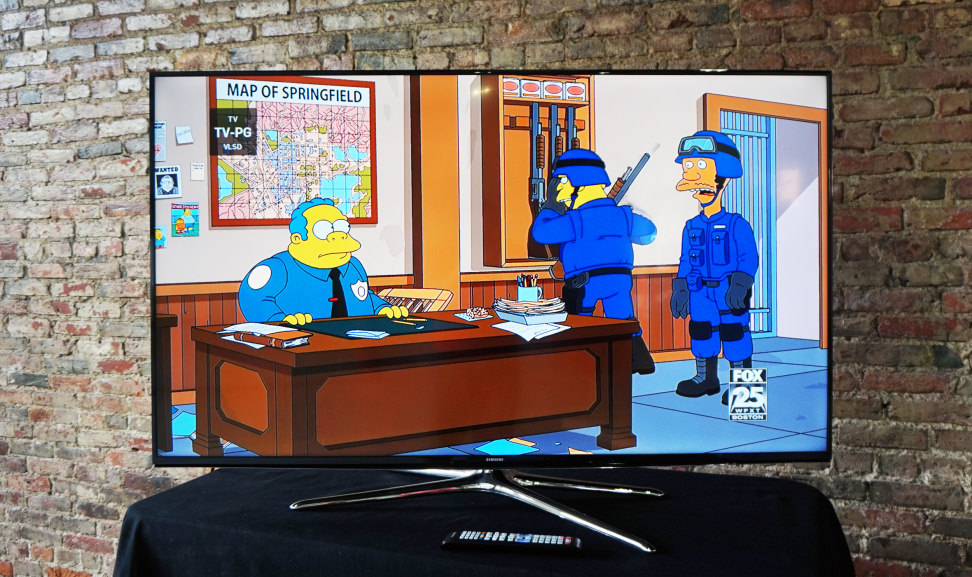 This means that almost anything you watch looks exactly how it should, and you can raise and lower the Backlight (screen brightness) to suit the room without impacting the TV's performance. The H6350's naturally high contrast complements shadow-rich content like movies/films, while the vivid will work for cable cartoons and the 120Hz panel is great for sports or twitchy video games.
If you plan to watch in absolute darkness, you'll probably notice flashlighting in one or more of the corners.
There are a couple little drawbacks, however. First off is the TV's viewing angle—you simply can't watch from obtuse off angles without picture degradation and mild color shifting. Fortunately, the panel swivels atop the stand, so you can shift if you need to. Secondly, if you plan to watch in absolute darkness, you'll probably notice backlight bleed (flashlighting) in one or more of the corners.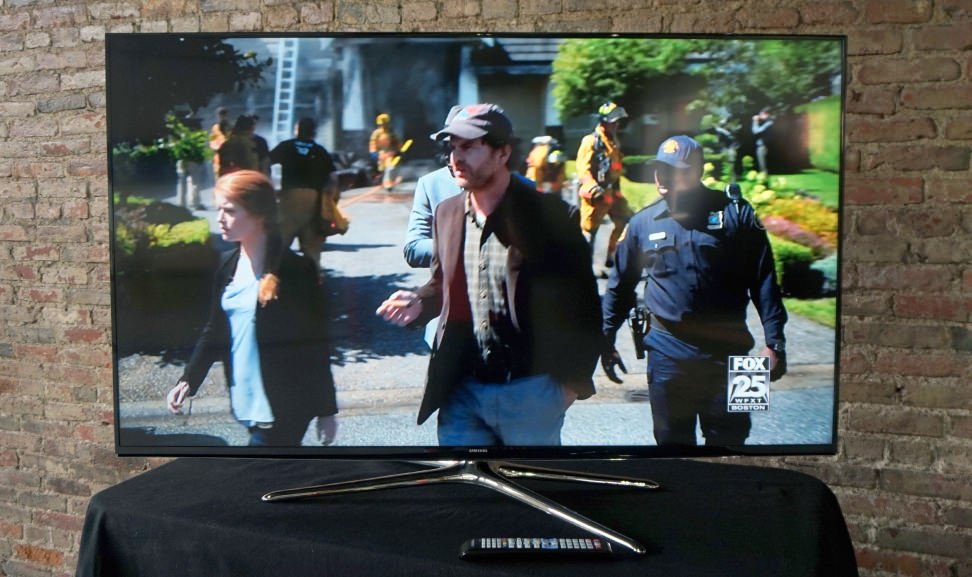 Overall, however, most people will be pleased as punch with this Samsung's picture quality. To check out the hard data and my calibration settings, head over to the Science Page.
Design & Usability
This TV captures a posh appearance without the usual high price tag.
For a 55-inch LCD, the H6350 is not terribly expensive—you can find it online for less than $900—but it still looks comparable to Samsung's pricier 2014 models. Modern touches like a spindly silver stand, thin bezels, and a slim profile mean the H6350 looks classy, even if the materials are mostly lightweight plastic.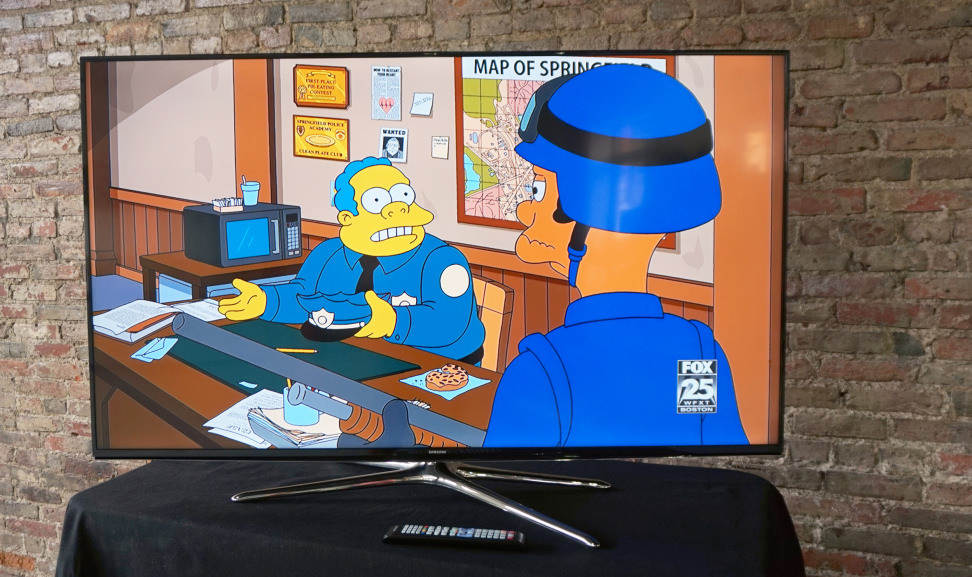 Input/output ports are tucked away on the back of the TV, putting all emphasis on the screen from the front. Like most modern HDTVs, the H6350 aggregates its audio/video ports into an L-shaped cutout, allowing for both horizontal and vertical cable orientation. You'll find four HDMI inputs, three USB inputs, a coaxial jack for cable/antenna, digital and analog audio out, ethernet (LAN) input, and a shared component/composite cluster.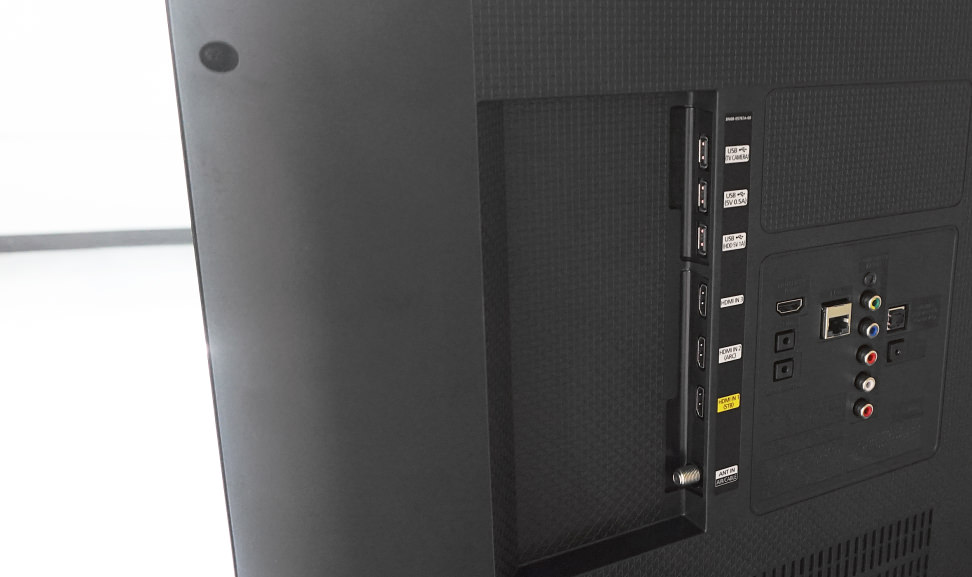 Instead of a series of button controls, the UN55H6350 uses a "Jog Stick," a single button/stick combination hidden on the back of the TV. Pressing the Stick turns the TV on, and pressing it again brings up a four-way contextual menu for functions like the menu software, volume, or channel selection.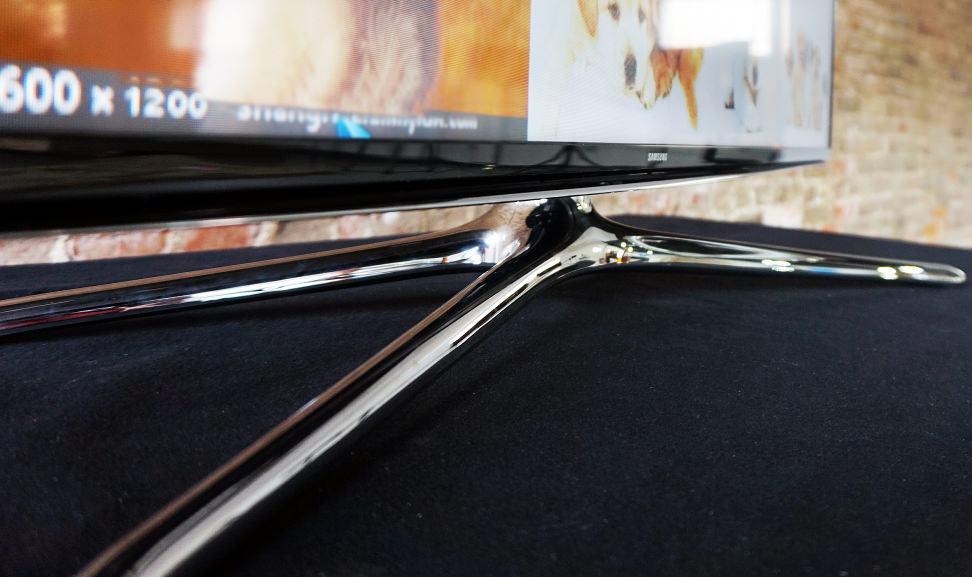 While the Jog Stick stands out as entirely unique to Samsung TVs, we still recommend sticking with the included remote whenever possible. It's not as slick as, say, LG's Magic Remote, but it makes navigating the Smart Hub/menu software an easy enough task, with plenty of dedicated hotkey buttons.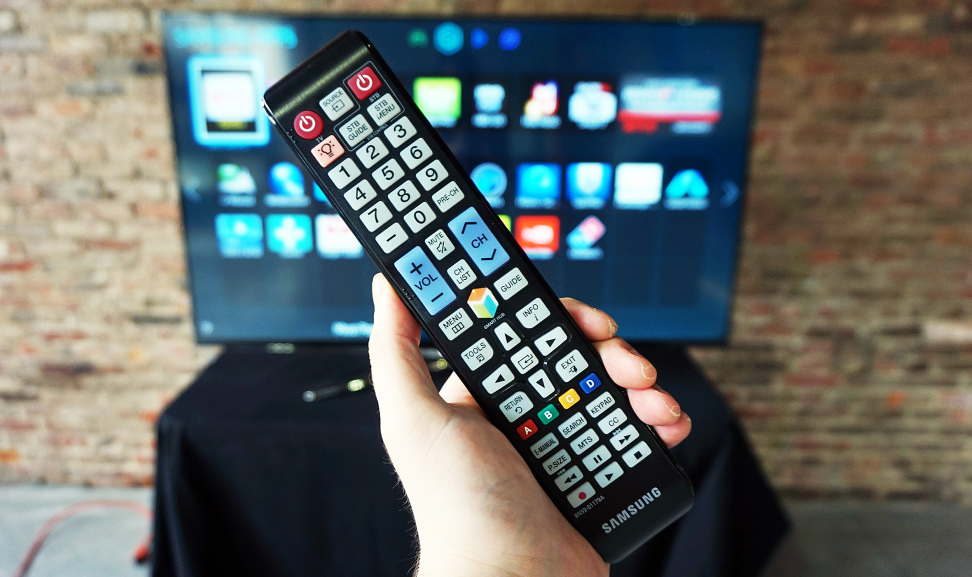 The H6350 is also amongst that rare class of HDTV that can swivel upon its stand, meaning the panel can turn to the left/right without the stand moving alongside it. This is especially useful for a TV this size, since it means you can more comfortable use it in a very large room without worrying too much about placing it to perfectly suit every angle.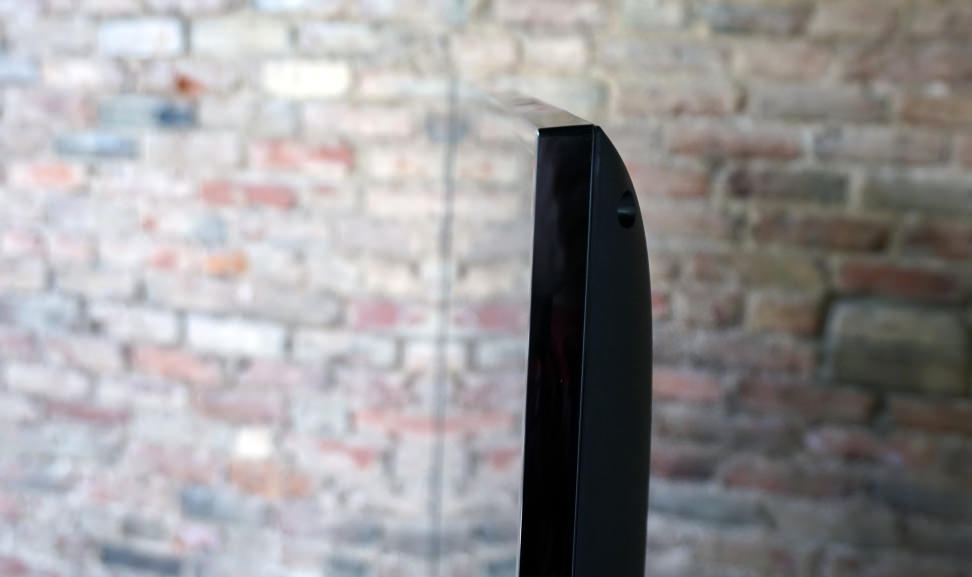 Comparable Products
Before you buy the Samsung UN55H6350, take a look at these other televisions.
Software & Smart Features
More smart features than you can shake a remote at.
The UN55H6350 falls within the upper tiers of Samsung's midrange TV lineup, meaning it comes equipped with the company's full 2014 smart platform, called the "Smart Hub." The Smart Hub is broken up into four pages for different kinds of content: TV/Movies, Multimedia, Apps, and Games (there's also a fifth page, called "On TV," that appears when a cable/satellite connection is active.)
The Smart Hub's organization makes it very easy to keep track of everything, which is good, because there's lots to keep track of. On top of all the most basic, popular apps—including Netflix, Hulu Plus, Amazon Instant Video, Facebook, Skype, and Twitter—there are a ton of apps unique to Samsung like Fitness and SyncPlus.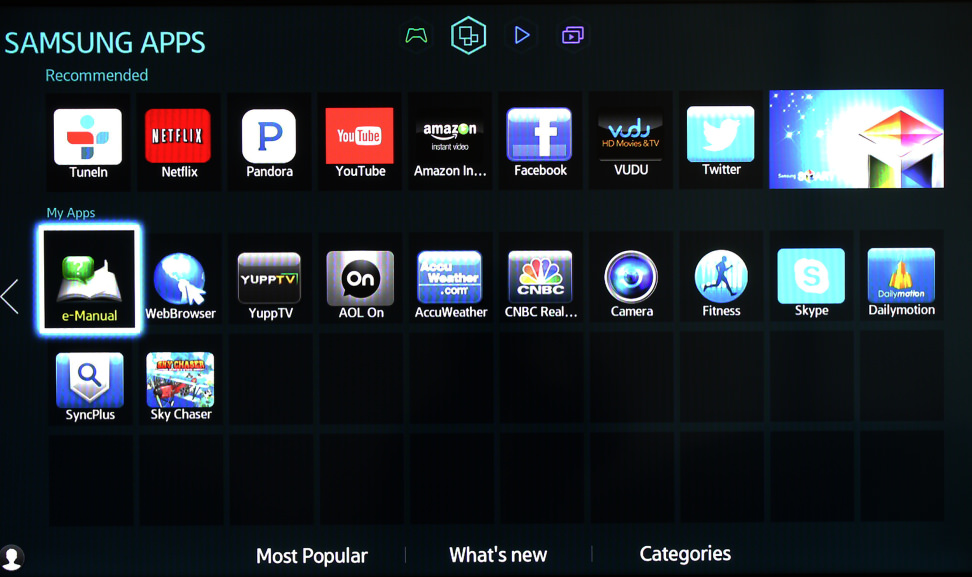 Once you've downloaded and signed into your favorite apps, the TV/Movies page will allocate all of the content you have access to into a single, searchable headquarters. For example, if you search for a movie like The Dark Knight, you'll be able to see all the apps you can stream it from and the prices available.
There are also tons of ways to stream/view your personal media, via USB or over the same WiFi network, and lots of better-than-average games and peripherals by which to play them. You can read our much more in-depth breakdown of the 2014 Smart Hub here.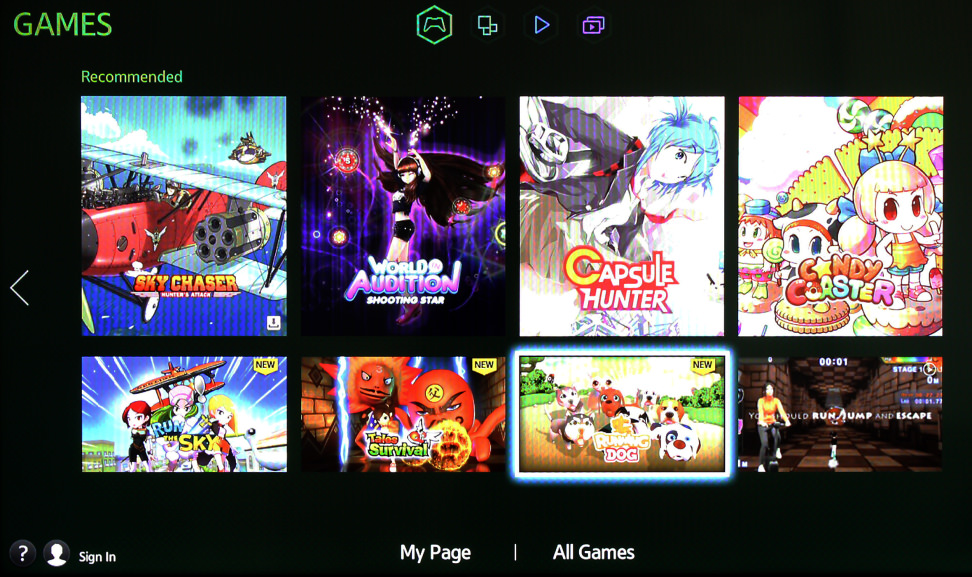 Samsung's menu software—settings for Picture, Audio, etc.—is equally fleshed-out. Users can choose from numerous Picture and Audio mode pre-sets, and there are ample tools to make everyday use easier, like an off timer, SSID network search, online manual, etc. Samsung's simple blue menu is clean and easy to both navigate and read.
If you're a really advanced user, you'll be glad to know that the Picture menu contains plenty of advanced calibration controls, too. Samsung includes both 2- and 10-point white balance options, a color tuner (CMS), a gamma slider, and a number of software enhancements like Auto Motion Plus that can be used to further tailor the picture as you see fit.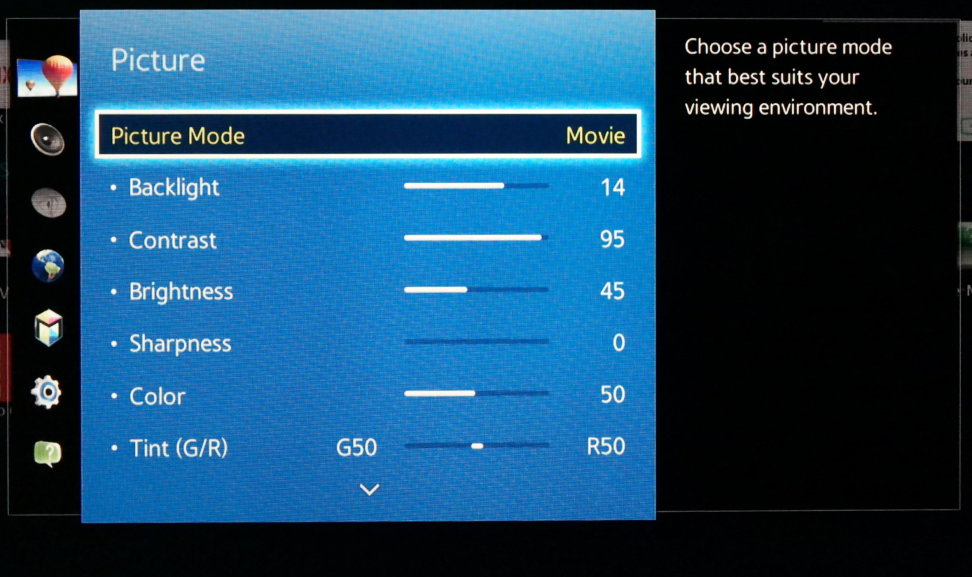 The Verdict
A smart choice for almost any buyer.
At an online price of about $900, the UN55H6350 is hard to argue with. It offers up a creamy smooth trifecta of unique design, great smart features, and picture quality that punches above its price tag. If you're hunting for a big, beautiful picture that looks good as soon as you turn it on, this Samsung is on-point.
In terms of price-to-performance, this TV finds major competition only in Sony's 55-inch W800B (MSRP $1,499). Sony's upper midrange option boasts slightly better picture quality overall, so it might be a better choice for especially picky users.
The H6350 offers a creamy smooth trifecta of design, smart features, and picture quality.
You can find both this Samsung and Sony's W800B for about $900 online. We recommend this Samsung for users looking specifically for a smart TV, and especially for those of you who like to watch with lights on. If you've already got a modern game console or a streaming device like Roku or Chromecast, the Sony is the better choice for shadow depth and uniformity.
Either way, if you're in the marker for a good, affordable 55-inch TV, the H6350 is a great place to start.
Our editors review and recommend products to help you buy the stuff you need. If you make a purchase by clicking one of our links, we may earn a small share of the revenue. Our picks and opinions are independent from any business incentives.