televisions
Samsung UN55ES7500F LED TV Review
The Samsung UN55ES7500 (MSRP $3,379) is the model right below Sammy's flagship. What's the difference between the two? Not much.
$3,379.00 MSRP
Buy now at Amazon
55 in.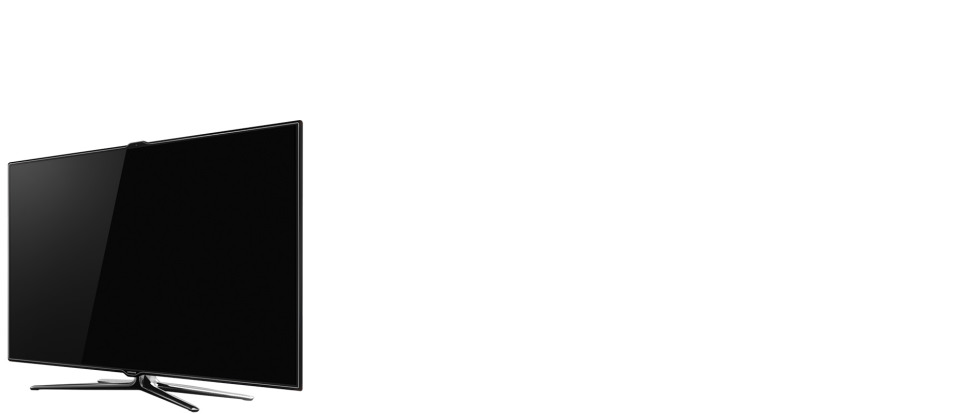 Introduction
The Samsung UN55ES7500 (MSRP $3,379) is the model right below Sammy's flagship, the ES8000. What's the difference between the two? Not much. The ES7500 comes with the goodies as the flagship, including voice and motion controls, the Smart Touch Remote, IR blaster, and Samsung's excellent smart TV platform. The actual differences include the stand, a less powerful local dimming feature, and inferior motion processing.
Testing will often tell a different story and when we ran the numbers, we found the two TVs were very similar with a few noticeable differences. The ES7500 consumed slightly more power, the contrast wasn't as good, and the viewing angle was worse. Every other great feature that the ES8000 has is present on the ES7500.
Design
The ES7500 defines slim and sleek.
Samsung's high end TVs are ultra slim, light, and modern—the UN55ES7500 is no exception. There is a super thin bezel surrounding the screen, followed by a strip of clear plastic that goes around the bezel. This clear plastic strip adds an elegant touch to the whole design, much like the Panasonic Viera TC-L42E50. This Samsung base, which looks like a chrome chicken foot, might be too modern for some, but I think it complements the design nicely.
Samsung hits all the right notes when it comes to ports on the ES7500. There are three HDMI ports, three USB ports, a digital audio output, a headphone audio output, a 3.5 mm audio input, an adapter for a composite input, a component input, an antenna input, an Ethernet jack, and finally an ex-link port. What the heck is an ex-link port? It's primarily there for Samsung technicians to use in order to run diagnostics on your Samsung TV.
Smart TV Features
The most innovative smart TV features... plus Angry Birds!
Samsung and LG are leading the industry when it comes to smart TV features. Tired of using that boring remote to interface with your TV? The ES7500 has you covered with a touch-controlled remote and a camera on the TV that allows for motion controls. There's also voice control, but you knew that, right? All of these features are very well-implemented. The Smart Touch Remote makes accessing internet content and using the on-screen keyboard easier. Voice controls allow you to turn the ES7500 on/off by uttering the simple command, "Hi TV. Power on/off."
Samsung's smart TV platform has a great interface, called the Smart Hub, with plenty of apps that will satisfy most users' needs. The whole experience is very fluid: pressing the Smart Hub button on the remote is a near-seamless transition to the smart interface. It is important to remember that while Samsung may have some of the best smart features, the whole experience pales in comparison to what consumers can find on their smartphones.
As far as motion controls go, you can use them to navigate the smart interface. More importantly, Angry Birds was released on both the ES7500 and the ES8000, and works with motion controls. It may be gimmicky, but it's one hell of a crowd-pleaser and a lot of fun until your arm gets tired.
Comparable Products
Before you buy the Samsung UN55ES7500, take a look at these other televisions.
Picture Quality
The ES7500 performs splendidly in most areas, excepting its poor viewing angle.
There isn't a lot to dislike about the Samsung ES7500's picture quality. In most areas, this TV was an above average performer. Most impressive are the ES7500's color consistency and accuracy. The range of colors that this TV was able to produce was almost identical to the industry standard range of colors. In layman's terms, this means that movies you see on the ES7500 will look close to how filmmakers intended them to.
There isn't a lot to dislike about the ES7500's picture quality.
Motion performance was decent on the ES7500. There was moderate blurring during our moving image test, but nothing bad enough to detract from a movie experience. Our line test, which has vertical lines moving horizontally across the screen, produced very jagged lines, something we didn't expect from a TV of this caliber. Color trailing, which we test by having squares of varying colors move across the screen, was non-existent.
Unfortunately, the total viewing angle of 22° was quite narrow. This is an area that TVs with LCD screens do not excel in, but the ES7500 did especially poorly in this catergory.
3D
Great 3D and free glasses. What more could you ask for?
Samsung has really stepped up their 3D experience for all of their 2012 TVs. They are utilizing active 3D technology, which means that the 3D glasses sync up with the TV in order to display two separate and alternating images. This whole process creates the illusion of 3D, and it's an illusion that I'm quite happy with. Samsung includes four pairs of 3D glasses with the ES7500, making them one of the only TV companies to include active 3D glasses with their TVs. Take note, Panasonic and Sony.
The actual 3D experience on the ES7500 is very enjoyable. The picture is treated to the added depth that 3D brings and there will occasionally be times when images pop out of the screen. Image ghosting was never a problem on this TV. The included glasses may look goofy, but they're actually very comfortable—you might forget that you're even wearing them after a few minutes.
Conclusion
It may be expensive, but the Samsung ES7500 delivers top-tier performance.
Samsung's UN55ES7500 is one heck of a TV. It includes every top-of-the-line feature like 3D and internet connectivity. What's more, it actually impliments these features well.
We numerous positive things to say about this TV. The color accuracy is very good, the screen uniformity is great, and the 3D experience that it provides is impressive. Samsung's smart TV platform is just as good as it is on the ES8000, so consumers who purchase any of the ES7500 models will be in for a treat. With its lower price tag compared to the UN55ES8000 ($3,379 vs. $3,749), the UN55ES7500 is still a pricy TV, but it is also a clear-cut winner.
Our editors review and recommend products to help you buy the stuff you need. If you make a purchase by clicking one of our links, we may earn a small share of the revenue. Our picks and opinions are independent from any business incentives.