televisions
Samsung UN50EH5300F LED TV Review
On the cusp of being a no frills, low-end model and a super-thin smart TVs.
$699.99 at Amazon
50 in.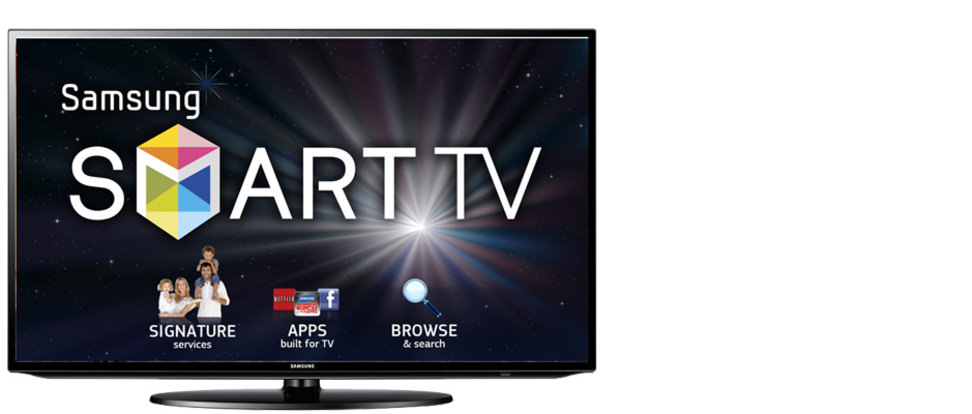 Introduction
The 50EH5300 is on the cusp between Samsung's no frills, low-end models and the company's super-thin smart TVs. For an MSRP of $1,200 you'll get a HDTV with a cheaper appearance and a simpler design than Samsung's high-end products, with a taste of the Smart Hub, Samsung's content-rich internet headquarters. After testing it, we can also assure you that its color and contrast integrity is right up there with the pricier TVs; the EH5300 is a solid deal.
Design
A design identical to Samsung's EH5000 and EH6000 series.
All of the EH-series Samsung TVs feature this design. You know the one: a thin-bezeled screen, housed in matte black plastic, perched atop an oval-shaped stand. While not as flashy, light, or thin as their high-end ES-series products, they're still pretty easy on the eyes.
The usability of this design is also more or less flawless (though it's not terribly interesting). Like all of the company's 2012 TVs, the EH5300 makes use of Samsung's Jog Stick, which replaces traditional on-set controls. The TVs connectivity options are located on the right-hand side/back of the TV and offer a decent array of choices. Most notable of these are three HDMI inputs and two USB ports.
Smart TV Features
The only difference between the EH5000 and the EH5300 is that the latter gives you access to Samsung's Smart Hub.
The Smart Hub was our 2011 pick for best smart platform and it's in the running to receive those honors again this year. It's jam-packed with useful (or at least interesting) content, giving users access to social networks, TV, movies, music, a web browser, and a generous collection of apps. Take it from us: Samsung's Smart Hub is a highly welcome addition to this TV's basic functions, and makes a huge difference in the long run.
The menu consists of simple bundles of settings, with the usual array of categories like Picture or Sound. Most of these menus are divided into sub-menus for the more complicated TV features, should you want to fiddle with them. However Samsung has done an excellent job of hiding them away, allowing you to decide what level of complexity you're ready to initiate.
Comparable Products
Before you buy the Samsung UN50EH5300, take a look at these other televisions.
Picture Quality
The Samsung UN50EH5300 does a lot of things well.
The EH5300 has fairly deep blacks and very bright whites, giving it an excellent maximum contrast ratio. The TV also adheres well to international standards for HDTV color; in other words, the EH5300 makes most content look excellent.
While it didn't showcase perfection in any one area, the UN50EH5300 has a solid skill-set in areas not related to contrast and color. It has decent motion performance, average audio, and wont result in a high electricity bill.
Almost everything about it is either acceptable or great, save for one thing: the viewing angle (how far from center you can watch without contrast issues) is very narrow, meaning it isn't a great TV for large groups.
Conclusion
An excellent TV for a fairly excellent price.
We might have a few qualms if it were any more expensive than the $1199 MSRP, but we feel that—given its performance and features—the price is an appropriate representation of the TV's value.
The whole package includes a sizable screen, great contrast and color, decent motion and audio performance, and access to Samsung's friendly smart platform. The only drawback here is the TV's narrow viewing angle.
This is a great budget TV if you want to save some money, but still have access to all the same internet features available on Samsung's higher-end models. It's got comparable performance parameters to more expensive 2012 Samsung HDTVs, and barring 3D, has almost all the same features as those higher priced models. The UN50EH5300 is a smart investment and a solid TV.
Our editors review and recommend products to help you buy the stuff you need. If you make a purchase by clicking one of our links, we may earn a small share of the revenue. Our picks and opinions are independent from any business incentives.