televisions
Samsung UN46ES6580F LED TV Review
A sister model to the 6500 series, it comes standard with a Samsung USB webcam.
$1,899.00 MSRP
Buy now at Amazon
46 in.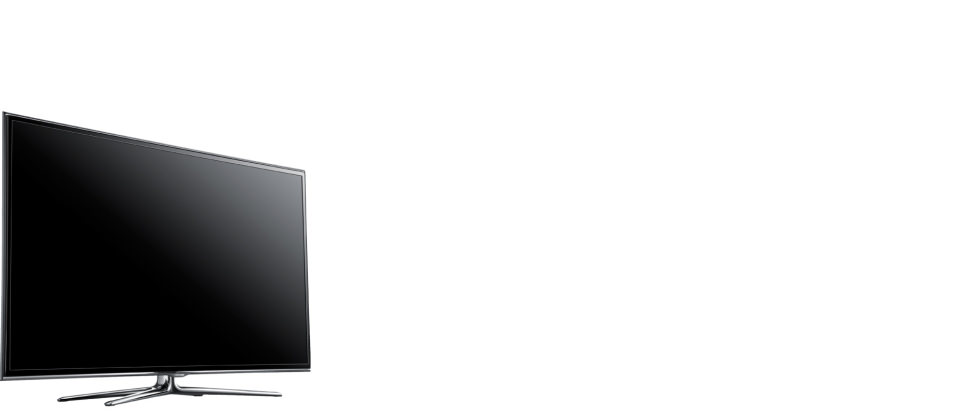 Introduction
The 46-inch 6580 HDTV from Samsung (MSRP $1899) is a sister model to their 6500 series, with just one difference between the two. The 6580 series, unlike the 6500 series, comes standard with a Samsung USB webcam which is designed to be used in conjunction with Skype video calls.
The 6580 is another series in Samsung's 2012 line-up to include a super slim profile, a nigh-invisible bezel, active 3D technology, and access to the Smart Hub, Samsung's 2012 Smart TV platform.
Design
Samsung's 2012 TVs are stylish, minimalistic, and easy to use. The ES6580 is no different.
The ES6580 series features a very slim profile, an X-shaped metal stand, and an almost bezel-less display panel. The whole thing makes for a smart looking TV (and whaddya know, it's a smart TV) that's as easy to carry around as it is to look at. The finished product only weighs a little over 33 lbs and its design parameters fulfill our expectations for both form and functionality.
The placement of the Jog Stick—Samsung's 2012 TV control scheme—and the ports are sensible, and both are easy to locate. The TV also swivels, making it easy to access HDMI and USB ports. The 46ES6580 is a good-looking TV that's very easy to set up and use.
And, oh yeah, it comes with a webcam. Yay.
Smart TV Features
The ES6580 sports standard Samsung menus and Wi-Fi-ready access to their award-winning Smart Hub.
Samsung's azure-colored, opaque menus are well laid out. Pressing the Menu button will bring you to a vertical row of sub-menus, including (but not limited to) Picture, Sound, and Settings. This is where you'll calibrate the picture, set the speakers the way you like, change the menu language to French, or steal your neighbor's unprotected WiFi.
...a wealth of internet-based content
The Smart Hub, Samsung's smart platform, includes a wealth of internet-based content that you can access via a wired or wireless internet connection. Samsung updates their smart hub regularly; there are enough apps and widgets to allow it to be everything from a brief entertainment stop to something you use every day for organizing or improving your quality of living.
Comparable Products
Before you buy the Samsung UN46ES6580, take a look at these other televisions.
Picture Quality
Like so many of Samsung's 2012 HDTVs, the UN46ES6580 is a decent core performer.
The ES6580 is a TV that sounds and looks good, yet in some ways it didn't meet our expectations. We've come to expect a certain quality of craftsmanship out of Samsung this year: Their TVs usually have very accurate colors, decent audio, and are easy to calibrate out of the box.
Samsung's ES6580 has mostly strong points, but a couple of weaker areas you should consider before purchasing it. The color performance was solid, but not quite as strong as similarly priced Samsung series above and below this one, specifically the ES6500 and ES7500 series.
The ES6580's motion performance was decent, but not spectacular. Turning on the TV's motion processing results in smoother overall motion, but also subjects the viewer to the widely maligned soap opera effect.
3D
Right now, Samsung and LG are neck and neck to having the best home 3D in the business.
Samsung's 3D televisions come equipped with two 3D modes: HD 3D, which comprises a full 1080p 3D signal, and a 2D-to-3D converter that turns 2D content into a kind of "3D lite." It's like 3D, but with half the depth of field. The upside is that you can make anything look somewhat 3D, and it usually looks pretty decent.
The results have varied this year, but for the most part, many Samsung 3D TVs have maintained good contrast and color accuracy while displaying 3D content—something that's harder than it sounds, due to the major changes the TV goes through while broadcasting 3D. Unfortunately, the ES6580 is not the strongest performer in this area. The TV's contrast and color suffer a little in 3D, although the effect is still very good.
Conclusion
It may be the perfect TV if you really want a webcam.
The Samsung ES6580 is good TV, but most of its best features are the ones you'll find on almost all of Samsung's 2012 line-up. The robust Smart Platform, immersive 3D, and slick design/interface aside, the ES6580 has proven to be a slightly modified version of the ES6500 series, packed up pretty with a little webcam. The differences between the two are quite simple. Where the ES6500 is the better television in color integrity, the ES6580 is brighter, which gives it a stronger contrast ratio. Its contrast ratio is bordering on plasma quality while the ES6500's is merely average.
The bottom line here is that, within the realm of modern TVs, any consumer would be lucky to own the UN46ES6580 (MSRP $1899). Yet it's actually subpar for Samsung. It may be the perfect TV if you really want a webcam, but otherwise, the ES6500 is the better choice.
Our editors review and recommend products to help you buy the stuff you need. If you make a purchase by clicking one of our links, we may earn a small share of the revenue. Our picks and opinions are independent from any business incentives.