televisions
Samsung PN64H5000 Plasma TV Review
The technology is on the decline, but plasma still dazzles.
$2,099.99 MSRP
64 in.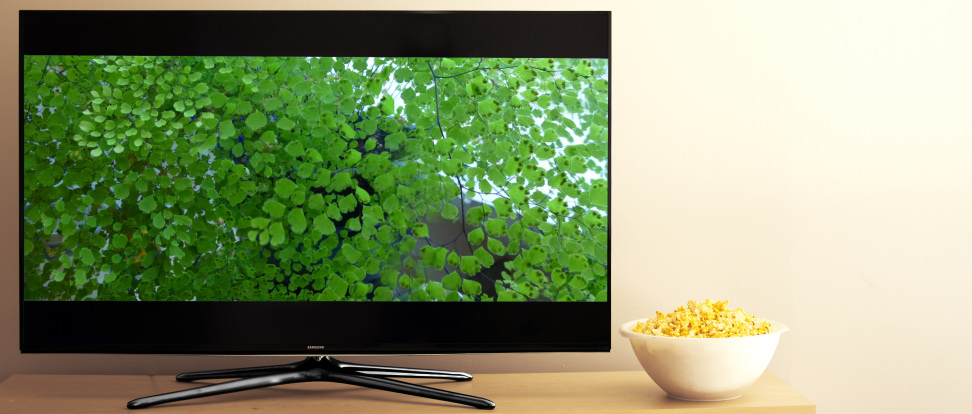 Plasma production may be on its way out, but there are still a couple of companies supporting the lauded TV tech. The Samsung PN64H5000 (MSRP $2099) manages to reiterate some of the success of last year's F8500, one of the best TVs we've ever tested.
The 64-inch H5000 minced our lab tests, proving that plasma tech still has plenty to offer. Deep black levels, a wide viewing angle, and beautiful colors mean a lot of picture quality value from this TV.
The $2,000 price tag is fair, but for $1,300 online, the PN64H5000 is an absolute steal. It may not dabble in smart features or tinker with 3D, but it's a great choice for consumers seeking the simplest approach to picture quality in a big screen.
The Picture
Plasma ain't dead yet.
Picture quality aficionados were greatly saddened by Panasonic's exit from the plasma business last year, but Samsung makes a solid plasma, too—and the H5000 is one of them.
Time in the lab revealed stellar black levels, just about on-par with last year's F8500. In fact, while it's not as bright as the F8500, the H5000 produces terrific contrast overall, in part thanks to the addition of Samsung's Black optimizer mode. Viewers can expect truly deep shadow tones and a decent amount of peak luminance.
The H5000 has commendable color production—colors look especially rich and vibrant.
This TV also has commendable color production, matching the international standard for HDTV almost to a letter. Primary and secondary colors look especially rich and vibrant—just don't sit too close to the huge screen, lest you be distracted by the dithering that's natural to the way all plasma TVs work.
In short, this TV's picture is praiseworthy from top to bottom. The H5000 may be quite simple as a whole product, but it wins repeatedly on the picture quality front. A wide viewing angle and smooth motion seal the deal. If you're just looking for good, reliable performance, keep an eye on this one. Just keep in mind that you'll need a good deal of control over the light in the room—the H5000 is a little on the dim side (compared to modern LED LCDs), so tons of ambient light or sunlight will ruin your fun.
The Look & Feel
Basic as they come
For all of its picture quality strength, the H5000 is severely bare bones on the outside. Samsung's X-shaped stand makes a return this year, providing four black feet for the panel to balance and swivel upon. Users will find on-set controls and video connection ports on the back of the TV. This is an entry-level model, so the options are limited to two HDMI, one USB, and a shared component/composite cluster. Rounding out the humble ensemble is a standard infrared remote—simple, but it does the job.
The H5000 is just as simple from a software perspective. In the picture menu, you'll find basic controls for cell light, contrast, brightness, and color. There are more advanced controls deeper in the menu: two- and 10-point white balance and a gamma pre-set selector. Of note is Samsung's Black optimizer mode, which allows you to set the panel's overall light output for a bright or dark room.
The Verdict
What's not to love?
This isn't a bells-and-whistles, smart, 3D TV for the deep pockets crowd. This is a simple, minimal product from a less "connected" time. If you want a huge screen and a solid, reliable picture with no frills, the 64-inch H5000 is the TV to buy.
As it stands, the only other manufacturer backing plasma this year is LG, and so far things don't look promising on that front. If you're hunting for solid plasma performance on a budget, the H5000 might just be the best choice for 2014.
Our editors review and recommend products to help you buy the stuff you need. If you make a purchase by clicking one of our links, we may earn a small share of the revenue. Our picks and opinions are independent from any business incentives.