televisions
Samsung PN51F5500 Plasma TV Review
Turn off the lights, turn on the magic
$1,349.99 MSRP
51 in.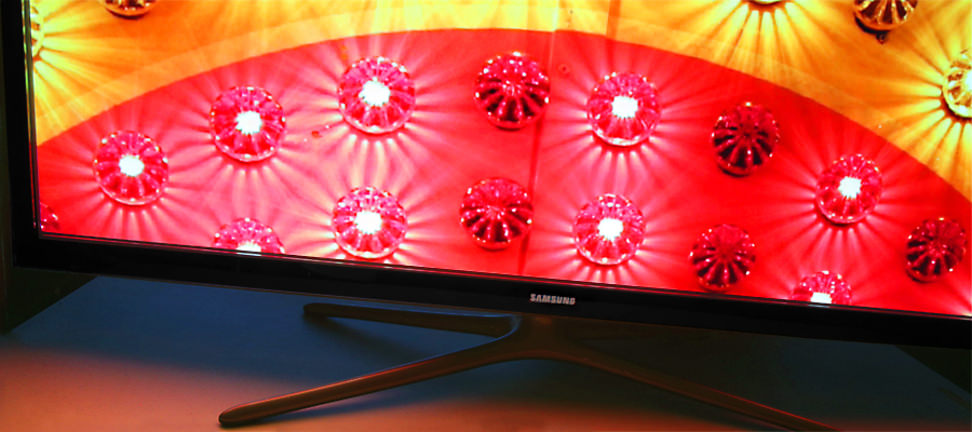 The Samsung PN51F5500 (MSRP $1,399.99) is an excellent mid-range plasma outfitted with a cheap design and the company's formidable Smart Hub. The series offers terrified wallets a perfect stepping stone between mega high-end plasma quality and low-end, no-frills fodder.
A notch down from the much-pricier F8500 flagship, the F5500 TVs aren't nearly as flexible. A sunny living room is no place for these panels, as you simply must watch in the dark for good results. For home theaters, though, expect terrific picture quality and some great smart features for a fair price.
The Looks
Is this slender display really a plasma?
Not that long ago, you could tell a plasma display from an LCD just by looking at it. If it was thick, heavy, and hotter than a boiler plate, you had a plasma TV on your hands. The PN51F5500, however, comes from a now well-established tradition that unwinds those stereotypes quite handily. It's relatively thin, flexible, and not nearly as heavy by comparison.
The F5500 perches upon an X-shaped, graphite pedestal that Samsung calls the Quad Stand. Like other mid-range Samsungs, the stand is made of an overlay fused to a metal skeleton—it looks nice enough, but feels cheap to the touch. The F5500's rear casing is similarly chintzy, composed of a thin malleable metal. I guess if you want a plasma that's built like a tank, head over to Team Panasonic.
The bottom line? This TV is not high-end, and it fails to look that way. Despite itself, it looks cheap.
That's not to say the PN51F5500 isn't a good-looking TV from a distance—it just doesn't stand up to close scrutiny. Across the living room, perched on a TV stand, it looks... okay. A 2.2-inch depth and swiveling screen have us mildly baffled as to how Samsung ever managed a plasma panel in such a small space.
Samsung chose to fit this TV with its infamous "Touch of Color" perimeter highlight... only instead of invoking a color, it's transparent. Odd. The bezels are much too glossy, as well, and look ugly under lights. The bottom line? This TV is not high-end, and it fails to look that way. Despite itself, it looks cheap.
From a usability standpoint, the F5500 is irrefutably a middle-of-the-road product. On the rear-left side of the panel, users will find the TV's connectivity hooks. Strung along the rear left side of the TV are three HDMI inputs, two USB inputs, and an EX-LINK port. Additional connections live in a recessed area on the back: a shared component/composite connection, IR out (for the IR blaster), a coax jack, LAN in, and optical audio out.
With this TV, you'll also find the the Smart Touch Remote—a touchpad-equipped controller— included in the TV's Accessory Kit. The F5500's is black instead of silver, but is otherwise identical to the one that comes with the F8500 flagship. It can still be used for voice commands, touchpad control, on-screen keyboard operation, and more basic functions. Prefer a more traditional, button-heavy remote control? You're out of luck on that front.
The Experience
More dual-core lore
The PN51F5500 utilizes a dual-core processor to handle its ample internet-based functions. Like most of Samsung's 2013 line-up, it's equipped with the company's solid Smart Hub internet platform, an organized headquarters for apps, movies, social networking, and cable/satellite information. Connecting your set-top-box via an HDMI cable enables the F5500 to gobble up program information and display it in the Smart Hub under the "OnTV" tab. This is easily the best smart TV feature on the market this year, and adds heavily to the value of all of Samsung's smart TVs.
The included Smart Touch Remote makes browsing, typing, and finding content much easier.
As with all TV smart platforms, there's a good amount of total junk here, but most of it needs to be sought out and installed—the F5500's pre-installed content is all of pretty high quality. Netflix, Hulu Plus, and Facebook are just a few of the standard apps immediately available once your TV is connects to the internet.
The included Smart Touch Remote makes browsing, typing, and finding content much easier—the integrated microphone is especially useful. Once your cable content is being filled, pressing the microphone button and asking, "What's on for News?" will populate a list of all programming tagged as news-related. Samsung claims that the more you use this feature, the more reliable it becomes. We can't confirm or deny that claim, but the company's smart TVs definitely feel more intelligent than anything from years past.
Ultimately, the Smart Hub and all it contains is a great reason to invest a little more in a TV—but only if you don't already have a way to access the aforementioned apps. The social networking-related content and web browser are neat, but at this stage still feel a bit gimmicky; none of the functionality here has anything on your PC or smartphone. For our full breakdown of the 2013 Smart Hub, click here.
The F5500 does not produce nearly as much heat as in years past—buzzing, however, is still an issue.
Beyond smart content, the F5500 is well-tooled with customization settings. Samsung includes a few burn-in avoidance settings: Pixel shifting and black bar lightening for 4:3 content. While many people are still traumatized by the burn-in bedlam of 2008, these settings are probably just here for show—the chances of anything actually burning in are much lower than they were a couple of years ago. Other plasma specific concerns include excessive heat and buzzing after prolonged use. Consumers will be pleased to know that the F5500 doesn't produce nearly as much heat as plasmas in years past—buzzing, however, is still an issue.
Of course, you'll also find the regular picture and audio adjustments well at-hand: Cell Light, Brightness, Contrast, Color, and Tint—as well as more complex picture adjustments in the form of gamma correction, white balance, and color management. Like with most TVs, the F5500 provides a number of audio adjustments: bass, treble, speaker balance, imitation surround sound, and an EQ. Overall, this plasma is very customizable and flexible, especially for a mid-tier series.
The Picture
Blinded by the light
Unless you plan on using the F5500 in the middle of the night, you might want to pass on it. Not to say its picture quality isn't above average—it's a plasma, darling! Just that it looks awful in anything other than a pitch-black room. The glossy bezels, reflective screen, and extremely dim light output are disappointing when you consider that this TV's big brother, the Samsung F8500, is one of the most light-flexible plasma TVs of all time.
Everything from bright, colorful cartoons to gritty, shadow-heavy films look top-notch on this TV.
With any kind of light in the room, the F5500 flounders and sinks. In the dark, however, it's a real champion. Time in our wine-dark lab revealed excellent total picture quality: a sincerely deep black level, detail retention during motion, and very impressive color integrity. Everything from bright, colorful cartoons to gritty, shadow-heavy films look top-notch on this TV. One thing that won't? Hockey. The TV's light output simply fluctuates too much, and is too dim overall for anything requiring full-field white levels. You'll be able to see all the puck-and-stick action though: This plasma preserves content-in-motion beautifully.
If you're looking for something to wall-mount, the F5500 is a good choice for that too. Its viewing angle describes the theoretical maximum—which is the case with most plasmas—meaning you can watch it from all over the place without losing picture quality. Samsung's Black Optimizer setting helps secure the integrity of black levels, but the TV's glossy, dim nature mean it really doesn't fare well in anything but very dim or entirely dark lighting. If you've already got a theater waiting, though, the F5500 could be a perfect fit.
The Verdict
Theater or bust
Samsung's F5500 series has some serious appeal. It's a much more affordable plasma option that still serves up the excellent Smart Hub on a silver platter. In that sense, the F5500 series has more "wow" factor than the F5300 series, but is still priced fairly.
If you've been drooling over the more-expensive flagship model, but you just can't afford it, you'll miss out on two things by buying an F5500 instead: better design and the ability to watch with the lights on. If the latter means the F5500 won't work for you, check out Panasonic's excellent ST60 series instead. For everyone else, it's time to turn down the lights and enjoy the F5500's fairly priced, outstanding picture.
Our editors review and recommend products to help you buy the stuff you need. If you make a purchase by clicking one of our links, we may earn a small share of the revenue. Our picks and opinions are independent from any business incentives.