televisions
Samsung PN60F8500 Plasma TV Review
Samsung's flagship is a perfect argument for the superiority of plasma technology.
Behind the Screens
Welcome to the Science Page, where we archive and catalog the hard data behind our tests to support our Front Page claims. All of our tests are conducted using DisplayMate's suite of test patterns, with data gathered using the Konica Minolta CS-200 chroma meter. The CS-200 gathers luminance levels up to two decimal points, and gathers u- and v-prime color data to compare with international HDTV ideals dictated by the Rec. 709 standard.
Color Integrity
Accurate, rich colors
We test three aspects of a TV's color: Its color gamut, or the range of colors it can display; its color curves, or how much detail it afford to each color across its luminosity scale; and its color temperature consistency, a measure of how much its color temperature varies across its greyscale input.
The F8500 tested very well in all three areas. Its color gamut, while not perfect, was still very good. We check a TV's color gamut (peak red, blue, green, and white) against the gamut dictated by the Rec. 709 standard. The F8500 tested with very minimal error here, adhering adamantly to the international ideal, just as it should.
Color and greyscale curves dictate the amount of detail you can expect to find throughout hues and shades in a TV's picture, as well as how well the TV transitions between neighboring shades and hues. The F8500's curves were very similar to last year's E8000, with red, green, and blue describing a gradual ramp in the usual knee, and the greyscale curving out inversely to complement details within midtones.
Last but not least, the F8500's color temperature adherence is quite solid. While it ranges roughly 100°-200° away from its initial temperature across the greyscale input, nothing is ever overtly visible, nor does it mar the integrity of the image in any fashion.
Advertisement - Continue Reading Below
Contrast Ratio
The F8500's natural contrast ratio puts last year's E8000 to shame.
Update: As of July 17th, 2013, we have gathered new data for the F8500. With the TV's Black Optimizer setting turned On, under the same conditions as the results gathered at the time of review, the F8500 achieved a Black Level of 0.008 cd/m2 and a Peak Brightness of 150 cd/m2, giving it a new Contrast Ratio of 18,750:1.
Samsung's new F8500 takes the proverbial cake in natural contrast ratio compared to almost any TV we've reviewed before it. To determine contrast ratio, we divide a television's 20% APL (average picture level) brightness by its 20% APL black level. The readings are taken in a light and temperature controlled environment to ensure maximum accuracy. 20% APL is roughly the same picture saturation as most content.

It's true that the F8500 does not appear to achieve the black levels of Panasonic's 2013 plasma line-up—when I tested the entry-level S60 a few weeks ago, it tested with a black level of 0.01 cd/m2, the lowest luminance reading our current instrument is capable of. The F8500 did not achieve this level; its minimum luminance of 0.02 cd/m2 is still much darker than last year's E8000, and is a very good black level in general, but is a whole magnitude brighter than what Panasonic's plasmas have boasted this year.
Where the F8500 really "shines" is in its peak brightness, which measured 214.74 cd/m2 at 20% APL. In our collective experience, that is extremely bright for a plasma, and is very bright for a plasma also capable of such a deep black level. The two measurements give the F8500 a contrast ratio of 10,737:1, which beats last year's E800 (2,775:1), Panasonic's 2012 flagship VT50 series (3,401:1), and Panasonic's S60 series from 2013 (9,132:1). Needless to say, this is a massive contrast ratio: The F8500 is as bright as you'd ever need it to be, while still allowing for the deep black levels that plasma technology is famed for.
Viewing Angle
Like a certain famous rabbit, it just keeps going and going...... the F8500's viewing angle, that is. Plasma televisions often sport very wide horizontal viewing angles due to the nature of their technology, and Samsung's flagship plasma is no exception. Viewing angle is an important test of quality; our test often reveals consistency (or lack thereof) in a TV's panel construction. It also is what dictates a television's flexibility in terms of where you can comfortably view it from. A wide viewing angle can mean peace of mind in deciding where to place your TV in the room; a narrow viewing angle often threatens lonely, solo viewing.
The most interesting thing about the F8500's viewing angle test was its consistent black level at off-angles (more on that in a moment). The F8500 tested with a total viewing angle of 158°, or 79° from center to either side of the screen. While this isn't quite as wide as the E8000's 179° total, it is wider than both the Panasonic VT50 from 2012 and the Panasonic S60 from this year, and makes for ample viewing flexibility in general.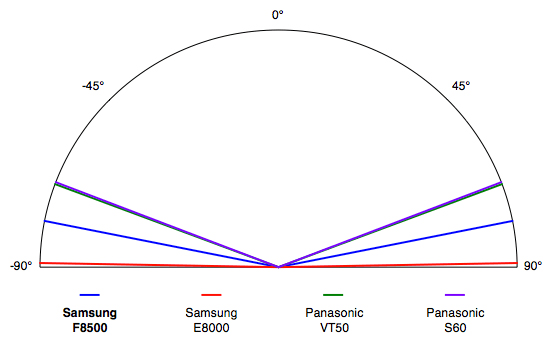 We test viewing angle by measuring a television's diminishing contrast ratio from 0° (facing) to 90° (perpendicular). The F8500's contrast drop-off chart described a comb-like pattern, with the black level fluctuating mildly between 0.02 cd/m2 and 0.01 cd/m2 at every other off-angle; a level of 0.03 cd/m2 ar 40° off-center threatened to derail the whole test, but each angle past 40° measured a consistent 0.01 cd/m2, which speaks to the integrity of the F8500's "Super Contrast Panel."
One caveat: The F8500's vertical viewing angle is quite marred by this kind of panel, taking on severe shadows at off-angle vertical viewing. Consumers planning to wall-mount the F8500 should definitely take note of this.
Other Tests
Motion, audio, and power consumption
The F8500 handles motion-based content very well. It made short work of both of our motion tests, with very minimal blurring and no color-trailing or interlacing/artifacting. While the F8500 does allow users to enable a de-judder mode, we really don't think it's necessary, and it does cause the soap opera effect while on. The F8500 does very well without it: The final motion score is a 9.75 out of 10.
Where audio quality is concerned, the F8500 is nice and loud. While its two, 10-watt downward firing speakers are entirely standard for 2013, the TV's depth and sturdy build allow for plenty of space, nullifying any chance of the speaker buzz that's sometimes present in very slim TVs. The F8500's surround imitator works decently, its various audio modes are distinct and useful, and most importantly, it's plenty loud at lower volumes. We've given it an audio quality score of 8/10.
Finally, our power consumption test has revealed that, in the tradition of plasmas before it, the F8500 uses quite a bit of power. In terms of wattage, the 60-inch iteration draws an average of 406 watts while playing back standard content. This means that you'd be adding $79.28 to your electricity bill, were you to watch the F8500 4-6 hours a day, every day, for one year.
Our editors review and recommend products to help you buy the stuff you need. If you make a purchase by clicking one of our links, we may earn a small share of the revenue. Our picks and opinions are independent from any business incentives.
Our editors review and recommend products to help you buy the stuff you need. If you make a purchase by clicking one of our links, we may earn a small share of the revenue. Our picks and opinions are independent from any business incentives.
Advertisement - Continue Reading Below
Compare Prices
Our editors review and recommend products to help you buy the stuff you need. If you make a purchase by clicking one of our links, we may earn a small share of the revenue. Our picks and opinions are independent from any business incentives.
Get Our Newsletter
Real advice from real experts. Sign up for our newsletter
Thanks for signing up!