televisions
Samsung PN60F8500 Plasma TV Review
Samsung's flagship is a perfect argument for the superiority of plasma technology.
$3,149.00 MSRP
Buy now at Amazon
60 in.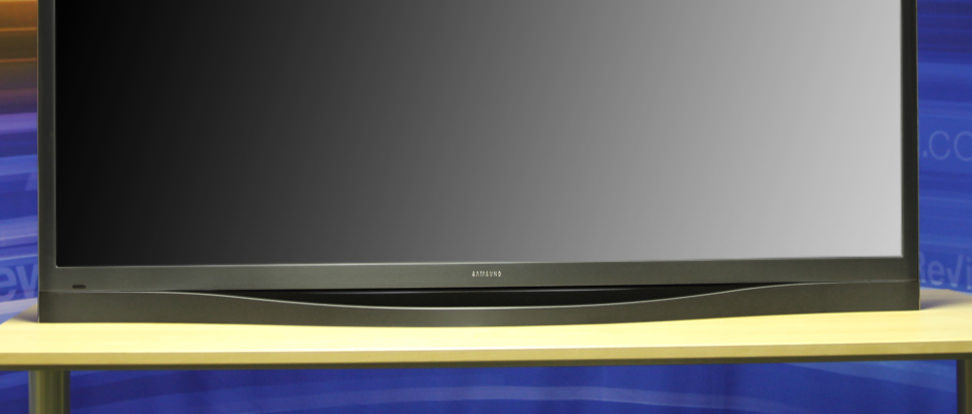 Overview
The F8500 series is Samsung's flagship plasma series for 2013. Last year's E8000, the F8500's predecessor, took our award for TV of the Year; in short, that means that the F8500 is worth getting excited about.
Samsung touts the F8500 as the series sporting the best HDTV picture quality available. This high-end performer is also 3D-capable and smart, naturally, and comes with all kinds of extra goodies and unique interfacing options. As usual, we're much more curious about its performance capabilities.
We've completed our full suite of tests, and one thing is abundantly clear: Samsung's F8500 is the TV to beat right now. Its contrast ratio is huge, boasting both very deep blacks and a surprising peak brightness. Its color accuracy is very good, it handles motion almost perfectly, and promises a wide viewing angle. Combining such performance with Samsung's newly revamped Smart Hub and an alluring design aesthetic makes for one very attractive TV, both inside and out.
The F8500 series is available on the consumer market now, with the 51-inch version available for $2,099 MSRP; the 60-inch version available for $3,149; and the 64-inch available for $3,679. Each entry in the series is 3D-ready and smart.
Hardware
Like a rock
While we found the thin stylishness of the F8000 to be very attractive in its own right, the F8500 plasma is different enough from its LCD counterpart to warrant an entirely separate kind of appreciation. As a plasma, it's never going to be as edge-narrow nor as lightweight as an LCD, especially not one crafted by a space-saving company like Samsung.
The whole product feels solid, clean, and strong.
Where the F8000 feels like a thin-crust pizza, the F8500 is more akin to a deep dish. The 60-inch version we reviewed is imposing: Its screen is wrapped in a "Titan Black"-colored bezel of unapologetic width, and it perches atop a sharp, sturdy stand of the same hue. The stand is crescent-shaped and heavy—a worthy counterpart to the plasma panel it holds aloft. The whole product feels solid, clean, and strong.
Like the F8000 LCD, the F8500 plasma series comes standard with Samsung's new 2013 Smart Touch remote, a pop-up camera, voice and gesture control software, and a fully-loaded connectivity suite. Users have access to four HDMI inputs, three USB ports, and the usual panoply of sub-HD connection options. Samsung does not skimp on usability, yet we feel the biggest physical takeaway from this TV is its titanic, imposing presence. Like an ancient oak or your Seger-skewed memories of your grandfather, the F8500 is statuesque, powerful, and immovable (... without a dolly).
Software
While not yet a full replacement for your smart phone or tablet, Samsung's Smart Hub is getting very close.
The F8500 is Samsung's flagship plasma series for 2013, so of course it's WiFi ready and stuffed to the gills with options and settings to toggle. The quad-core F8500 sports Samsung's most current and efficacious version of its Smart Hub, a headquarters of sorts containing streaming content, a web browser, and all the other goodies we've come to expect to be bundled with high-end TVs in the age of cable TV's downfall.
Like last year's ES8000/E8000 flagships, the F8500 allows for remote-free motion control, making use of a pop-up camera mounted at the top of the TV. Unfortunately, the functionality isn't really much improved from last year's iteration. The idea remains the same: The camera tracks the motions of a user's raised hand, and the user is able to select and toggle things like volume, menu settings, and channel selection without a remote. It's still more trouble than using the Smart Touch Remote.
"The Smart Hub has a received a thorough overhaul, mostly for the best."
The real draw of the new Smart Hub is the way in which it integrates all of your content together into one place. The voice function on the remote—which works quite well, by the way—allows you to ask the TV, "What's on for sports?" or search for a specific film, and the Smart Hub will quickly populate a list related to your search (to the best of its ability). Using the included IR flasher, you can even allow the F8500 to change channels on your cable provider for you. The search function will list all iterations of a film and how you can watch it—$2.99 on CinemaNow, $4.99 on MediaHub, or a $7.99/month subscription to Netflix, for example.
Where the Smart Hub has received a thorough overhaul, mostly for the best, the F8500's menus are almost unchanged from its predecessor's, the E8000. Users will still find aqua, opaque sub-menus for Picture, Sound, Network, etc., allowing for a multitude of ways to alter your TV's picture performance, speaker quality, and basic functionality. Hobbyist calibrators will enjoy Samsung's multitude of advanced picture options—though we recommend turning off most post-signal processing effects and motion smoothing settings.
Performance
Performance that surpasses last year's flagship, and then some
The F8500's performance is without flaw. In fact, it improves on last year's E8000 in many ways. While its black level is very commendable (you'll find numeric data on the Science page), what really impressed us was how bright it managed to get at the same time. This plasma does away with the old worries about watching in a dark room, or being outshine by standard ambient lighting: Yes, it's just that bright. While it doesn't hit the searing whites of some modern LED LCDs, it is severely bright for a plasma, and is so much brighter than the black levels it achieves that its contrast ratio is of the widest we've ever seen.
"The F8500's contrast ratio is of the widest we've ever seen."
Along with this massive contrast (and terrific edge gradation along the greyscale), the F8500 is engineered with highly accurate colors. Its adherence to the Rec. 709 gamut was terrific (though not quite as good as what we've seen from Panasonic's 2013 plasmas). Its color curves were of a similar curve to last year's E8000, with the greyscale curving out to add definition to mid-tones. All in all, its color integrity is great, though a touch imperfect; it is still much better than 90% of the televisions we test.
The F8500's high brightness and titanic contrast remedied any falloff problems it may have dealt with in years past, as well as a satisfyingly wide viewing angle. We found it improved drastically on the E8000's motion performance, as well, clearing up problems with blurring and color trailing, even with no motion assistance settings enabled. This plasma is an extremely efficacious performer, on top of all it does already.
Conclusion
One of the best televisions we've ever reviewed
That may sound like effusive praise, but it's the truth. Within the realm of picture quality, Samsung's F8500 is absolutely awesome. The brightness this plasma achieves is worth praise alone, but its deep black levels and the accuracy of its colors are solid gold stamps, branding it as the current TV to beat.
We've been very impressed with plasma tech this year: Panasonic's S60 and VT60 series hit unspeakable black levels, and each 2013 plasma has come within just a few decimal points of perfectly matching the international standard for HDTV color. The F8500's contrast ratio (over 10,000:1) is unlike almost any TV we've reviewed before, and may just surpass the legendary Kuro in its staggering black/white differentiation.
The F8500 may be a stellar, nigh-perfect performer, but it also has plenty left in its bag of tricks. The included Smart Touch Remote and revamped, quad-core powered Smart Hub make for one of the most enjoyable, unique TV interfacing experiences ever available on the market. Samsung's two flagships just do so much, and most of it they do very well.
While we can't claim that the F8500 is the new reference TV in picture quality, it looks to be one of the best 1080p televisions ever. Each screen size in this series is fairly expensive, and they should be: There is only quality here. The F8500 has royally surpassed one of the biggest drawbacks of plasma tech—their dimness when compared to LCDs—giving those with the funds to pursue it every reason to do so.