televisions
Samsung UN55F7100 LED TV Review
Samsung's high-end LCD is feature-full, but doesn't quite perform to its asking price.
$2,499.00 MSRP
Buy now at Amazon
55 in.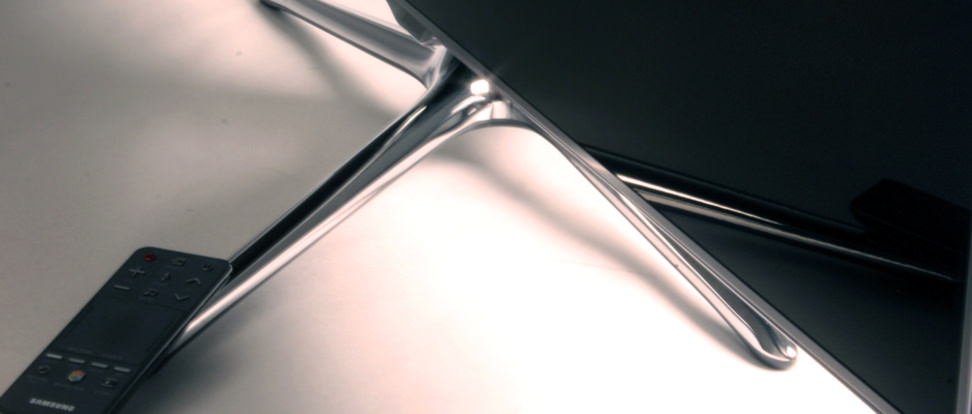 Overview
Meet the F7100 series, a selection of high-end Samsung LCDs available in five screen sizes: 46, 55, 60, 65, and 75 inches. The major difference between the F7100 series and Samsung's flagship F8000 is that its smart platform, Smart Hub, is powered by a dual-core processor. The higher-end models are built with faster quad-core processors. The F7100 series is still packing a ton of features, however: Smart Recommendation, Active 3D, Micro Dimming, and the included Smart Touch remote all paint this line-up as definitively high-end.
While the F7100 is capable of producing a high-quality image, it's a little stingy with it: A narrow viewing angle threatens to derail home theater consideration, and the TV's overly aggressive motion processing makes it a sub-par choice for serious film buffs. If you've got money to burn, this LCD has many features—web browsing, apps, 3D—and produces a decent picture after being broken in properly. If you're watching your budget, however, the F7100 series is priced just a little too highly for us to recommend it outright. If its picture was slightly more impressive, it might be a different story.
The Looks
A modern, silver-lined machine
We really like the look of our 55-inch test unit; it's pretty widely accepted at this point that Samsung makes some good-looking TVs. The panel bezels and stand hardware are a lightweight, silver-colored metal. The bezels, very thin, serve to really emphasize the panel, which feels sleek and modern at only 1–1.2 inches thick. This TV looks as good wall-mounted as it does perched upon its X-shaped stand.
The silver coloration of the hardware serves a purpose beyond aesthetics, however. A lighter shade of bezel contrasts advantageously against black levels and darkly shaded colors within the on-screen image. Compare this to black bezels, which will actually betray overly bright black levels on lower-end LCDs. The whole assembled TV is also very light, weighing only a little more than 36 pounds.
From the front, the F7100 is free of controls or buttons, giving it a very cleaned up appearance. When facing the TV, you'll find its port selection along the right side, and clustered within a recessed area on the rear. The on-set controls are allocated to Samsung's signature "Jog Stick," which—while certainly streamlined—also demands a learning curve. You'll find the Jog Stick on the lower rear of the panel, set below its ports. The Jog Stick can be used to power the TV on/off, change volume and channel, and operate all menu functions... albeit much more slowly than a remote.
Connectivity highlights include four HDMI inputs, three USB 2.0, IR out (for an IR blaster), ethernet (LAN) in, and a shared component/composite input. The F7100 series includes the Smart Touch remote, as well an IR cable and four pairs of Active Shutter 3D glasses.
Looking Further
The Experience
A terrific collection of features and smart content
Samsung has the right idea when it comes to making internet connectivity work towards better television, and not the other way around. There's been a wealth of ways in which the "smart platform" game could've evolved over the past three years, and Samsung's choice to shift its focus away from areas outside of TV's traditional purview (e.g. web browsing, flash games, waking you up in the morning) and back toward the optimization of areas related to "watching" (e.g. streaming content, source control, set-top-box integration) is the smartest the company could have made.
The bread and butter of the F7100's internet features lies in the tiny IR cable that's included with purchase. This IR blaster allows any infrared-signal based device to be controlled and "absorbed" by the TV, like some kind of biomechanical amoeba. We've tested this feature extensively on both of Samsung's 2013 flagships, the F8500 plasma and the F8000 LCD. It works especially well with the included Smart Touch remote, a device with a modern touch pad that makes for fluid on-screen navigation. We also like the built-in microphone: Just speak the name of your favorite program to your cable-integrated F7100, and it will make short work of finding it for you, if possible.
"Everything is just a touch slower and less immediate on the F7100, but it's still got a leg up on the competition."
There's a lot to be found here, but the cable integration is definitely the most progressive aspect of the Smart Hub. Check out our full article for more information on available apps, features, and functionality. The biggest change here from Samsung's highest-end is the dual-core processor: Everything is just a touch slower and less immediate on the F7100, but it's still got a silver-skinned leg up on most of the competition.
As for the non-smart software, it's one of my favorite TV menus, and I've seen a lot of them. As a high-end offering, the F7100 series is replete with a tasty smorgasbord of picture, sound, broadcasting, and network controls. The smart remote makes easy, intuitive work of setting simpler picture controls such as Contrast or Tint.
The TV can be programmed to shut off after a certain amount of time; can remember a list of WiFi networks; can operate in imitation surround sound and supply customized equalizing for audio; can play back photos, music, and video via USB; and can network wirelessly with connected laptops, phones, and tablets. While nothing you'll find within the on-board software is entirely unique to the F7100, or even to Samsung, it is currently the height of TV functionality (short of accessing a hidden service menu).
Looking Further
Comparable Products
Before you buy the Samsung UN55F7100AF, take a look at these other televisions.
The Picture
A decent contrast ratio and accurate colors definitely add value.
This high-end series is not cheap. The 55-inch unit we tested for this review is listed at an MSRP of $2,499 (though you can find it for less). A good portion of that price tag comes from "extra" features, like the previously described smart platform, the TV's sleek design, and the included 3D tech. However, the most important aspect of every display is its core performance, and that is what should be paid for before anything else, especially if you intend to foster a healthy interest in picture quality (in the right setting, it's doubtless an art form). Fortunately, the F7100 is capable of producing a high-quality picture, and you won't have to tweak it for hours to get one.
"The F7100 is capable of producing a high-quality picture, and you won't have to tweak it for hours to get one."
This Samsung performs decently in terms of luminance levels. Contrast ratio capability is a huge part of producing a quality image, and the F7100 allows enough headroom and legroom for its picture to breathe easy. It might singe your retinas in an out-of-the-box "torch mode," but lowering Backlight and tweaking the Brightness/Contrast controls allows for decent day/night levels.
I experienced a very color-true picture while testing and watching this TV. In the Movie pre-set, luminance and colors are underplayed enough to produce very accurate results. An even calibration of the color control revealed that this TV is entirely capable of producing accurate, evenly mixed colors; the millions on display produce a smooth image, free of banding and artifacts. With processing settings all turned off (as they should be), the image produced from an incoming 720p/1080p signal over HDMI looked very good, even at pixel-revealing seating distances.
"The 720 CMR motion interpolation is a bit of a gas... the highest setting results in overly smoothed moving images."
With the proper bit-mapping setup, and overscan eliminated, this TV produces true 1080p quality images—they are geometrically even and rendered as intended. The 55-inch screen does get a touch noisy during DVD playback, but Blu-ray movies look terrific. One drawback we did find, however, was in the F7100's motion performance. The purported 720 CMR motion interpolation is a bit of a gas; the highest setting (approximating that number) results in overly smoothed moving images. Compared to 35mm film, it just looks unnatural.
The F7100's biggest drawback, though, is one that plagues many a liquid crystalline unit. This Samsung, like so many before it, produces an overly narrow viewing angle, rendering it a poor choice for wall mounting, or as a large display for group watching. It loses contrast integrity at relatively average off-angles, meaning you'll have to pack in tight if you want the picture preserved in its entirely. The only advantage the F7100 has over similar LCDs is that its panel swivels upon the X-shaped stand, meaning you can make little tweaks to positioning in times of crisis.
For most consumers, however, this TV's unprocessed picture is perfect. With the correct aspect ratio and Backlight, the F7100 can make short work of most content, rendering a full, accurate palette of colors across a wide luminance allowance. This result isn't amazing, but if you're going to shell out over $2,000 for a TV, you should buy into picture quality that's at least this good.
Final Thoughts
This porridge isn't hot or cold enough
The 55-inch F7100 is not worth $2,499 (though it's available right now for $1,699). While Samsung's Smart Hub (and the cable connectivity therein) is probably the best smart platform on the market, it's still only a smart platform. On one hand, this TV looks great, and is fitted with all of the modern accoutrement you might want with an investment in a new display. Be warned, though: It has a few drawbacks that make me hesitate to praise it further.
While color and contrast results proved solid, this TV's narrow viewing angle, overly smooth-looking processed motion, and contrast ratio detract from its value. Don't get me wrong—the contrast ratio we tested was decent, but only when compared to TVs from previous years. There are better performers out there for a lot less money, in truth, especially if you buy in on a plasma series. Just don't expect to get any extra features.
We might feel that the F7100 was worth its asking price if it was equipped with the same quad-core processor as Samsung's flagships, but this dual-core machine is just a little slow when it comes to the heavier tasks demanded during certain smart content usage. Considering that the F8000 flagship is currently on sale for the F7100's MSRP, we think prospective buyers should either step up to the flagship series or step down to something less frilly. The F7100 series is too lukewarm to pay 2.5 grand—but for $1,700, a smart, 3D, high-performing 55-inch LCD makes for a solid bargain.
Our editors review and recommend products to help you buy the stuff you need. If you make a purchase by clicking one of our links, we may earn a small share of the revenue. Our picks and opinions are independent from any business incentives.