televisions
Samsung UN46F5000AF LED TV Review
Excellent picture quality on this entry-level LED, but beleaguered by a narrow viewing angle
$999.99 MSRP
46 in.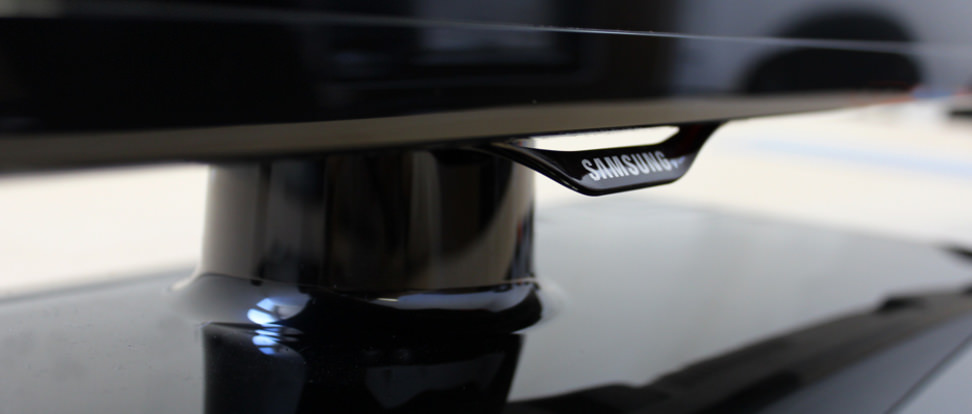 Overview
Samsung has a reputation for its show-stopping maneuvers. The 75-year-old company continually turns heads with electronic monsters like the 85-inch S9 4K TV, and accounts for a massive 20 percent of South Korea's entire GDP. But the Korean company isn't all big bangs and fireworks. After all, it got its humble start in dried fish exports.
The F5000 series is a great example of midtier quality. Shoppers who aren't interested in internet features, 3D tech, and endless connectivity will easily warm to these displays, thanks to wonderful color performance, smooth motion, and a dynamite contrast ratio. If this 46-inch TV (MSRP $999.99) hadn't dropped the ball on viewing angle, it would be a top-to-bottom winner.
Design
Design stratagem: plunk big rectangle onto small rectangle
Considering this is an entry-level LED, the 46-inch F5000 is not exactly a visual "ten." An unimaginative, half-inch black bezel serves as the frame, and a shiny black rectangle stands below, supporting the display. The stand feels very dinky, but on the upside, the entire unit doesn't weigh much. I'm something short of Hulkish, and I could easily lift the TV and carry it around myself—just 27.1 lbs. But if you want a television so skinny it disappears when you turn it sideways, one embellished with chrome edges and a futuristic stand, then prepare to spend more money—this is not the TV for you. The F5000 series is not unattractive. It's just visually unremarkable.
Hooking the TV up was moderately easy, but it's a shame it won't swivel.
Next, in terms of layout, the 46-inch model we tested is as simple as it is limited; there are just two HDMI ports, one USB, shared composite/component ports, a coaxial in, a mini jack, a digital optical audio port, and an analog audio out. All of these hookups are located on the back, facing out, with the exception of the USB port, the coaxial in, and one HDMI port—which all sit along the right side. Hooking the TV up was moderately easy, but it's a shame it won't swivel; if this Samsung sits close to a wall, or recessed in a cabinet, then many of the ports will be difficult to reach.
Features
A limited feature set
Going for an entry-level display often means forgoing high-end features like 3D, WiFi connectivity, and web browsing. The F5000 series is no exception. The 46-inch model we tested has great picture settings, at least; users can tinker with the usual array of options—brightness, sharpness, contrast, and tint—and they can also fine tune more advanced items, such as color gain, color gamma, and white balance. For the conservative buyer, an Eco Sensor auto-adjusts the TV's brightness in response to the room's available light. And also buried in these menus are two settings that sound better than they are—Clear Motion and Wide Color Enhancer Plus. The former is supposed to improve motion, but in reality accomplishes very little (in some cases it makes the picture look worse), and the latter simply punches up color. Menu navigation is easy, thanks to neat organization, but the remote control isn't for big-fingered folk, due to the cramped button layout. I do love the backlit keys, however, which glow pumpkin orange at the press of a button.
For the conservative buyer, an Eco Sensor auto-adjusts the TV's brightness.
For audio, users may tailor sound using the equalizer, or else choose from a list of presets: Standard, Music, Movie, Clear Voice (to prioritize voices), or Amplify (to assist the hearing impaired). There is also an Auto setting, which levels volume, and a DTS TruSurround mode, for more immersive listening.
Lastly, if you want video, music, or picture playback, simply insert a USB into the back of the TV and select the desired file from within the menu.
Comparable Products
Before you buy the Samsung UN46F5000AF, take a look at these other televisions.
Performance
Like Seinfeld's two-face, this TV doesn't always look so hot.
If this TV is Seinfeld's two-faced date, and the middle of the couch is Seinfeld's Restaurant... you'll only want to date this TV from the middle of the couch. As with many LCDs, this one has a measly total viewing angle—so if you sit away from the center of the screen, the picture quality will degrade considerably. If you want a TV for movie night with friends, or to watch a soccer match with your entire family (because you're advanced in your sporting tastes), this is not a great choice.
The color adherence is excellent, rendering pictures that are true-to-life, polished, and vibrant.
However, if you're more of a loner—a Bartleby, a Heathcliff, a Miss Havisham—the F5000 series should suit you just fine. With your misanthropic plans in place, prepare to enjoy great color. The color adherence is excellent and the TV is smooth in each transition from one hue to the next, rendering pictures that are true-to-life, polished, and vibrant. Best of all, the display captures truly deep black levels and blinding whites, making for a sizable overall contrast ratio. Why is this important? Because the more shades a TV can produce along a greyscale, the more realistic its picture will be. With jet-black darks and dazzling whites, shadows and contours can display with more detail, so that objects look more lifelike.
Final Look
If whistles worry you, if bells are your bane, this entry-level buy could be for you.
Recently, the TV market seems more and more abuzz with Tweeting, Facebooking, 3D, and internet browsing. Count Tech-ula struck, and now we're stuck with computer-TV-vampires. But there are still exceptions.
If you want a basic TV without the high-tech headaches, check out the F5000 series. These TVs don't dabble in 3D or internet features, but they produce excellent color, impressive contrast, and reliable motion performance. If you prize superior picture quality over a fussy feature parade, Samsung's F5000 series is a great choice.
Our editors review and recommend products to help you buy the stuff you need. If you make a purchase by clicking one of our links, we may earn a small share of the revenue. Our picks and opinions are independent from any business incentives.