televisions
Panasonic Viera TC-P65VT50 Plasma TV Review
The 65-inch VT50 series plasma HDTV is Panasonic's best in show, top-of-the-line flagship for this year.
$3,699.00 MSRP
Buy now at Amazon
65 in.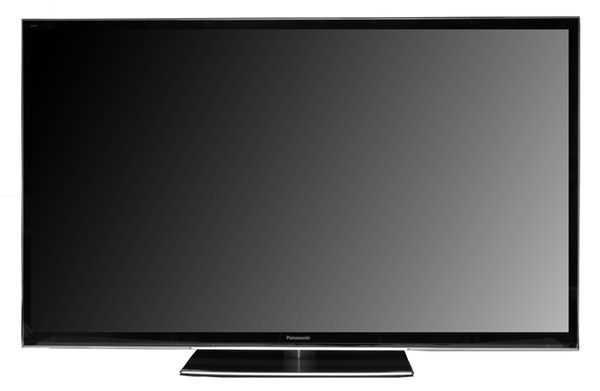 Introduction
The 65-inch VT50-series plasma HDTV is Panasonic's best in show, top-of-the-line flagship for this year. It'll cost you just a little under four grand (MSRP $3,699) and it's served hot with all the toppings: 3D, dual 8-train speakers with an integrated subwoofer, Panasonic's Viera Connect smart platform, 2500Hz Focused Field Drive motion, the new Touch Pad controller, and a gorgeous glass and metal design. Mamma Mia, that's a spicy meatball!
The Panasonic Viera TC-P65VT50 is swinging for the fences and both our objective and subjective tests have shown that it's a home run. Accurate color, smooth motion, and well above average audio quality are just a few perks this TV brings to the table. If you're looking for a TV with solid core performance, 3D capability, streaming content, or just want a suitable host to your home theater hub, the VT50 is an expensive—but worthwhile—investment.
Design
Panasonic's minimalist design aesthetic is quite attractive.
Panasonic's TC-P65VT50 is straddling the line between conservation and progress. It's quite thin for such a massive plasma, though it dwarfs smaller televisions that squat within the shadow of this colossus. Despite its considerable weight and size, it's not the monstrosity it could have been. Panasonic specifically followed a "single plate of glass" design to minimize bezel and give the appearance that the display is floating comfortably in mid air. The stand, which upon first glance looks perfectly boring, is actually laid over with a gradient that brightens from black to white.
It's clear that Panasonic has learned a lot from its past design choices.
The on-set controls and ports are tucked away behind the TV, leaving its face blemish-free. We feel that any changes in port or control placement might have been overkill, but Panasonic hit a smart middle ground between over-innovating and clinging to safe harbor. The P65VT50 has 4 HDMI inputs, and 3 USB inputs, and a dedicated slot for an SD/SDXC card on the left side of the L-shaped port cutout on the back of the TV. The lower portion features vertically inclined inputs. Here, you'll find inputs for an Ethernet cable (LAN), a VGA cable for PC connection, the antenna jack for broadcast cable, and a Component/AV splitter. The TV comes with a combined component/composite cable that allows for either an HD (component) connection or an SD (composite) connection. This split connection only allows for one component or one composite connection at a time.
It's clear that Panasonic has learned a lot from its past design choices—the VT50 is one of their most handsome plasmas to date. Its design has been improved from last year's VT30, plus it's much slimmer and more aesthetically sound than the VT20 series from two years ago.
Smart TV Features
Panasonic's Viera Connect smart platform is faster and easier to use thanks to some smooth processing.
The Panasonic VT50 doesn't have any new features where its menus or smart content are concerned, but the overall experience feels snappier thanks to cloud-based processing. While we've traditionally maligned the processing speed and content found within the Viera Connect platform, it seems like Panasonic has finally gotten its act together.
Panasonic's smart platform is still organized in a terrible fashion.
Panasonic's smart platform is still organized in a terrible fashion, employing a labyrinth of menus restricting your access to basic content. Fortunately, the TC-P65VT50's internet features are much more smoothly integrated into the TV and everything from apps to web sites loads a lot quicker. The Touch Pad remote, coupled with this new speed, vastly improves your browsing experience.
The 3D, USB, and settings menus remain unchanged—and that's fine by us. Picture, sound, and 3D settings are still allocated to azure-colored, opaque menus that hug the left side of the screen to allow live previews of changes in settings. The USB menu houses all of your picture, video, and music content under one roof, be it connected via flash drive or through Panasonic's wireless Viera Link system.
Comparable Products
Before you buy the Panasonic Viera TC-P65VT50, take a look at these other televisions.
Picture Quality
While we'd expect nothing less for an MSRP of $3699, it's always a breath of fresh air to see a TV that doesn't cut corners.
Over time, we've found that rating and testing the average HDTV—be it an LCD or a Plasma—is often a game of give and take. If a TV has great core performance and screen dynamics, it sometimes has the drawback of using an excess of electricity. Other times, we'll find that if a TV is very bright, it's not very dark.
This is flagship quality.
This is not the case with the VT50. While Panasonic's smart platform is poorly designed, everything else that this TV brings with it is top quality. It tested with inky deep blacks, accurate and vivid colors, and ear-pleasing audio. As we expected, it handles motion-based content with ease. What does performance like this add to your electric bill? Only around $20 per year. This is flagship quality, hands down.
3D
Panasonic's 3D technology is currently playing catch-up to LG and Samsung, but it's definitely hot on their heels.
3D is not so new anymore. Sure, it's a lot newer than color talkies or wireless remotes, but it's becoming more and more common amongst new TVs. 3D is also sweeping through the world of cinema—be that good or bad.
There are a number of things we look for when we're testing a TV's 3D capabilities. First and most importantly, how is the native 3D? Native, full, or "real" 3D is achieved when a TV receives the proper signal from a connected Blu-ray device via HDMI. This is the most immersive, and unfortunately, most problematic area of 3D performance because it stresses the back, middle, and foreground 3D effects to their limits. This often results in distracting crosstalk and greatly diminished color and contrast performance. Second, if the TV has a 2D-to-3D conversion setting (and most of them do), we subjectively test whether it's convincing or just a tacked-on gimmick. Finally, are glasses included? Are they way too expensive for any sane person? Are they comfortable?
In 2011, Panasonic was a key player in the budding 3D market. That's not saying much, though, as 3D looked universally awful last year. That's why we were surprised to see fairly impressive—though still imperfect—3D imaging from the P65VT50. Its active 3D suffered from mild crosstalk issues (image ghosting), but for the most part we found it to be palatable, convincing, and headache-free. Their 3D technology now maintains better color integrity, but at a huge cost to contrast. And the 2D-to-3D conversion is a decent distraction, but simply isn't convincing enough to stay fresh in the long run.
Unfortunately, Panasonic has elected to not include any of its "active shutter" 3D glasses—retail price $60 to $100—with the VT50. This is a huge oversight on Panasonic's part; considering that its 3D tech is decent this year, it's a shame you'll have to shell out so much extra money just to enjoy it.
Conclusion
It's worth getting excited about the VT50.
2012 has so far introduced some excellent flagships from LG, Samsung, and Toshiba. The Panasonic Viera TC-P65VT50 is one of the finest we've reviewed this year.
The VT50 has highly accurate color, a large contrast ratio, smooth motion, and a wide viewing angle. It's everything you'd want in a plasma, no matter the price or extraneous features. On top of that, it tested with well above average audio, and 3D that—while not as convincing as LG's or Samsung's—does not detract from the TV's overall performance.
While Panasonic's smart platform is organized in a clunky, heavy-handed fashion, the company's cloud-based processing is finally coming into its own. The P65VT50 showed us a much quicker interface and shorter load times. Its system menus are easy to use and easy to read, plus the new Touch Pad remote brings with it the same ease of use as a wireless mouse. This makes web browsing much more pleasant—at least, as far as TV browsers are concerned.
There's no arguing that the Panasonic VT50 is a visually appealing TV. Even if you don't like the gradient stand, its "glass and metal" design gives it a classy air, despite being so large. Its overall design could only be improved if Panasonic found a way to let it swivel without compromising the sturdiness of the stand. It's a solid all-around TV, but with comparable flagship plasmas retailing at around $2,200, the VT50's $3,699 MSRP is a little steep by comparison.
Our editors review and recommend products to help you buy the stuff you need. If you make a purchase by clicking one of our links, we may earn a small share of the revenue. Our picks and opinions are independent from any business incentives.