televisions
Panasonic Viera TC-P50XT50 Plasma TV Review
For its price the Panasonic Viera TC-P50XT50 is an extremely good deal.
$799.00 MSRP
50 in.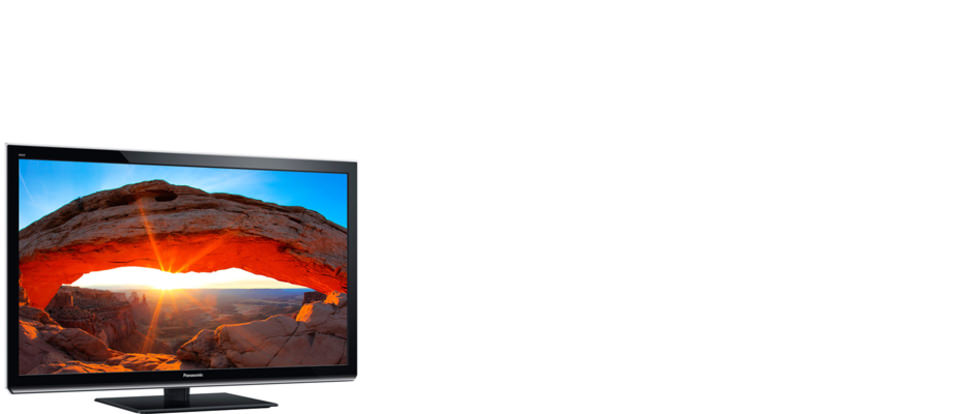 Introduction
The 50-inch XT50 (MSRP $799) is one of Panasonic's low-end plasma TV series, manufactured for 2012. Unlike almost all of their other TVs this year (plasma and LCD alike), the XT50's maximum resolution is not 1080p, but 720p instead. This, above all else, is what contributes to its relatively cheap price. Surprisingly, this low-end plasma is also smart and 3D capable. Even more surprising is what a solid performer it turned out to be. With a smaller resolution as its only "drawback," the XT50 is an excellent deal.
Design
The XT50 is aesthetically imbued with the same beauty as Panasonic's flagship plasma, the VT50.
The XT50 keeps things classy by adhering to a traditional HDTV appearance.
The XT50 (which is only available in a 50-inch screen size) is a smartly designed plasma that follows in the footsteps of Panasonic's 2012 flagship. By that, we mean it looks pretty good for sporting one of the less daring TV designs to pass into our labs this year. Like the VT50, the XT50 keeps things classy by adhering to a traditional HDTV appearance, while sprucing things up with more subtle touches. A strip runs along the lower bezel that reflects a monochromatic gradient, giving the occasional appearance of a waterfall of light branching over the TV's face and stand. It's not as contemporary as some of the TVs from Samsung and LG, but it definitely works.
The XT50's on-set controls and connectivity options are located on the back, left-hand side of the TV. They're easy to access, but their rear placement leaves the front plate free of the details of utility, which some people feel interrupt aesthetic qualities. Back here, you'll find a slot for an SD card—a staple of Panasonic TVs—and two USB inputs, two HDMI ports, a component connection, an ethernet jack, and a coaxial jack.
Smart TV Features
The XT50 doesn't deliver Panasonic's entire Viera Connect platform, only a handful of apps.
The XT50 features a menu system that's simple enough for a novice, but also gives pros access to a variety of ways to fine-tune their TV's performance.
The XT50 features a menu system that's simple enough for a novice, but also gives pros access to a variety of ways to fine-tune their TV's performance. Sub-menus for Picture, Audio, etc. give plenty of options for adjusting picture quality and sound output.
The XT50 is not a traditional "smart TV." Rather than giving you full access to the Viera Connect platform via built-in WiFi, the XT50 requires an ethernet cable and only gives access to a handful of streaming services, like Netflix and Hulu Plus. That isn't a bad thing, though. As those content providers are the #1 selling point for most smart TVs.
Comparable Products
Before you buy the Panasonic Viera TC-P50XT50, take a look at these other televisions.
Picture Quality
This low-end Panasonic delivers high-end picture quality.
We were highly impressed with the XT50's picture quality and performance. While it's only a 720p display, its smart features and 3D tech are serious extras for $799. We were worried that the XT50 would skimp on contrast, color, or motion. As it turns out, we had nothing to worry about.
The XT50 tested with color accuracy that's only a hair less accurate than Panasonic's flagship—so good you'd never know the difference. This is an excellent result. The XT50 looks great, with rich, wide-spectrum color detail and ample contrast quality. It also boasted a gigantic viewing angle, meaning it's ideal for group watching, and its superb motion performance is a boon to sports fans and gamers everywhere.
3D
Panasonic's 3D tech is perhaps the worst of the XT50's extra features, and it's still not that bad.
The Panasonic Viera TC-P50XT50 makes use of active shutter 3D technology to provide decent, but flawed, 3D images. Its included batter-powered glasses are fairly comfortable and are easy to sync with the TV, but the 3D doesn't fully immerse the viewer the way it should.
Crosstalk occurs when a TV overreaches the foreground, causing images meant for one eye to leak into the lens of the other eye. The result is a loss of the 3D effect, and instead, a "ghosting" occurs that leaves blurring and haloing around the images on screen. The XT50 struggles with this to some degree: Its background and middle images look perfectly feasible, but many of its foreground images are ruined by crosstalk.
Conclusion
The XT50 is a high-quality, low-cost testament to Panasonic's talent at crafting plasma televisions.
There are only a few drawbacks to this TV. The first, and most obvious, lies in its 3D technology. It's not the best on the market at delivering a continuously convincing 3D picture, so if that's a deal breaker for you, it's worth keeping in mind. It also isn't Wi-Fi enabled and requires an ethernet cable to be connected to the internet. Finally, it's a 720p resolution display, so it can't handle a full 1080p input (part of why it struggles with 3D). This is less of a problem when you consider that very little content is naturally broadcast at 1080p anyway.
Those flaws aside, the XT50 is a high-quality plasma television. Its performance was very impressive, testing with highly accurate color and superb motion handling. A 50-inch plasma with flagship-worthy performance that's also smart and 3D ready for only $799? Sign me up.
Our editors review and recommend products to help you buy the stuff you need. If you make a purchase by clicking one of our links, we may earn a small share of the revenue. Our picks and opinions are independent from any business incentives.