televisions
Panasonic Viera TC-P50U50 Plasma TV Review
Panasonic's entry-level plasma is a strong core performer that really couldn't be much simpler.
$899.00 MSRP
50 in.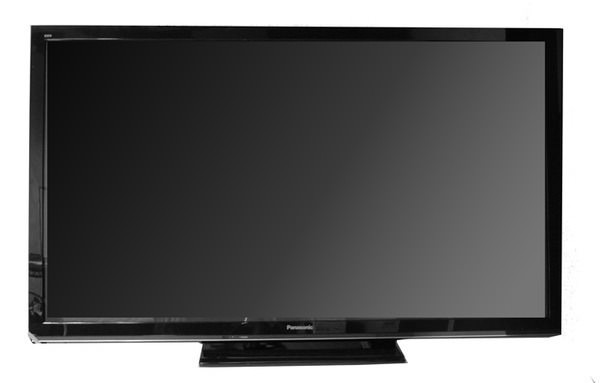 Introduction
The TC-P50U50 is a budget plasma from Panasonic. It is, in a way, a spiritual successor to 2009's U1 series, albeit a modern, improved version. The U50 series is also the only series in 2012 to support neither internet access or 3D viewing. It is the "meat and potatoes" Panasonic for 2012.
Panasonic tends to produce simple low-end plasma televisions that feature deep blacks and modest "variable" features, such as input port placement and interface customization. The TC-P50U50 is a testament to that tradition. For under $1000, getting a 50-inch plasma is not a bad deal. However, there are some negative quirks found in this model—such as its poor viewing angle and inability to swivel—that consumers should be wary of.
This TV is certainly not overpriced and it might prove difficult to find a better plasma at the same cost.
Design
A sound design with an industrial grade mount.
There's nothing surprising about the U50's design. The 50-inch panel is balanced squarely upon a plain, black plastic stand—you know, the kind that tends to gather fingerprints like a rich man gathers friends. The stand is affixed to the panel by two rounded, metal rods, so as long as your screws are tight, the TV promises to be sturdy. Unfortunately, that sturdiness comes at a price: namely, a glaring lack of flexibility. The P50U50 does not swivel, which we find to be a huge oversight, especially by today's standards for HDTVs.
There's nothing surprising about the U50's design.
There are ports located on the back, right-side of the TV and they include the bare necessities needed to operate a standard array of connected devices. There is no Ethernet cable input because the U50 series does not support any internet features. Here you'll find 2 HDMI inputs, analog audio, and a shared component input. Like we said, very basic.
Smart TV Features
It truly does not get simpler than this.
While a number of Panasonic's 2012 series will not be internet enabled, all of them except the U50 series have 3D capabilities. The 50-inch variant is also the only screen size available in the U50 series.
The menu system for the P50U50 is simple, short-lived, and for the most part unnecessary.
The menu system for the P50U50 is simple, short-lived, and for the most part unnecessary as the remote has shortcut buttons which allows immediate access to most settings directly. We applaud Panasonic for this design, even if it makes for a button-heavy ordeal.
Picture Quality
The P50U50 is a strong performer in almost every area, with an especially accurate color gamut.
One thing we consistently look for in entry-level or low-end TVs is strong core performance. That is to say, good scores in contrast ratio and color accuracy. This is a necessary requirement for all TVs, but is especially important when dealing with a consumer television that is bereft of extra features or extensive interfacing options, like the Panasonic TC-P50U50.
Where color accuracy is concerned, the P50U50 did well. It did not have the smoothest of color curves and its color temperature was off on the darker side of the picture, but it tested with a very accurate color gamut. Essentially, what we mean to say is that all but the strictest judges of color production will likely be pleased with how the P50U50 handles color.
In a nutshell: great blacks, decent color, and acceptable screen dynamics paint this Panasonic as a smart buy.
Conclusion
The Panasonic P50U50 is an excellent, no-frills plasma TV.
We definitely enjoy reviewing a TV that's got all kinds of bells and whistles. Playing with smart features, motion control, and 3D settings is great, but there's something to be said for running a simple, no-frills TV through our gamut of tests. TVs like the P50U50 have no gimmicks or extraneous functions to hide behind, and are the purest representation of a company's ability to produce a TV with solid core performance.
With that in mind, we were very pleased with the Panasonic TC-P50U50. While it doesn't have much to offer in the way of connectivity or customization, its performance proved it to be a viable alternative. It's good to know that, for a comparably cheap price, consumers who just want a strong plasma—who have no desire to yet test the waters of 3D and who don't want to pay the extra money to clumsily browse websites via a television browser—have the option.
If you're in the market for a "classic" plasma TV, the P50U50 (MSRP $899) might be your best choice in 2012.
Our editors review and recommend products to help you buy the stuff you need. If you make a purchase by clicking one of our links, we may earn a small share of the revenue. Our picks and opinions are independent from any business incentives.