televisions
Panasonic Viera TC-L42U5 LCD TV Review
A budget model, but not a brilliant model
$599.00 MSRP
42 in.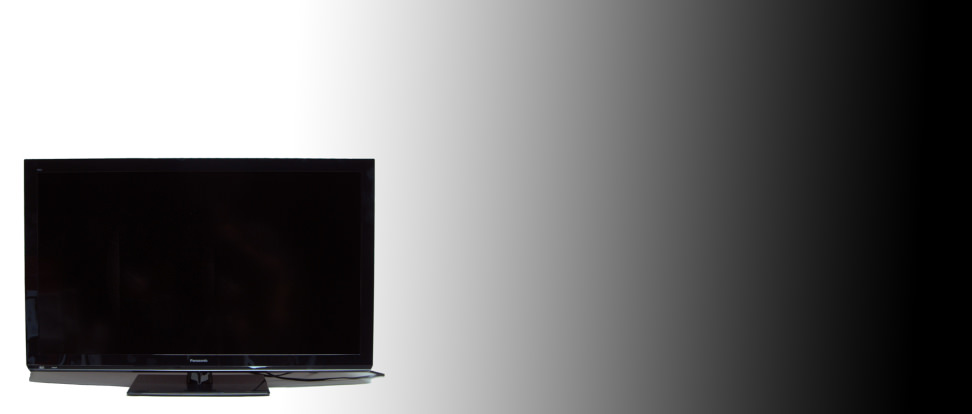 Introduction
Panasonic's U5 is second-to-last in the company's 2012 line-up of LCD HDTVs. It's a plainly-styled product, supporting up to 1080p display resolution and featuring a standard array of connectivity options and integrated features.
In other words, don't expect any surprises. The U5 is one of those entry-level TVs that's bereft of 3D tech and internet capability, and does its singular job rather poorly. At an MSRP of $599, it would be an unwise purchase.
Design
The U5 is an uninspired fingerprint magnet.
The U5 has that ubiquitous TV appearance that became such a common sight over the last five years: a grey screen wrapped in a bezel of shiny black plastic; a centered, rectangular base that's attached by a thin neck (to give the appearance of a seamless product); control buttons and connectivity options that are tucked away behind the TV in the attempt to give the front a clean, modern appearance. This design scheme is terribly uninspired, and the majority of the TV's exterior is that kind of reflective black plastic that can prove distracting at times. It's also particularly susceptible to fingerprints.
The U5 does not have the diversity of connectivity options you'll find amongst high-end or even mid-range HDTVs.
If you're looking for a reliable home theater hub, the U5 does not have the diversity of connectivity options you'll find amongst high-end or even mid-range HDTVs. All-in-all, the U5 offers up three HDMI inputs, a VGA input for a PC connection (with a headphone jack for PC audio), a coaxial jack for your antenna or cable box, and a shared set of inputs for component or composite (AV) devices. This isn't a massive selection, but it's enough for a basic set-up, and is standard for a TV in this price range. The U5 comes with a Panasonic remote control and two AA batteries, and is very easy to put together and get powered on right out of the box.
Smart TV Features
Panasonic has a solid entry-level menu interface.
As an entry-level TV, the U5 doesn't have any smart or 3D features. It does have a fully fleshed-out menu, replete with options for adjusting picture, sound, or the TV's internal clockery to your heart's desire. The menu is easy to navigate using the TV's standard remote and does a good job of hiding away more advanced adjustment settings, such as color temperature or audio EQ, in sub-menus. This gives the appearance of less, yet with plenty to tinker with beneath the surface.
The U5 produces surprisingly quality audio.
There's nothing here that's gasp-worthy, but if you so desire, the U5's 16-watt speaker output can play music for a party or gathering, as it produces surprisingly quality audio. For an entry-level TV, this U5 delivers a clear and well-balanced sound that fills a small to medium-sized room nicely. Unfortunately, its USB picture playback is marred by picture quality problems.
Comparable Products
Before you buy the Panasonic Viera TC-L42U5, take a look at these other televisions.
Picture Quality
The U5 has only one job to do, and we're sending it a pink slip.
The Panasonic Viera TC-L42U5 may seem like a decent deal at an MSRP of $599, but its picture quality will leave you wishing you'd spent a little more. In short, the U5's picture is distractingly underwhelming. It displays in 1080p, but is marred by an overly warm color temperature, so all content—no matter where you're sourcing from—is going to show up with a mild, but unacceptable, red-orange tint that pollutes certain shades of grey. Shadows in the picture should be colorless, of course.
Everything from a snow-covered mountain to the depths of the cosmos will suffer from this poor contrast performance.
On top of this, the U5 tested with a below-average contrast ratio. Contrast ratio determines how convincing blacks and whites are during viewing. The further apart they are in brightness, the more they'll look like real blacks and whites. This is where the U5 fails: Its blacks are not dark enough and its whites are not that bright. Everything from a snow-covered mountain to the depths of the cosmos will suffer from this poor contrast performance.
Conclusion
The bottom line: This TV is not worth your money.
With so many superior options offered by Panasonic, there isn't a good enough reason to purchase the U5. Panasonic's 2012 line-up has revealed that the company's strengths still lie in producing plasma TVs with highly accurate color, rich contrast, and the same ease-of-use as the LCD models. For two- or three-hundred more dollars, you could purchase one of the company's high-quality plasma TVs, such as the U50 (MSRP $899) or the XT50 (MSRP $799).
Our editors review and recommend products to help you buy the stuff you need. If you make a purchase by clicking one of our links, we may earn a small share of the revenue. Our picks and opinions are independent from any business incentives.