televisions
Panasonic TC-65AX800U 4K LED TV Review
A masterful 4K TV with plasma ancestry
$4,499.99 MSRP
65 in.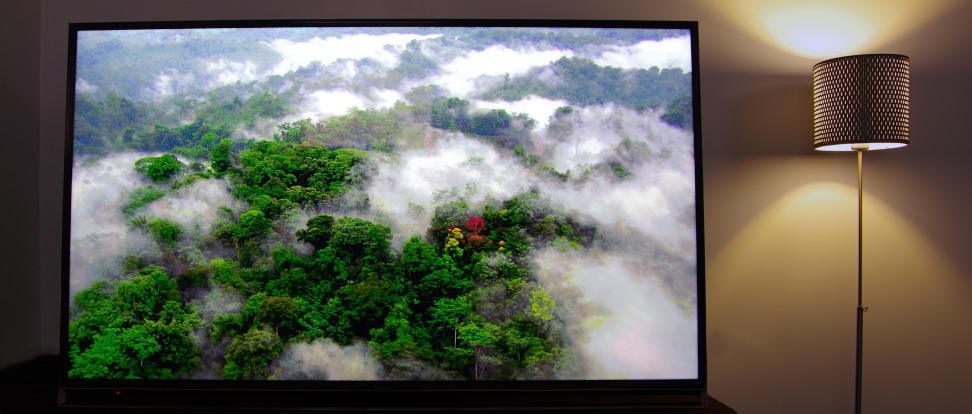 Behind the Screens
The Panasonic TC-65AX800U (MSRP $4,499.99) is currently Panasonic's biggest boast on the TV market, delivering smart features, 3D, and 4K (UHD) resolution with "plasma-like" picture quality. Testing revealed that while the AX800U doesn't perform on the level of the company's best plasma, it's quite a stellar performer nonetheless, offering deep black levels, good motion, accurate colors, and enough calibration controls to perfect it by industry standards. Panasonic's Studio Master Drive and dimming effects boost this TV's performance enough that all but the pickiest viewers will find something to love here.
Calibration
We tested and calibrated the TC-65AX800U in the TV's Home theater picture mode, which appeared to be the closest pre-set to our current testing standards for picture quality. Ideally, we want to see how a television performs within a black or very dark viewing environment, achieving a peak luminance of around 40 fL (or 120 cd/m2 ), a gamma sum of 2.4, and a DeltaE of 3 or less within the grayscale.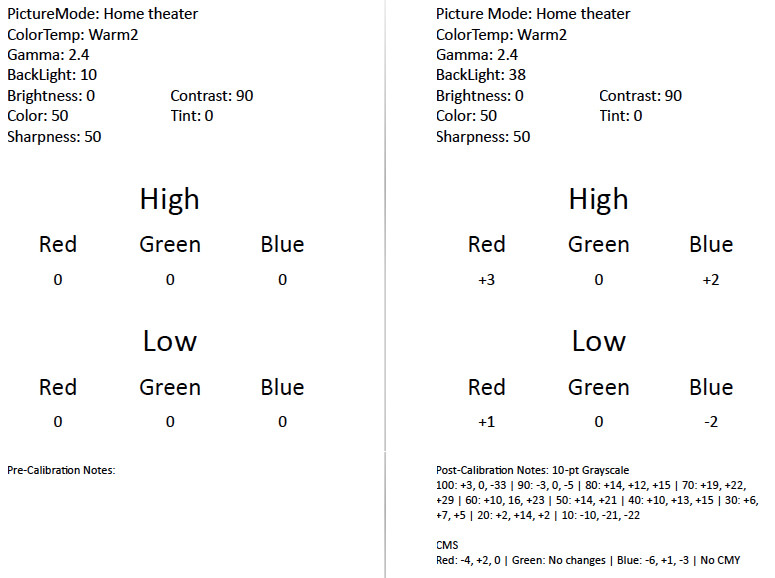 Calibrating the AX800U to our standards involved raising the Backlight from 10 (very dim) to around 38. I then corrected the grayscale and gamma as close to 2.4 as possible within the new lighting condition, and made very small adjustments to the TV's color points. Overall, the AX800U didn't require calibration, though it did benefit from some informed tweaking. Note that viewing angle and contrast results are taken before the full calibration process, reflecting what the majority of consumers will experience prior to any extra tinkering.
Contrast Ratio
The AX800U is not the strongest performer when it comes to overall contrast. We did test some very deep black levels off of an ANSI checkerboard pattern, however, which gives arguably the closest representation of real white/black levels during actual content. Within the Home theater picture mode, the AX800U produces a black level of 0.02 cd/m2 with a brightness of 55.77 cd/m2 , yielding a contrast ratio of 2788:1.

Compared to some of the competition from last year, the AX800U is capable of much darker black levels, but it's also much dimmer—sort of like a plasma. In a dark or dim environment, however, it's capable of ample brightness. We were able to calibrate the TV to about 120 cd/m2 without major detriment to the black levels, though the TV's dimming software must be enabled to take full advantage of this.
Comparable Products
Before you buy the Panasonic TC-65AX800U, take a look at these other televisions.
Viewing Angle
Another weak area for the AX800U is in horizontal viewing angle. Viewing angle—or how far from center you can watch a TV before the picture begins to be washed out—is especially important for a larger TV like this one; as it stands, it's more prone to be wall-mounted, where viewing angle is especially important. We measured a total viewing angle of 24°, or ±12° from center to either side within the Home theater picture mode. This is a disappointing result to be sure, and something that buyers should consider prior to purchase.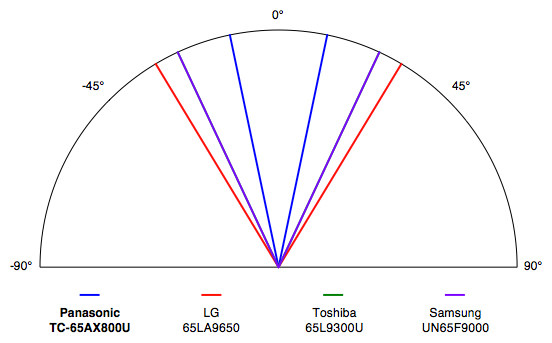 Color Gamut
In Home theater mode, the TC-65AX800U wields very accurate color per the Rec. 709 HDTV standard. The TV's Studio Master Drive helps it to achieve the proper hue and saturation for red, green, blue, cyan, magenta, and yellow by a process similar to a studio monitor's 3D LUT (lookup table), a sort of internal database for color coordinates than ensures accuracy. While the TV's colors were very accurate, they weren't perfect—but using the built-in CMS (color management system), I was able to nudge the primary and secondary colors into slightly better spots.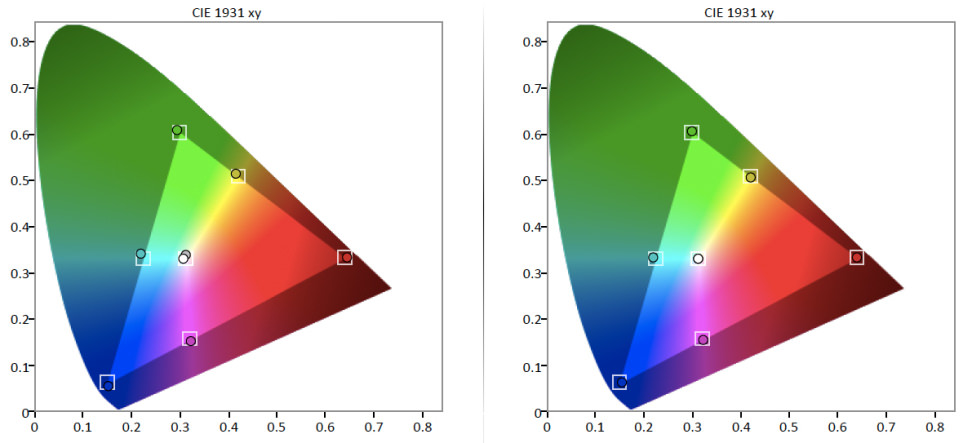 Color accuracy is very important in TVs for a number of reasons, the least of which is to make sure you're seeing every little detail that the director intended. Incorrect hues or over/under saturation in color can obscure details, especially for colors that are harder to create in a pure fashion, like orange or pink.
Grayscale & RGB Balance
A digital grayscale is created when a TV combines its red, green, and blue sub-pixels to create shades of black, gray, and white. The exact coordinates of the grayscale should all correlate to a specific "flavor" or shade of white called D65, which references a color temperature of 6500K. Errors within the accuracy of the grayscale are measured in DeltaE, where an error sum of 3 or less is considered acceptable. Prior to calibration, the AX800U tested with a DeltaE of 4.7—not terrible, but a little more error than we like to see. After calibration was complete, however, the TV had only a very miniscule DeltaE of 0.52.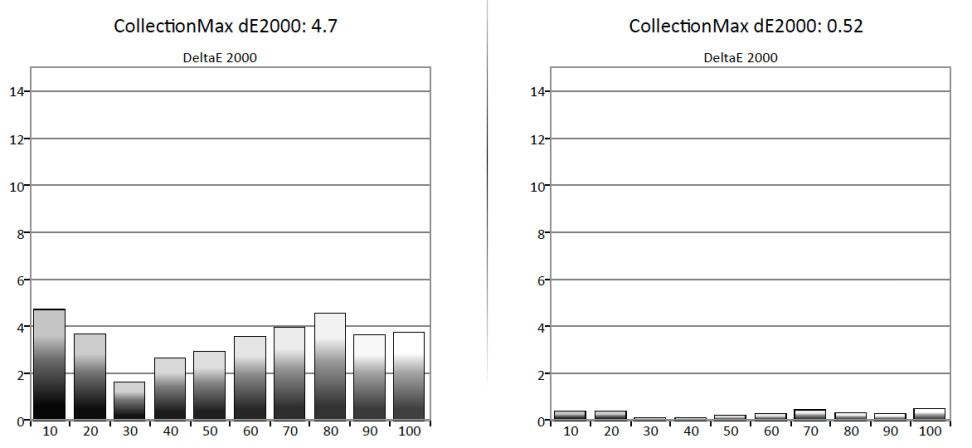 Error within the grayscale most often results from under- or over- emphasis of one of a television's sub-pixels during the production of blacks, grays, or whites. In Home theater mode, the AX800U tends to favor the green sub-pixel by default. Using the TV's 2- and 10-point white balance controls, I was able to slim down the discrepancies between the sub-pixels, proving that the TV is very capable of an almost perfect RGB balance, which makes for a clearer, more detailed, and more accurate picture.

Gamma
Gamma can be a difficult concept to grasp, but it essentially refers to how aggressively or quickly a display exits black (or no luminance) into gray and white—essentially, how bright each step is along the grayscale (though gamma also affects the relative accuracy and appearance of individual colors and hues). Prior to calibration, the AX800U tested with a gamma sum of 2.4 in the Home theater picture mode, although it was an imbalanced 2.4—brightening too quickly out of black and too slowly into peak white. After calibration, I achieved a gamma sum of 2.39, correcting the discrepancies in the gamma points at the bottom and top ends of the grayscale.

Our editors review and recommend products to help you buy the stuff you need. If you make a purchase by clicking one of our links, we may earn a small share of the revenue. Our picks and opinions are independent from any business incentives.