televisions
Panasonic TC-55CX420U 4K LED TV Review
This silver-bezeled, affordable 4K TV may be the perfect choice for some buyers.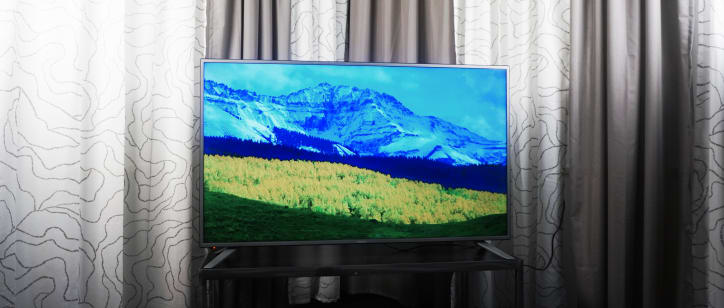 Credit: Reviewed.com / Lee Neikirk
The CX420U series is a budget 4K option from Panasonic's 2015 lineup. It's available in 55- and 65-inch sizes and starts around $1,060, settling it nicely into the "affordable 4K" sphere.
Yet unlike some of the bottom-of-the-barrel 4Ks we saw last year, the CX420U is actually a really good TV on top of being affordable and 4K-ready. It lacks some of the more impressive color stats and contrast abilities of its pricier peers, but for what you're paying it handles all kinds of content well and looks good in variable lighting conditions.
A few issues may turn away strict videophiles, but the majority of viewers won't have a problem. If you've been looking to get your hands on fancy new 4K resolution but have been waiting for a budget option that doesn't sacrifice its picture quality, the CX420U is a smart choice.
But is it the smartest choice? Unfortunately, no: a more robust feature set, slightly better PQ, and a recent massive price cut elect Vizio's 55-inch M Series ($800 right now) as the 4K value to beat.
How We Tested
We received the 55-inch CX420U on loan from Panasonic. Before testing we gave the TV ~20 hours to warm up by playing content that ranged from streaming movies to color bar patterns.
I watched a variety of content including 720p/1080p cable broadcasts, 1080p and 4K content on various streaming providers, and Blu-ray discs. We spent about five days total with the CX420U.
Advertisement - Continue Reading Below
Video Review
The CX420U's performance is basically identical to the CX400U—the only real difference is the CX420U's silver bezel.
Series Info
Panasonic's CX420U series is available in two screen sizes:
• 55-inch model (TC-55CX420U), $1,059 MSRP
• 65-inch model (TC-65CX420U), $1,649 MSRP
This series lives below Panasonic's CX600U, CX800U, and flagship CX850U and above the CX400U in the company's 2015 lineup.
The 55- and 65-inch CX420U TVs are roughly identical: both are direct-lit LED TVs with 4K resolution, identical AV ports, and simple smart TV features that focus on apps. The main difference between this series and the CX400U series below it is this one's silver design aesthetic.
While our review sample is a 55-inch CX420U, we expect performance parameters such as color, contrast, motion, and viewing angle to be identical between the 55- and 65-inch CX420U 4K TVs—one is just bigger than the other. Because both use static direct LED backlights, we also expect very similar screen uniformity.
What We Like
A good-looking 4K TV for the price, and the design ain't too shabby either.
There's a lot to like about the CX420U: simple menus, a clean design, and a friendly price tag. I started my time with this TV watching some 4K content on Netflix, specifically the new "Waterfall" entry into the Moving Art series of 4K videos. It took the TV a little longer than normal to get up to speed for 4K playback, but everything looked good once it did.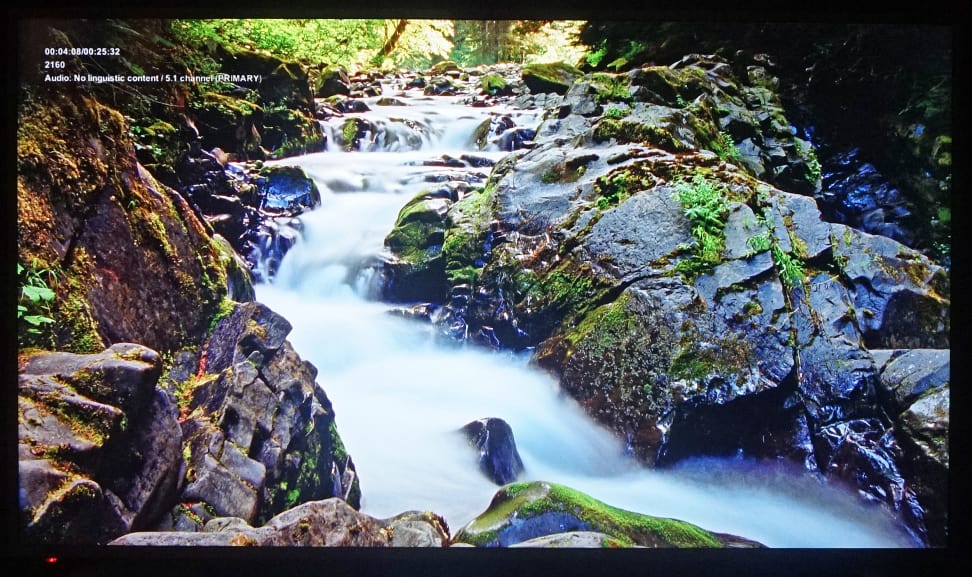 As with most of 2015's affordable 4K sets, colors were accurate but didn't exactly "pop" like today's 4K TVs with quantum dot. The color isn't bad, but it doesn't have the intense, next-generation look of pricier 4K sets. Even still, the super-blue "day for night" scenes in Mad Max look great and, as it stands, are plenty blue enough.
The TV's contrasting areas—inky shadows and bright sunlit spots—also looked very good. Like the CX400U, the CX420U has great screen contrast, owing in part to Panasonic's VA (Vertical Alignment) panel design. Like its sister model, it uses a "locked" backlight, so while it won't get severely bright or dark, it maintains consistent contrast during all content types.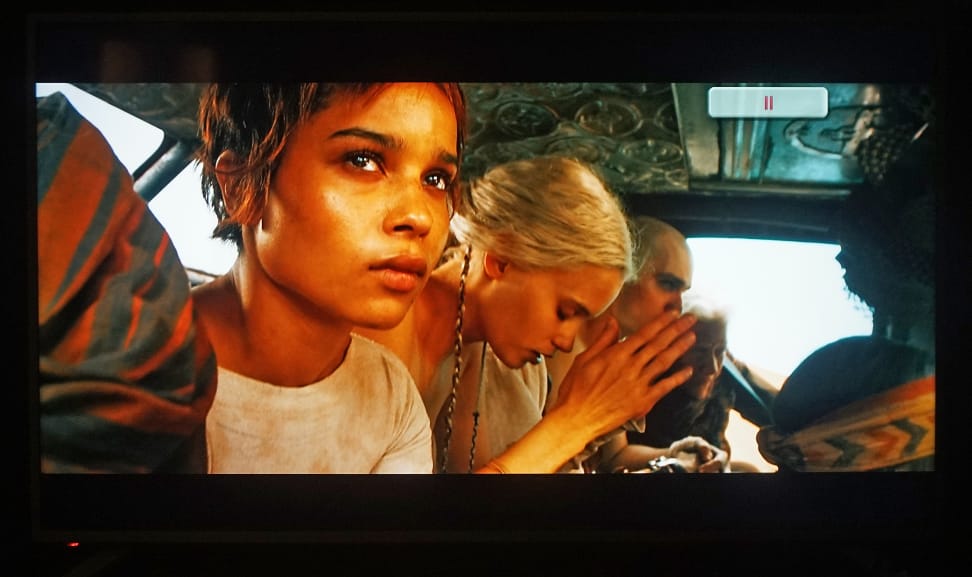 Finally, if you're into the hardware and design of your TV, you should note that despite its silvery matte finish, the CX420U is not a traditional heavy metal/industrial Panny TV. It's mostly a high-quality plastic, and the 55-inch version we tested wasn't very heavy. This isn't really a bad thing, since Panasonic's usual metallic design would up the price, but it's worth keeping in mind if you're a long-standing "fanasonic."
What We Don't Like
Some assembly required
If there's one thing I don't like about this TV, it's that it isn't really set up properly in Cinema mode. Traditionally, Panasonic TVs have a "movie" or "cinema" mode that represents the most accurate picture out of the box, but the CX420U doesn't quite hit the mark.
Since it's a 4K TV and has to upscale most content, you'll find on cable and Netflix it needs to be especially careful about sharpening. Unfortunately, the Cinema mode over-sharpens, which is especially noticeable when there's film grain on Blu-rays or compression artifacts during streaming.
I noticed this some in Mad Max: Fury Road. I watched the opening scene where Imperator Furiosa first embarks on the eastward detour away from the Bullet Farm, and noticed distant shots of the desert just looked grainy and bad, especially during horizontal/diagonal panning. Turning the "Sharpness" setting down to zero improved things, however, so we recommend notching down the sharpness stat.
The Cinema mode also has the "MEMC" motion smoothing setting toggled to Medium by default. The CX420U is a 120 Hz TV, so it (like most TVs) doesn't really need motion smoothing to look good. We recommend just turning this off unless you're noticing blurring/judder on cable/satellite sports or action movies. It especially shouldn't be on if you're watching filmic content on DVD or Blu-ray.

However, the CX420U's biggest issues are the same as its sister model, the CX400U. Notably, while the TV delivers great head-on contrast, it's picture degrades quickly during off-angle viewing. This means it isn't the best choice for big rooms or large groups of spread out viewers.
Lastly, it may go without saying, but don't count on great audio here. In fact, the CX420U sounds especially bad to me, and turning it up during Mad Max revealed compressed, tinny-sounding speakers that struggle with clarity at higher volumes. If you want good sound to complement the overall good picture, at least get a soundbar.
The Verdict
Another solid 4K value from Panasonic, this time with a silvery flourish
Panasonic already earned our seal of approval with the CX400U series, which is more or less identical to the CX420U. Both sets deliver excellent contrast, accurate color, 4K resolution, and at least a few useful smart features. The CX420U actually wins a few more accolades with its silvery finish, which gives it a sleeker, more stylish appearance.
The problem, however, is that the CX420U just don't stand up against our favorite affordable 4K TV, Vizio's M series. It boasts similar design and slightly better picture quality, and you can find the 55-inch M series for just $800 online as of this review. It's hard not to outright recommend it.
That Vizio may be also simply be the better choice if you can't find the CX420U. Like with the similar CX400U 4K LED TV series, this one's availability appears to be quite limited, with online options limited and retail locations up to chance.
However, if you are dead set on tracking down the CX420U, you can currently find it direct from Panasonic for $899, or on Newegg for the MSRP of $1,299.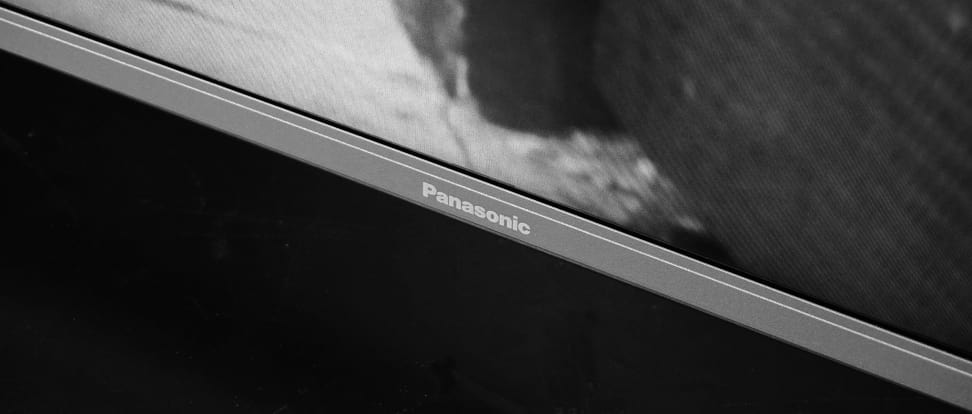 Our editors review and recommend products to help you buy the stuff you need. If you make a purchase by clicking one of our links, we may earn a small share of the revenue. Our picks and opinions are independent from any business incentives.
Our editors review and recommend products to help you buy the stuff you need. If you make a purchase by clicking one of our links, we may earn a small share of the revenue. Our picks and opinions are independent from any business incentives.
Advertisement - Continue Reading Below
Compare Prices
Our editors review and recommend products to help you buy the stuff you need. If you make a purchase by clicking one of our links, we may earn a small share of the revenue. Our picks and opinions are independent from any business incentives.
Get Our Newsletter
Real advice from real experts. Sign up for our newsletter
Thanks for signing up!