televisions
Panasonic Viera TC-L55ET60 LED TV Review
This mid-tier LED delivers some of the best color accuracy we've seen.
$1,699.99 MSRP
55 in.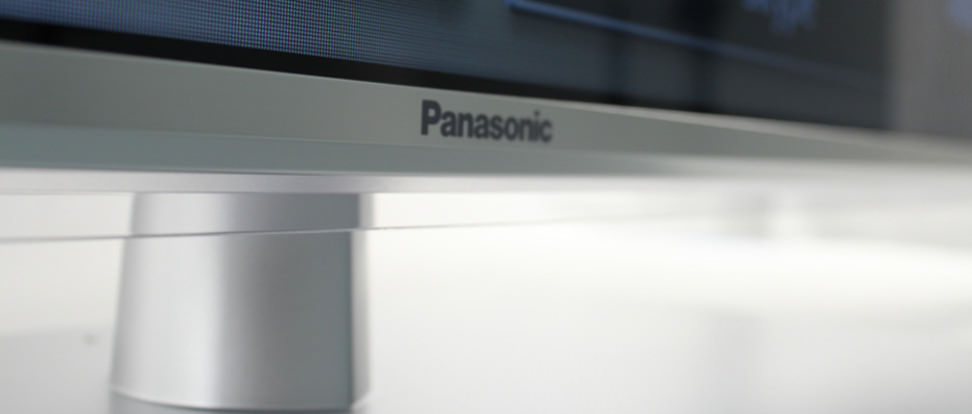 Overview
Panasonic is cruising through 2013 with one goal in mind: television domination. We've reviewed a fair amount of the company's new lineup—and the results are largely favorable. Aside from its noteworthy plasma TVs—which are fantastic—Panasonic has shown that its LED displays are no joke.
We'll tell you right away that the ET60 is a rock-solid TV, but how does it differ from the similar-yet-cheaper E60? Aside from a "T" and $300 (the 50-inch ET60 retails for $1,299 versus $999 for the E60), Panasonic adds some design touches to this mid-range set and an IPS (in-plane switching) panel. And while they tested with similar results, the color accuracy on this particular model is among the best we've ever seen.
Design
Another fine example of Panasonic's sleek design ethos
It may not have the stunning good looks that the flagship WT60 has, but the ET60 is still sleek and stylish. Want a slim profile? The ET60 has you covered. How about a grey color scheme that evokes brushed-metal, but without the added heft? The ET60 has that as well. If our only complaint about this TV's design is that it doesn't look as good as the WT60, then you know you're dealing with a looker.
Panasonic includes all the basic ports to appease most TV enthusiasts.
As far as ports are concerned, Panasonic includes all the basics to appease most TV enthusiasts. Three HDMI inputs, a combo component/composite port, and two USB jacks make up the majority of the ET60's options, all conveniently located on the back-left of the TV. And while we're talking about ports, let's eulogize the aging VGA connection—we haven't seen him around much this year. Long live the video graphics array input!
Smart Features
Not the most feature-packed smart platform, but at least it covers the basics
Panasonic's current crop of smart TVs are a vast improvement over last year's, although they still aren't quite that smart. At least Viera Connect—Panasonic's current smart platform—is a smooth operator in terms of navigation. The customizable Home Screen, which is your base of operations, offers a glimpse at current TV content and access to apps.
Viera Connect is one of the few smart platforms to offer all three content-streaming heavy-hitters: Netflix, Hulu, and Amazon.
And while smart TVs seem to be focusing more on interfacing with cable content, Panasonic still goes the app-centric route. This isn't a completely bad thing—Viera Connect is one of the few smart platforms to offer all three content-streaming heavy-hitters: Netflix, Hulu, and Amazon. There are also apps for streaming baseball and U.S. soccer games. Unfortunately, typing using the bundled remote is a chore; Panasonic's excellent Touch Pad Controller isn't included on the ET60.
If you want to learn more about Panasonic's latest smart offering, check out our Viera Connect guide here.
Comparable Products
Before you buy the Panasonic Viera TC-L55ET60, take a look at these other televisions.
Performance
Contrast aside, the ET60 is a performance powerhouse.
Wow. We rarely test TVs with color accuracy this good—seeing it on a mid-tier model is unheard of. And by good, we mean near perfect. Whether you're watching cable or a Blu-ray, content looks fantastic on the ET60—and that's with a completely average contrast ratio, too.
We rarely see color accuracy this good on TVs.
We mentioned earlier that one of the main differences between this TV and the slightly lower-end E60 is the inclusion of an IPS panel. Without getting too technical, this type of panel typically offers both a wider viewing angle and higher degrees of color integrity in off-angle viewing. The downside to this technology? Poor black levels. While the ET60 doesn't have a crazy-wide viewing angle—we tested the same result on the E60—it does display a way-too-bright black level, although scorching whites help to offset this. Still, we'll take these drawbacks if it means color integrity of this caliber.
Another difference between the ET60 and E60 is audio quality. The ET60 has a built-in subwoofer, which makes a huge difference quality-wise. Gone are the tinny sound effects heard on lesser TVs; in the same way that accurate color helps content look the way it should, having some bass makes content sound the way it should.
The ET60 displays a way-too-bright black level.
And yes, the ET60 offers 3D. It isn't mind-blowing, but we didn't notice any crosstalk issues. It merely exists, and if you feel the need to enter the third dimension, the option is there.
The Finale
Great design, great picture quality—what's not to love?
The Panasonic ET60 is a great performer. While its contrast disappointed us, almost everything else is top-notch. The ET60's strongest area of performance may be its accurate color, but that's not its only strength; superb audio and great motion help this Panasonic excel.
So is a 50-inch Panasonic ET60 better than a 50-inch E60? Is it worth the extra $300? Yes! While the E60 produces a wider contrast ratio, the ET60 is the winner everywhere else. That $300 gets you some of the best color accuracy around, plus a more striking design, satisfying audio, and slightly better motion. We'd shell out the extra $300 for that.
Our editors review and recommend products to help you buy the stuff you need. If you make a purchase by clicking one of our links, we may earn a small share of the revenue. Our picks and opinions are independent from any business incentives.