televisions
LG 32LN5700 LED TV Review
A solid entry-level from LG that's both affordable and smart? Sign me up.
$549.99 MSRP
Buy now at Amazon
32 in.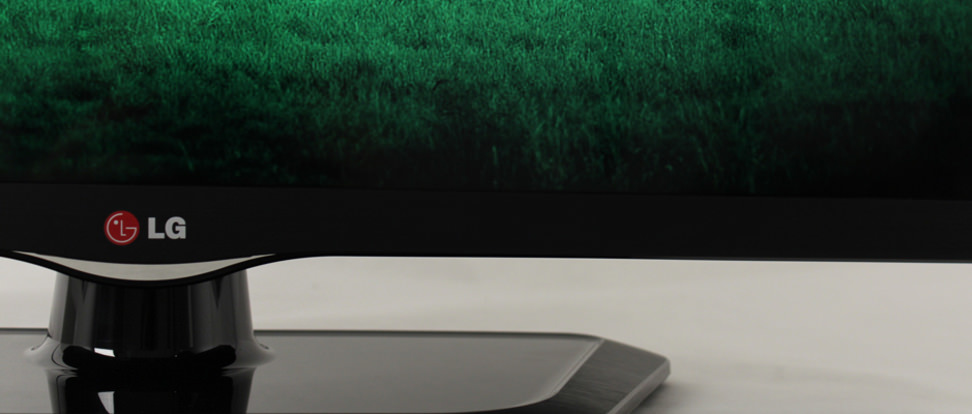 Overview
LG's LN5700 series is a low-tier entry into the company's 2013 lineup of LCD televisions. The LN5700 series is smart, but not 3D, offers 1080p resolution, and comes in six different screen sizes: 32-, 39-, 42-, 47-, 50-, and 55-inch units are available stateside. Prices range between 550 and 1,600 greenbacks.
For the price point, this series offers an awful lot of value. Not only is every iteration capable of giving easy access to LG's full smart platform, but the picture quality is very good for an entry-level series. The LN5700 may perform best only in higher ambient lighting, but the average user is going to be perfectly satisfied by its picture.
The Looks
Plain black is making a comeback
Okay, maybe not, but it's certainly the "go-to" look for entry-level teevs like the LN5700. Our little 32-inch sample unit is handsome in the way that a toddler in a child's tuxedo is "handsome." It's not going to sweep anyone off of their feet, but it does exhume the spirit of more classy TVs from yesteryear. The LN5700 is wrapped up in black plastic bezels, and perches upon a flat, aerodynamic stand that sort of looks like the Northrop Grumman B-2 Spirit (if you squint hard enough).
This TV purports a sort of stock usability—by that, I mean it has just the bare minimum amount of flare. Ports are located both along its left side and clustered in a recessed area on its rear. You'll find on-set controls in a similar string on the far right, tucked behind the bezel so as to leave the front untarnished by buttonry.
"The LN5700 is handsome in the way a toddler in a tuxedo is handsome."
Connectivity options are classic entry-level fare. The immediate rear gives users a single, shared component/composite input, LAN (ethernet) in, digital audio out, headphone jack, and RF in for cable/antenna connection. On the side, you'll find three HDMI inputs and three USB inputs.
Unlike almost every other 2013 LG series, the LN5700 does not come with the company's vaunted Magic Remote. Instead, it's packaged with a long, thin, infrared clicker that is so 2009. While this button-heavy handheld is easy enough to use, it doesn't make menu navigation or smart activity nearly as fluid as its sorcery-touting predecessor.
At the end of the day, there's nothing special about the way this TV looks or operates. That means you're not getting any aesthetic frills. The law of transitive properties should also tell you that you aren't paying for any of that, either, so if you're hunting the bare bones market for a simple TV, this one ought to pip on your radar.
Looking Further
Photos by Virginia Barry
The Experience
Without the Magic Remote, this TV ain't 2 smart
At this point in the year, we've extensively browsed and cataloged LG's smart platform. In my opinion, its most stand-out feature is how well it works with LG's Magic Remote, a motion-infrared controller than enables much quicker typing, mouse emulation, and settings selection than the standard clicker. Unfortunately, the LN5700 does not come with that remote, and its usability is notably degraded.
Thus, while it's just as smart as its high-end brethren, the LN5700 is not as easy to use. You'll still find an integrated browser, the now-ubiquitous content apps (Netflix, Hulu Plus), and a wealth of pre-installed and downloadable apps enabling content sharing between home-network devices, news, weather, sports, and terrible flash games.
"While it's just as smart as its high-end brethren, the LN5700 is not as easy to use."
While streaming content and social networking apps are still usable under the shaky hand of the basic remote, things like mouse emulation, typing, and basic platform navigation are much less fluid via directional keys.
That said, the LN5700 is no less high-end when it comes to customization and software complexity. Users have access to a wealth of picture modes; Cinema is still our go-to choice for calibration. The LN5700 allows for a number of sound modes, including surround imitation and a customizable EQ menu. Displayed aspect ratio can be controlled, and advanced options (including RGB bias/gain and color temperature controls) are all in tow.
The LN5700 doesn't allow for the exactness of control that a paired Magic Remote ensures, but it's still a viable smart TV, and LG's platform is certainly not lacking in content. The whole software package is a valuable addition to this entry-level model, and it's quite the boon: Buyers can still get the full LG smart experience without paying extra for design frills or 3D tech. If you don't go into this budget series expecting high-end software, you'll be pleased with the wealth of options still available.
Photos by Virginia Barry
Comparable Products
Before you buy the LG 32LN5700, take a look at these other televisions.
The Picture
A bright, color-true picture
We're impressed by the LN5700. For an entry-level TV, its picture quality is quite high. While we found black levels of higher luminance than is desirable, there were no major drawbacks to this TV's performance which—for the price—says a lot.
This LG proved able in producing the full, accurate span of colors as dictated by the HDTV color standard, Rec 709. Its color gamut iss highly accurate, with peak green, red, and white hitting ideal levels of saturation. Blue iss only marginally off the mark, pulling more towards cyan (and away from violet) than it should. We tested almost no color temperature deviation, and a particularly smooth, even greyscale curve. The end result is a picture that accurately represents all hues and shades as intended; a bright, crisp display of color.
"This LG proved able in producing the full, accurate span of colors as dictated by the HDTV standard."
As I said above, we were disappointed by this LG's poor black level, which led to a below-average contrast ratio. The LN5700 possesses the contrast ability of a high-end monitor, meaning it's not terribly appropriate as a dim or dark room television. Films like The Dark Knight with lots of detailed, shadowy scenes will suffer; on the other hand, these high luminance levels are great for a bright or sunny room, and make most content really pop off the screen.
Perhaps the most impressive aspect of this TV's performance, however, is its motion ability. LCDs often struggle to produce motion with the same efficacy as plasma TVs, but the LN5700 was able to display complex motion content with neither color trailing nor artifacts/jaggies. There is a small amount of retention blur during fast-moving content, but even with the LN5700's motion smoothing turned off, the amount is very minimal. Overall, detail retention is very fine on this LG, which is equipped with a dual-core processor; clearly, that was a smart move.
While the LN5700 doesn't have the high-end bells and whistles of pricier displays, nor the deep shadow details of modern plasma panels, its overall picture is very good. A brief calibration yielded results that, for the series' price point, are praiseworthy.
Final Thoughts
A solid entry-level choice that's smart to boot
We feel that an investment in the LN5700 series would be wise. This entry-level series from LG is capable of producing a finely colored, motion-friendly picture that—while a poor choice for a dark room—nonetheless looks high quality in moderate to bright lighting. The TV's contrast ratio may be a bit narrow if you're looking for the best quality picture, but the average user is going to be entirely satisfied by the images this TV produces.
Considering you can get the 47-inch model within the LN5700 series for under a grand ($1099 MSRP, less on sale), we think this series has a lot of value. Couple that with the full smart platform loaded onto each unit, and you've got a very solid budget buy.
Our editors review and recommend products to help you buy the stuff you need. If you make a purchase by clicking one of our links, we may earn a small share of the revenue. Our picks and opinions are independent from any business incentives.