televisions
LG 55LB6300 LED TV Review
Old dog, new tricks
$1,099.99 MSRP
Buy now at Amazon
55 in.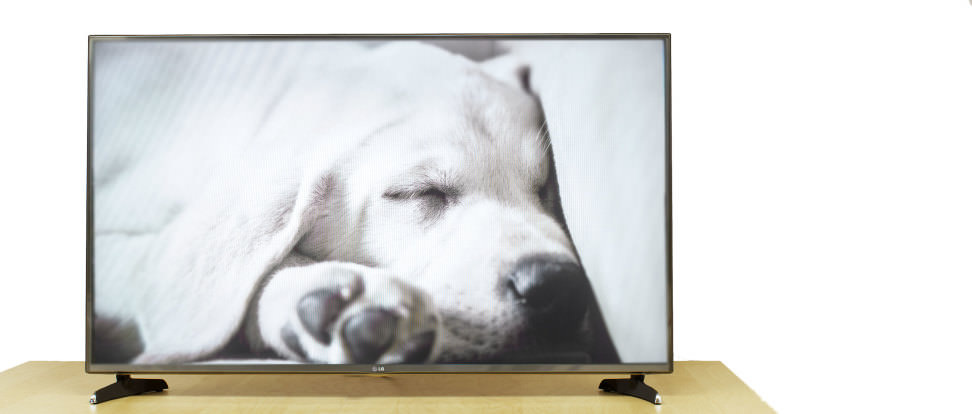 Behind The Screens
The LG 55LB6300 (MSRP $1099.99) has a few too many drawbacks to make the grade in 2014. In fact, even a few years ago, this black level was on the weaker side. By modern standards, it's downright unacceptable.
Even still, black level isn't everything. Despite the poor uniformity and charcoal-colored shadows that result from poor black levels, the LB6300 has strengths, too. We tested decent color accuracy and a tight RGB balance, ensuring that the grayscale's color temperature doesn't deviate heavily between shades. The LB6300 also tested with an average viewing angle.
Calibration
We calibrate each TV we test for two reasons. First of all, calibrating a TV to ITU standards is a good way to determine just how far from those standards it is by default. Second, an informed calibration reveals what each TV is capable of if you were to hire a calibrator after purchasing it.
Our calibration targets are those considered ideal for a black, home theater viewing environment: a 100 IRE (peak) brightness of about 40 fL (120 cd/m2 ) and a gamma sum of 2.4. If the TV has controls for white balance or color tuning, we use them to improve the TV's picture as much as possible (per international standards).
Calibrating the LB6300 involved lowering the Backlight setting from 80 to 58, setting the gamma pre-set to 2.4, and making various adjustments to the TV's 2-point white balance control. LG also includes a 20-point control, but the sub-pixels proved unresponsive to this feature.
Below, you'll find LG's picture pre-sets in Cinema mode, alongside my final calibration settings.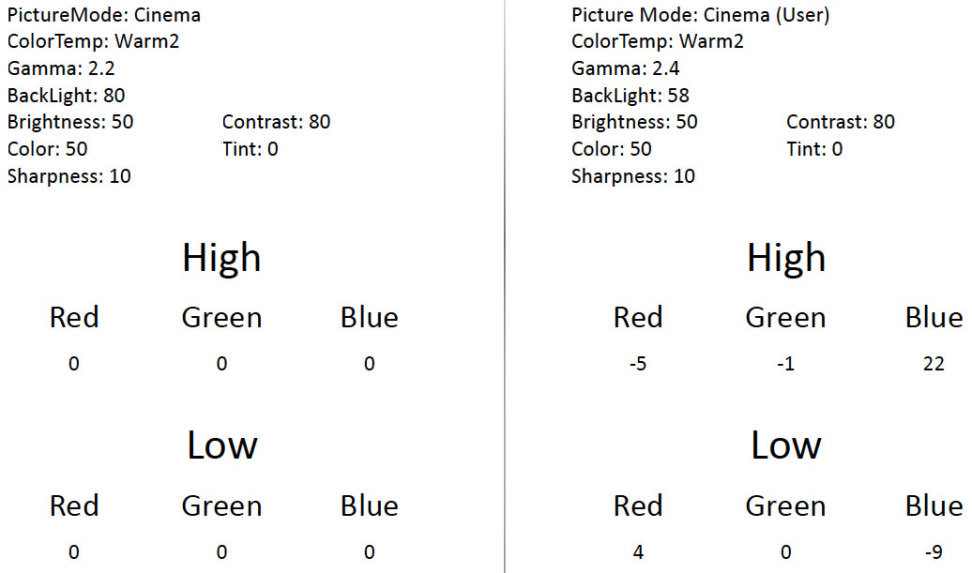 Contrast Ratio
A TV's contrast ratio says a lot about how immersive the picture is. Inky black shadows and bright, shimmering highlights just look more like real life compared to when the brightest elements are closer in luminance to the darkest.
To determine a TV's contrast ratio, we divide its average 100 IRE luminance by its average 0 IRE luminance—basically, contrasting the brightest and darkest points you'll usually be seeing on screen.
The LB6300 tested with a contrast ratio of 913:1, which is very narrow compared to competition from other 2014 LCD TVs. An overly bright black level of 0.208 cd/m2 and a peak white of 190 cd/m2 make for a shallow appearance.
Comparable Products
Before you buy the LG 55LB6300, take a look at these other televisions.
Viewing Angle
Our viewing angle test determines how far from center (head-on) you can watch a TV before the picture starts to degrade. Naturally, off-angle degradation of the picture has a lot to do with how light travels through the panel from the backlight, which can be a telling sign of the panel's overall quality.
The LB6300 tested with a total viewing angle of 43°, or ±21° from the center to either side of the screen. This is a little better than some of its competition, but overall is quite average.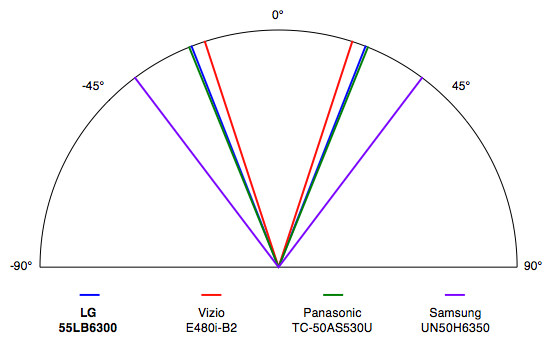 Color Gamut
A color gamut is a visual illustration of a TV's color production. Red, green, and blue are the primary colors for all digital displays. Combining red and green makes yellow, combining red and blue makes magenta, and combining green and blue makes cyan. Combining red, green, and blue makes the neutral elements of the grayscale: black, gray, and white.
Naturally, for this reason, it's very important for a TV to meet the color points specified by the Rec. 709 HDTV color standard. A yellowish red or an undersaturated green can mean that content isn't as detailed and vibrant as it could be, or worse, things are simply the wrong color.
The LB6300 tested decently in this regard, producing color points that were quite close to the ideal, even if none of them were perfect. Despite having an on-board color tuner, the TV's primary points proved mostly unresponsive during calibration, so I wasn't able to do much to improve the LB6300's color accuracy.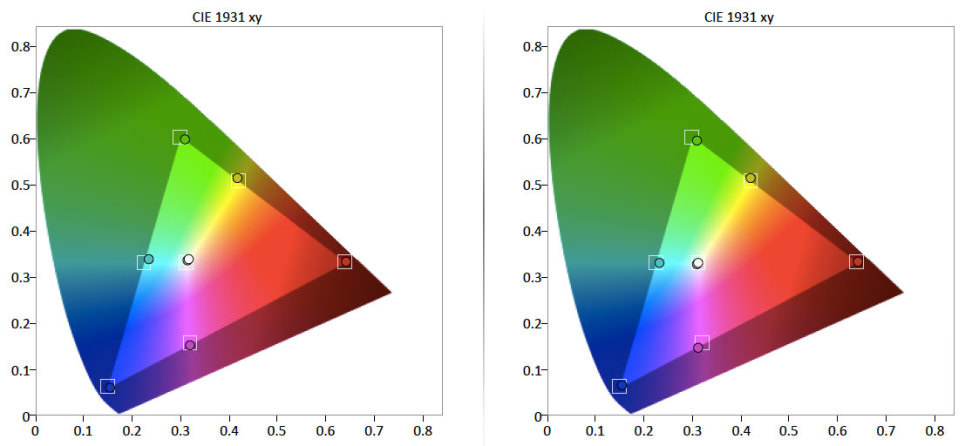 Grayscale Error
Grayscale error—discoloration of blacks, grays, and whites—can make or break a TV. There are practically no scenes in any TV shows or movies that don't contain some element of the grayscale, and if reddish or blue-tinged grays and blacks don't break your immersion—the result of grayscale error—you should probably just grab a book instead.
Grayscale error is expressed as a collective amount of error across the spectrum called DeltaE. Ideally, we like to see a DeltaE of 3 or less. The LB6300 tested with a DeltaE of 4.5, with the majority of the error occurring at 30 (dark gray) and 100 (peak white) IRE levels. After calibration, the LB6300 reported a DeltaE of 2.47, which is within the ideal threshold, but just barely.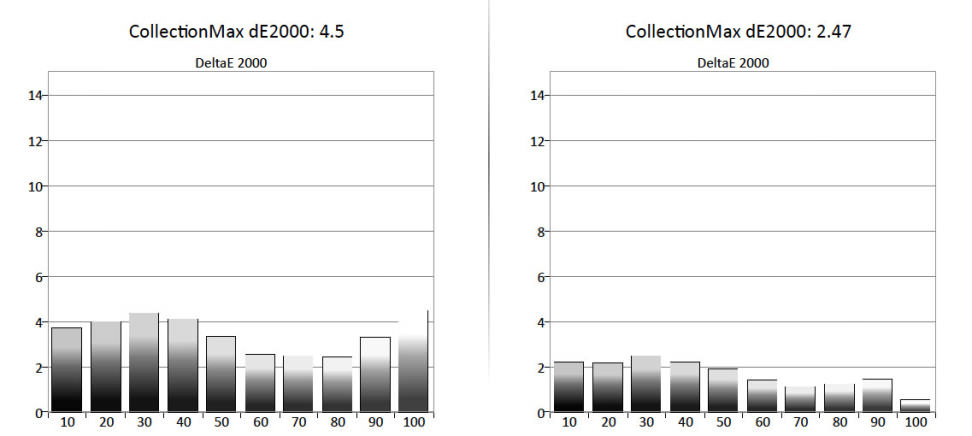 RGB Balance
Error within the grayscale—like that noted in the previous section—is often the cause of an imbalance in the TV's sub-pixel emphasis. Ideally, each of the red, green, and blue sub-pixels will be emphasized evenly, balancing the TV's grayscale production to a neutral black, gray, or white.
Testing revealed that the LB6300 fosters a naturally well-balanced sub-pixel emphasis for most of the grayscale, but begins to over-emphasize green and red at the expense of blue towards the highest IRE levels (highlights). Using the 2-point white balance control, I was able to reduce red and green to even out this discrepancy, reducing the overall DeltaE.

Gamma Sum
A gamma sum refers to the total gamma (luminance correction) that a display uses when processing a digital signal. Gamma is expressed in ideal sums like 1.8, 2.0, 2.2, or 2.4. Lower sums mean that more luminance is added between steps of the grayscale, resulting in an image that gets bright out of shadow tones very quickly. A higher sum means that the display exits shadow tones more slowly, which is better for dim or dark room viewing.
The LB6300 tested with a gamma sum of 2.18 prior to calibration, which is close to the 2.2 ideal. This is a fine gamma for a room with a moderate amount of ambient light. We calibrate for a dark room, however, so we aim for a gamma sum of 2.4. After calibration, the LB6300 produced a gamma sum of 2.28—this is closer to a dark room ideal than before, but still not quite where it ought to be.

Our editors review and recommend products to help you buy the stuff you need. If you make a purchase by clicking one of our links, we may earn a small share of the revenue. Our picks and opinions are independent from any business incentives.