televisions
LG 55LB6300 LED TV Review
Old dog, new tricks
$1,099.99 MSRP
Buy now at Amazon
55 in.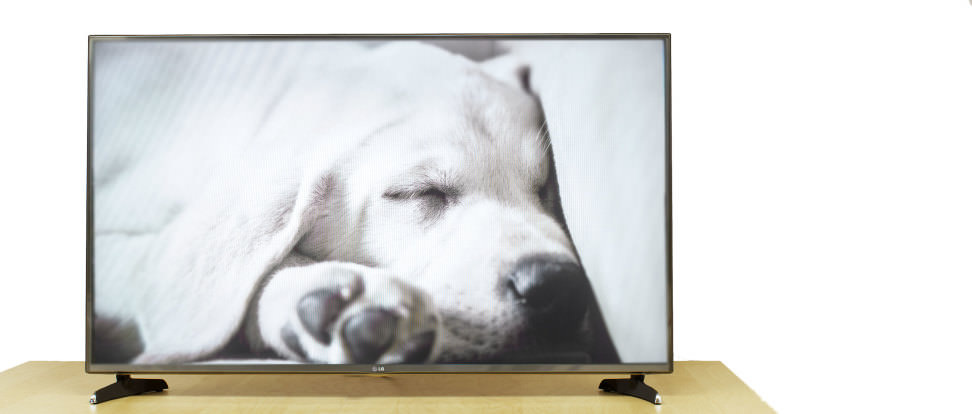 The LG 55LB6300 (MSRP $1099.99) is our first LG of 2014, and our first taste of the company's new and improved webOS smart TV platform. That's the same platform that made such a huge splash (and won one of our Editor's Choice awards) at CES 2014.
Not everything's changed, though: LG's signature Magic Remote is still in full swing (literally), making the excessively fun webOS platform that much easier to navigate.
Sadly, the LB6300 definitely hasn't improved in one key performance area—black level. This TV's black levels are more of a charcoal/deep gray than actual black. The relatively narrow contrast ratio here really detracts from how immersive this TV looks, and it isn't something you can fix with calibration.
Still, that doesn't mean the LB6300 won't find buyers. Cartoons, sports, news, and daytime shows look great on this LG, and it offers one of the snappiest, simplest smart platforms on the market—so although anyone with a penchant for movie night may need to hunt for something a little darker, casual daytime viewers might not be disappointed by this TV.
The Picture
Brought down by black levels
Videophiles around the world will insist that black level, or minimum luminance level, is the most important performance area for a television—and we wholeheartedly agree. While this LG has a few solid performance points, including accurate colors and a passable viewing angle, its black level is a black mark on its record.
Black levels have more of a charcoal appearance than true black.
Case in point: Black levels here are notably gray, with more of a charcoal appearance than true black.
This means that predominantly dark scenes—stars against a night sky, or every single scene from the new Batman movies, for example—just don't pull you in the way they should. Black areas glow lightly with excess luminance from the backlight, and it looks bad.
The TV's inability to properly dim its backlight LEDs—a major black level detractor—results in poor uniformity, as well. When watching letterbox 16:9 content, such as a Blu-ray disc or DVD, the black bars at the top and bottom of the screen are very distracting unless you're watching in a well-lit environment. Shadowy areas look blue-tinged and overly bright even during fullscreen content.
While this kind of shadow performance isn't entirely damning, it's worse than what we've come to expect from a 2014 TV.
The LB6300 just isn't cut out for a dark viewing environment or as a main gaming display.
Another area where the LB6300 could be improved is in motion performance.
Specifically, there's a lot of motion blur during video games, even in the Game mode pre-set. It isn't terrible overall—the LB6300's motion performance is fine for most kinds of content, such as daytime soaps or news—but avid gamers will want to avoid very fast-paced play on this TV.
As usual, the severity of these problems depends on how you use the LB6300. In a bright room, for example, the poor black levels won't be as perceptible—the LB6300 fosters bright, beautiful colors with plenty of general luminance. Be warned, though: The LB6300 just isn't cut out for placement in a home theater, a dark viewing environment, or as a main gaming display.
The Look
Better bust out the measuring tape
Thinking of buying this TV? You may find yourself stumped if you don't measure your TV stand first. The 55LB6300's stand is actually two very wide-set, curved feet, meaning it will need a surface that's at least about as wide as the panel itself. If you want to install the 55-inch version, for example, you'll need a TV stand that's at least 50 inches wide.
You'll need a TV stand that's at least 50 inches wide.
Not everything is unconventional, however. The LB6300 sports a beautifully designed panel with narrow bezels and a glossy screen.
The screen doesn't just look nice—its glossy sheen boosts highlights and enhances color clarity compared to one with an antiglare coating. On the downside, it's also very reflective. Dark, metallic finishing races around the perimeter of the panel, adding a subtle touch of class to the overall design.
The back of the panel is a bright gray, and there are plenty of video connections here, too. A string of horizontally oriented side inputs includes three HDMI and three USB, making it easy to connect high-definition devices, charge a smartphone, or set up an external drive without crawling behind the TV with a flashlight.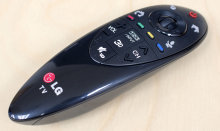 Rear ports include connections that tend to be more static: RF (cable/antenna) in, shared component/composite hookups, digital audio out, LAN (ethernet) in, and an RS-232 control port.
Last but not least, rifling through the packaging will reveal the new-and-improved Magic Remote.
The LB6300's Wii-like controller is not quite as refined as the one that comes with higher-end models, though. Its hard black plastic and etched buttons take some getting used to. As far as functionality goes, however, it's just as effective—more on that in the next section.
Comparable Products
Before you buy the LG 55LB6300, take a look at these other televisions.
The Experience
Under construction
If you're going to buy this TV, do it for webOS. The new smart platform is a snappy, modern take on the lumbering, sluggish software of the past few years. Switching from one app to another is comparable to your smartphone, and the layout is beautiful and clean.
You might want to give it a couple more months, though. WebOS is on a mission to revolutionize smart TV, but there are plenty of kinks to work out in its early stages.
LG's app store is entirely non-existent at this point in time.
For example, the LB6300 itself has more trouble connecting to a WiFi signal than many of the TVs we've reviewed this year. Once you're safely online, webOS is surprisingly fast and fluid, but if your router isn't physically near the TV you may have trouble.
Another issue is with LG's app store: It's entirely non-existent at this point in time. Sure, there are plenty of pre-installed apps, but users looking for games, weather, or local news apps will have to wait until the new LG store is available.
Update: According to representatives at LG, the app store was available at launch, but had to be taken down recently. We'll update this review accordingly once it's functional again.
With a strong WiFi signal, however, the apps that are available—such as Netflix, Hulu Plus, Facebook, and YouTube—work wonderfully.
Say you pull up Netflix and start watching a TV show. You can pause it, open up the web browser, and jump to IMDb to confirm whether that really was Will Smith in the background of that TV show. Unlike previous smart platforms, leaving the Netflix app and returning to it doesn't require a relaunch—you can simply jump right back to where you paused, kind of like changing a channel.
While this might sound elementary, this level of speedy app-to-app jumping is unprecedented for smart TVs, and it means a promising future for webOS.
Unfortunately, LG's software menu doesn't work with the same delightful fluidity as webOS. The software menu just doesn't jibe well with the TV's motion controller.
Getting to basic picture and audio settings requires jumping through more hoops than I'd like, and adjusting settings within those menus is made tedious simply by presentation.
Getting to basic picture and audio settings requires jumping through hoops.
The content you'd want is all here, though.
LG offers a number of picture modes—Standard, Vivid, Cinema—and useful audio settings, such as an EQ and a speaker balance slider. System and network options, such as sleep timers and wireless scanning, are also all in working order. Content isn't the problem.
The problem is trying to adjust things—it's just darn tedious. For example, clicking on the Contrast control moves the menu to a position at the bottom of the screen. If you then want to adjust Brightness, you have to backtrack.
It's also hard just to get into the software menu in the first place. The "Q. menu" (Quick menu) button prompts a small menu on-screen with options for input selection, typing in a cable channel, or clicking a little gear. These buttons are very small in relation to the size and sensitivity of the Magic Remote's cursor, and it makes all of the menu operations harder to execute.
The Verdict
webOS may be shiny and new, but the black levels mar performance
If testing has revealed anything about the LB6300, it's that videophiles won't like it. Those of you who love watching movies in the dark, appreciating every subtle ruffle of clothing and shadowy corner, will want to avoid this set outright due to its poor black levels.
If picture quality isn't a deal breaker for you, though, you might really like how the LB6300 looks—especially if you're watching in a brighter viewing environment where the poor black levels aren't as obvious. After all, the colors on this TV are beautiful and the viewing angle is above-average for an LCD, so daytime television shows will look quite nice.
But let's be honest: The LB6300's biggest selling point is the webOS smart platform, and we're certain that the kinks will be ironed out sooner than later. This smart platform is sophisticated, but it's also charmingly simple and fresh.
For the list price of $1099, this 55-inch TV is very smart, and will only get smarter. It's a great choice for many viewers, but videophiles should consider other options.
Our editors review and recommend products to help you buy the stuff you need. If you make a purchase by clicking one of our links, we may earn a small share of the revenue. Our picks and opinions are independent from any business incentives.