televisions
LG 55LA6900 LED TV Review
LG's 55-inch LCD is feature-full and a joy to look upon, but doesn't have the chops to provide an immersive picture.
$1,999.99 MSRP
Buy now at Amazon
55 in.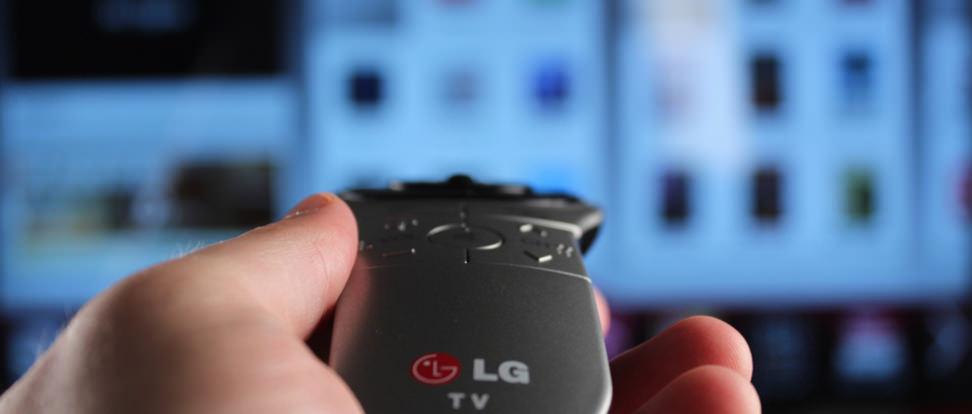 LG—formerly known as Lucky-GoldStar—is the display industry's premiere producer of liquid crystal panels. To say that the company knows a thing or two about the world's most popular television technology would be an understatement.
Imagine the LG Display team and a host of robotic assistants creating a fusion of science and magic. Think of the years of research leading up to; the careful measuring specifically for; the cutting, handling, and assembling of... one single, pristine panel. Hear the symphony of hyper-precise, nano-second-timing, specially-engineered automatons working without pause.
LG's 55LA6900 is one direct result of that magnificent process: A 1080p LED LCD that's smart, 3D, and—at an MSRP of $2000—quite expensive, too. I found that this TV produces rich, accurate colors—LG's 3D tech and smart content are always pretty top-notch, too.
Unfortunately, the LA6900 simply cannot produce a respectable black level, which really hurt its score. It's a fine product in every other way, but a TV's main selling point is truly the ability to provide rich, realistic shadows. Two-thousand bucks is too much to pay for just a flashy design and fancy features without the core performance to back them.
The Looks
LG's TV design is still evocative of future times.
Some time ago—way back in 2012—we got our first LG of the year. Forgetting all about the looming apocalypse, we were immediately impressed by its unique design. Enter 2013: LG still designs some of the sleekest, sharpest, sci-fi-iest tellies around.
The LA6900 is handsome, slim, and forged in sexy, liquid black.
This upper mid-range unit perches sturdily upon a single metal arm, which hoists the narrow-bezeled panel in effortless balance. This product is handsome, slim, and forged in sexy, liquid black.
The TV's branch stand also allows it to swivel a few degrees to the left and right, shifting upon mechanically sliding pieces attached to the bottom. For $2000, you're also getting four pairs of LG's passive 3D glasses—light, comfortable, and pre-assembled, which is a nice touch. This year's iteration of the Magic Remote is included as well, a gunmetal wand that uses infrared tech to produce a motion-based, Wii-like cursor.
As for usability, the LA6900 offers living room legends and home theater hosts plenty of ports. On the side of the TV, you'll find 3 HDMI inputs and 3 USB inputs, smartly clustered and labeled. Within a recessed area on the rear of the panel, LG includes further connectivity options: A shared component/composite input, a coaxial cable jack, digital audio out, LAN (ethernet) in, and an analog audio out for headphones.
The Experience
A wealth of features and awesome smart content
LG makes a great smart platform, though the company's partnership with Google is even better. You'll be glad to know that LG's 2013 smart platform is in full working order on the LA6900, offering users a huge horde of quick-loading apps and streaming content from big names like Netflix and Hulu Plus.
The Magic Remote features a dedicated Home Menu button, which will transport users right to the smart content.
Startup sees networking a wireless or wired internet connection. I found that the LA6900's WiFi range is pretty solid; it picked up networks from Mordor to Rivendell (yes, those are both networks in our area). Once a connection is established, getting at all that juicy smart content is as simple as pushing a button. The Magic Remote features a dedicated Home Menu button, which will transport users to their personal smart content HQ, all the while maintaining a helpful PIP of whatever you're watching in the corner of the screen.
The LA6900 is also capable of controlling a set-top box or Blu-ray player through a quick setup process. Simply search out your STB manufacturer, and HDMI-CEC controls do the rest, allowing you to change channels/operate various devices that are connected to the TV via HDMI. It's quite helpful, consolidating a potential basketful of clickers into a single omnipotent remotent. My one gripe is about the Magic Remote itself: While fun at first, it can grow tedious to use for longer, subtler tasks. Typing in a website URL or calibrating the TV's specs in finer detail would benefit from a traditional controller.
Speaking of calibrating, picture purists will be glad to know that the LA6900 includes a full suite of calibration controls. Both 2- and 10-point grayscale balancing are available, as well as a full CMS (Color Management System). The LA6900 includes a host of Picture mode pre-sets, including two ISF Expert modes for dedicated Day and Night settings, I'd wager. This allows those with the experience and equipment—or simply the will to hire a calibrator—the option of tweaking the LA6900 into perfection, via HDTV standards.
Comparable Products
Before you buy the LG 55LA6900, take a look at these other televisions.
The Picture
Solid color accuracy, but little else to redeem it
Like so many LGs before it, the LA6900 tested with entirely predictable results. I've dabbled with LG's LCDs for some time now, and thus had two expectations for this one: A poor black level, and very accurate colors. I was, unfortunately, correct. Black level is our highest-weighted test category, and this TV's was closer to gray, a result which heavily squashed its overall score. Grab the hard data on the Science page.
The 55LA6900 is capable of producing very accurate, rich colors.
On the plus side, the 55LA6900 is capable of producing very accurate, rich colors right out of the box. Within the Cinema picture mode, with a brief calibration, its color production is very accurate. Primary and secondary colors will look both balanced and properly hued.
Unfortunately, that is where my praise must end. Other test results—backlight uniformity, motion performance, audio, and viewing angle—proved entirely mediocre. The LA6900's 120 Hz panel does a sub-optimal job of preserving detail in moving content, even with motion processing modes enabled, which is a real turn-off for film buffs and gamers. Overall, the LA6900 makes a better media-hosting device than it does a traditional television. Cartoons look awesome! Films on Blu-ray? Not so much.
The Verdict
This TV has a few strong points, but they're overshadowed by some glaring drawbacks.
The 55-inch LA6900 retails for about $2000, though you could likely find it for less online. That said, I really don't recommend purchasing this TV unless you find it at a serious discount. I had high hopes for this LG, but its core performance just isn't strong enough. It has all of the usual weaknesses attributed to LCDs: A poor black level and blurry motion handling.
That's not to say it's without uses. As far as pure color production goes, the LA6900 is great. It's also a very feature-heavy display, hosting up one of the best smart platforms on the market right now. It's a quick, stylish machine—the 3D isn't half-bad, either. Unfortunately, a slew of cool add-ons don't make up the value lost in performance.
Our editors review and recommend products to help you buy the stuff you need. If you make a purchase by clicking one of our links, we may earn a small share of the revenue. Our picks and opinions are independent from any business incentives.