televisions
LG 50PZ950 Review
This 1080p plasma television with internet and 3D capabilities is purportedly the best LG has to offer.
$1,500.00 MSRP
50 in.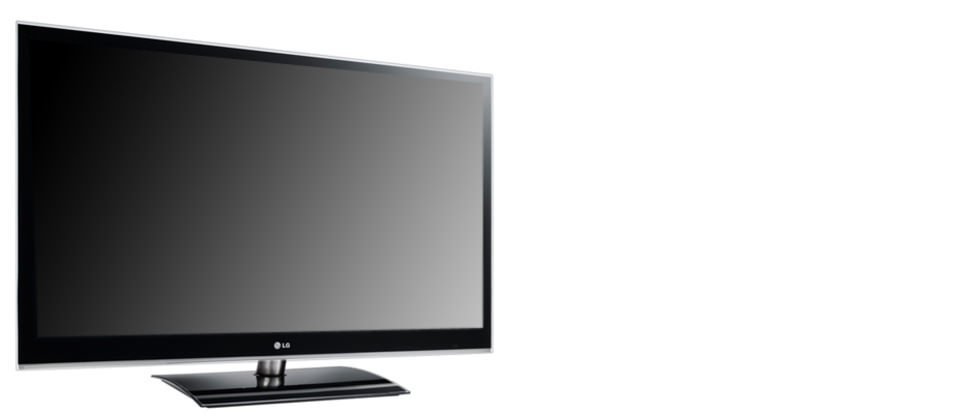 Introduction
This 1080p plasma television with internet and 3D capabilities is purportedly the best LG has to offer in 2011. The LG 50PZ950 (MSRP $1500) looks great, has all the features, and is billed as one of the best televisions for 2011. Going into testing with these high hopes, we found some strange issues along the way. There's a long list of pros for this TV, but do the short list of cons weight it down too much?
Design
There are no surprise twists to the design on the LG 50PZ950, but it's still a good looking set.
The PZ950's bezel is thin on the sides and in profile. The stand is unobtrusive, supportive, and sleek. At first blush there's little about this that stands out, but it's somehow attractive. Like a well made suit, this is a classic design will never go out of style sitting in your living room.
Port connections are strong with this one.
Port connections are strong with this one. There are four HDMI ports, four analog connections (two composite, two component, neither adapted), and two USB ports—one ready to take a whole hard drive of strictly legal content, right? There are two different computer connections, a standard PC VGA plug (with an accompanying PC audio input), as well as an RS-232C pin connector to run your TV from an external computer. It's everything the enthusiast could ask for, leaving the PZ950 ready to be the centerpiece of your home theater setup.
Smart TV Features
A great selection of internet features contained in some all-inclusive menus.
We are big fans of the LG menu system. Hitting "Home" on the remote brings you to a hub where you can access the inputs, settings, internet streaming videos, and LG apps. While the list of options is extensive, Lg has included a nice touch by keeping whatever content you were watching in a scaled version in the top-left of the screen.
By clicking on the "Premium" section of the Home menu, you will be brought to this fun section of the smart TV interface. This is the best way to browse the multitude of options available. Each of the buttons can be exchanged for others of your choosing. You have your media link, web browser, and apps at the bottom. It's a menu interface that invites you to look around and try out some of the latest features LG has to offer.
Comparable Products
Before you buy the LG 50PZ950, take a look at these other televisions.
Picture Quality
While its design and menu systems are deserving of praise, the PZ950's picture quality had some issues.
The LG PZ950 performed admirably in motion tests.
As far as total performance comprehension goes—taking in the wide swath of this television's abilities—the PZ950 isn't bad. It possesses a very wide viewing angle, which makes it a great choice for a wide or shallow room, allowing numerous people to watch together without suffering from contrast loss. Speaking of contrast, the PZ550's contrast ratio was quite good, reaching almost four times what we consider to be acceptable. Its color accuracy, while not without flaw, is close enough that most viewers will be able to stand it. But let us warn you that this TV does not produce the wide range of accurate colors we expect from a flagship, and more keen viewers may start to regret their purchase after the novelty wears off.
The LG PZ950 performed admirably in motion tests. With high frequency patterns in motion, we noticed minor jagged edges developing around the frame and within the patterns. High frequency images, like a series of tightly drawn lines, are the most difficult for a television to move smoothly. The LG 50PZ950 had modest difficulty here. Pictures of people retained excellent detail, faces were completely recognizable, and fine lines stayed strongly separate. Overall the picture quality is acceptable, but for a flagship plasma, some may feel let down.
3D
3D is not quite there yet, plus this LG lags behind an already slow pack.
The LG PZ950 uses active shutter glasses to show you 3D images. This is the more costly option for home 3D, as the glasses are expensive (approximately $60 a pair). Many people claim to like active shutter 3D images more because there is no resolution loss like you get from passive 3D images, but there are quality costs as well.
Since the active shutter glasses are alternately blocking out one eye and then the other to create stereoscopy, you lose half the refresh rate and motion will not be as smooth. Either way, you lose half of something because you need to create two separate moving images from a single screen with limited resources. It's a dilemma, and one that LG clearly hasn't solved yet. If you're desperate for 3D capability in a high quality television, you may want to look at other options.
Conclusion
For the price and claims of being the best, we have to advise you to look elsewhere.
There are many of aspects to appreciate about the LG 50PZ950 ($1,500—much less than the original $2,000 MSRP). This behemoth plasma screen has features aplenty. Just by buying an LG with internet connectivity, you get one of the best user interfaces, with the Home menu acting as a central hub for all types of media possibilities. There are plenty of connections in the back for new and old devices, and you can watch 3D movies if you have the Blu-ray player to do so.
However, we cannot really recommend purchasing this flagship without a steep discount, given the performance issues. This TV's ability to transition smoothly along a greyscale gradient or a color gradient was so bad that we assumed something was wrong with our testing. The gamma scale shows us that many values are not used and there is a lack of detail in shadows. You will see a good amount of banding in your images. The colors were just plain wrong.
We like the design, but the image quality just doesn't justify the steep price of admission. It's not awful, but unless you can find it for closer to $1000, there are better values to be had.
Our editors review and recommend products to help you buy the stuff you need. If you make a purchase by clicking one of our links, we may earn a small share of the revenue. Our picks and opinions are independent from any business incentives.