televisions
LG 50PB6600 Plasma TV Review
Shallow black levels devastate this plasma's picture quality.
$699.99 MSRP
Buy now at Amazon
50 in.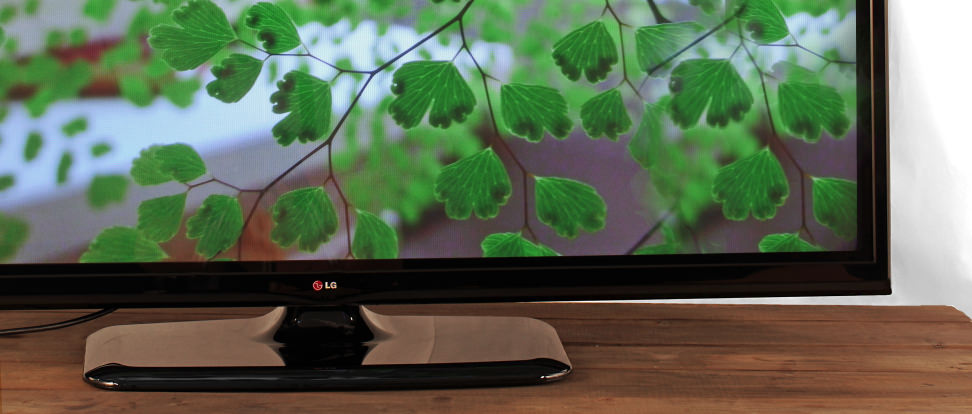 It's official: Plasma TVs are on the 2014 endangered species list. Thanks to declining production, the beloved technology is more scarce than ever this year.
It would be nice if the LG 50PB6600 (MSRP $699) stood as a dazzling reminder of the powerful reign of plasma TV, but that's simply not the case: One of the technology's biggest draws has always been the ability to produce a stunning black level—and this LG TV does nothing of the kind. It seems the PB6600 meandered down the same ill-fated path as LG's 2013 iteration.
The Looks
When in doubt, wear all black.
The PB6600 goes with the classic flatscreen dress code: black bezel, black trim, black stand. The elements are a bit rounded and out of date, but the appearance is otherwise unoffensive, if somewhat dull. Because it's a plasma, this LG is on the heavy side—so be sure to recruit a second set of hands to help with setup.
The connections are ample. Peek around the back left side and you'll find basically everything you need: two USB ports and a HDMI input to the side; digital (optical) audio out, ethernet (LAN) in, a coaxial jack, shared component/composite, and two more HDMI inputs further back.
Of course, it wouldn't be a cookie-cutter TV without a cookie-cutter remote. LG's small clicker features rubber buttons and shortcut keys to make app and menu navigation a bit easier.
The Experience
Everything you need—in an outdated package
While the PB6600 is packed with plenty of great apps, the presentation is yesterday's loaf of bread. LG really wowed the tech world at CES 2014 with its brand-new webOS smart platform—but unfortunately, the LB6600's abbreviated interface is the 2013 version.
The PB6600 comes with dynamite apps like Netflix, Amazon, Hulu, and YouTube.
So the good news is that the PB6600 comes with dynamite apps like Netflix, Amazon, Hulu, and YouTube; but the bad news is that the interface is outdated and abbreviated (no cable integration or recommendation features, for instance). To make things worse, the dinky remote is a nightmare to type with.
On the upside, the menus are great. The design is sleek and easy to read, and the layout is logical and simple to navigate. The settings include basics like Brightness, Contrast, and Sharpness, and an Expert Menu includes controls for gamma, white balance, a customizable motion-smoothing mode, and more.
The Picture
Good performance—except for poor black levels, which sinks the whole ship
It's time to talk picture quality. This LG performs well enough in most categories to earn a solid overall score, but it fails miserably in a crucial area of performance: black level.
This display's black level is the worst I've ever measured on a plasma TV.
A deep black level truly constitutes the crux of great image quality—and plasmas are known for excelling in this regard, but not the PB6600. This display's black level is the worst I've ever measured on a plasma TV. Inky black scenes look gray and shallow on this panel. Little cinematic details that should come together to form a lifelike picture just don't pop. To make things worse, like many plasmas, this one doesn't ramp up powerfully in brightness, either. The result is a fairly dull image that fails to impress with dazzling highlights or deep-dark shadows.
This TV produces fairly accurate colors and smooth motion.
This is a real shame, too, considering that this TV produces fairly accurate colors and the smooth motion that plasma TVs are lauded for. And the viewing angle? Nearly perfect. You can sit from just about anywhere and the image quality doesn't degrade. Nevertheless, the grayish black level puts a damper on everything, causing the picture on this TV to look more muted and shallow than it should.
The Verdict
A plasma TV without plasma's hallmark perk
The LG PB6600 is the first plasma we've tested this year, and it's a huge letdown. This TV isn't just disappointing for a plasma, it's disappointing in general. Things seemed promising at first, with great streaming apps, accurate colors, a massive viewing angle, and adept motion handling—but this display's grayish black levels crash the party completely.
I'm not sure how a plasma TV wound up with this problem; inky black shadows are what the technology is loved for, after all. Whatever the case, buyers would be wise to point their wallets elsewhere and avoid this LG entirely.
Our editors review and recommend products to help you buy the stuff you need. If you make a purchase by clicking one of our links, we may earn a small share of the revenue. Our picks and opinions are independent from any business incentives.