televisions
LG 47LM6700 LED TV Review
Unconvinced about 3D TVs? LG is here to change your mind.
$1,749.00 MSRP
47 in.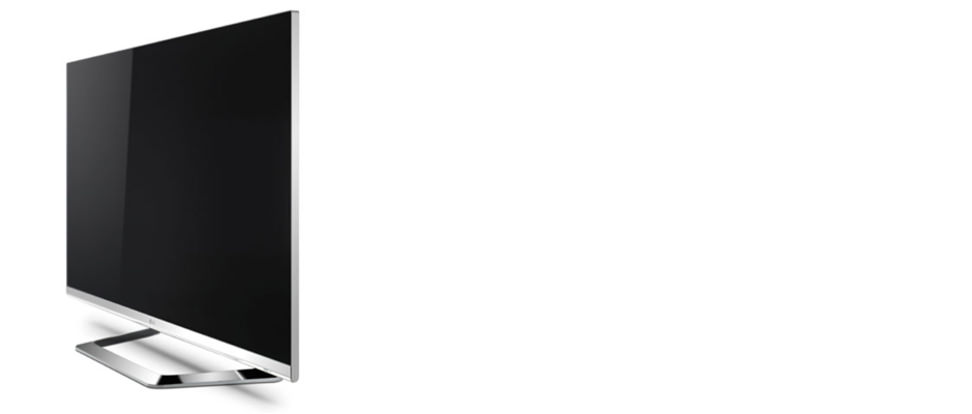 Introduction
We have spent the past few years maligning 3D technology. We used our vast creative negativity to rebuke what we felt was the most expensive and simultaneously worthless "innovation" in television history. Scathing reviews were written about 3D imaging for the following reasons: reduction of resolution, reduction of refresh rate, reduction of contrast, heavy crosstalk, very little content, possible permanent eye injury, headaches, nausea, exhaustion, distraction, boredom, and a general lack of interest.
We were ready to deflate the LG 47LM6700 ($1799 MSRP), a 2012, 1080p, LED, 3D, smart TV with our routinely forked tongue, but instead we sat down to a delicious meal of crow. With a new technology that debuted late last year, LG shows us that 3D can look really good, plus avoid most of the problems mentioned above.
Design
This modern panel is a prime example of futuristic design.
The sleek silver finish, the bent bar stand, the monolithic display, and the magic remote mean a whole new style of television. This LG would fit nicely in a house with a modern motif and it certainly looks cool...for now, but in a couple of years, you may rethink this hyper-stylized piece.
It certainly looks cool...for now.
On the back, there are four HDMI ports and three USB ports in an L-shaped cutout. Two of the HDMI ports have specific functions. One of them is the HD ARC (Audio Return Channel) connection which allows for audio transfer between sources, essentially acting as simultaneous HD video and S/PDIF connection. There is another HDMI port specifically labled for a PC connection, but we are not sure what the difference between this HD port and any other would be for connecting an HD signal from a computer.
Smart TV Features
Wow, there's a lot of stuff here.
An internet browser, the LG Smart World App store, 3D streaming content, premium streaming channels like YouTube, Hulu, Vudu, LG Social Center, K Pop Central (a preloaded app connection to all the Korean pop music you could want), games, USB media, LG Dual Play, LG Smart Share, an on-board User Guide, 387.4 MB of on-board memory, and one bad-ass search feature to filter everything contained herein.
What a mouthful. It's almost too much to wade through, but it is actually quality content. LG has made it so easy to navigate all of these options that you will be thankful for the overstuffed content rather than drowning in the mire of inoperable nonsense. The competition in the smart television market is often based off of how much a company can cram into a television, less on how well the consumer can get around. LG has done both wonderfully.
Comparable Products
Before you buy the LG 47LM6700, take a look at these other televisions.
Picture Quality
Judged solely on its performance, this TV is great.
The 47LM6700 showcases some of the best color accuracy in the business.
LG is repeating its usual strengths and weaknesses. The 47LM6700 showcases some of the best color accuracy in the business and a surprisingly low contrast ratio. Using black levels way brighter than other top-quality displays, LG still maintains quality without competing in one of the leading stats. You may not see any rich dark values, but the colors, as usual, are fantastically accurate. On top of this, the viewing angle is spectacular for an LCD screen and the motion processing was pleasantly rendered.
3D
LG is doing something revolutionary here.
LG's new circularly polarized images and Film Patterned Retarder (FPR) lenses combine to remove many of the disadvantages of home 3D. There is no resolution loss, because pixels do not need to be cutout to make the angles for polarization, meaning you can watch 1080p 3D images. There is no flickering and therefore no refresh rate loss.
The best 3D technology we have seen.
Overall, this is the best 3D technology we have seen. We really like the images—they are mesmerizing and fun to watch. It does not get tiring, it is not sickening, or exhausting, it's just 3D, the way you have always wanted it to work.
Conclusion
The 47LM6700 ($1799 MSRP) is a spectacular 3D smart TV from LG.
There is so much to say in favor of this LG. To begin, the picture quality is superb. LG has made sure to take care of the picture essentials before heaping on some of the best advanced features in the industry.
The smart TV offerings—streaming videos, an internet browser, various apps—make up the forefront of the Home menu, where these various features are collected in one helpful interface.
Then there's the award-winning LG Cinema 3D, which blows all other 3D TVs out of the water as far as we're concerned. The passive 3D images come at viewers in full HD and do not flicker like active 3D. They show so little crosstalk we could hardly believe it.
All together, we recommend the LG 47LM6700. The overall picture quality is fantastic and the advanced features are top-notch. Honestly, we do not expect to be able to buy a 47-inch TV with this kind of quality and feature set for the money that LG asks. We think any consumer looking for a new-age television will be happy with the LG 47LM6700.
Our editors review and recommend products to help you buy the stuff you need. If you make a purchase by clicking one of our links, we may earn a small share of the revenue. Our picks and opinions are independent from any business incentives.