televisions
JVC SP50M-C LED TV Review
This rock-solid JVC does a lot right for a lot less.
$799.99 MSRP
50 in.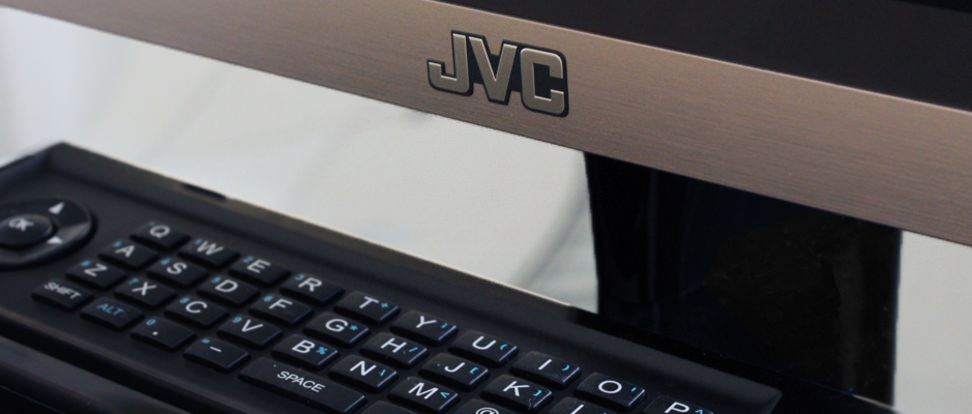 JVC has come a long way since having its RC-M90 boombox immortalized on the cover of LL Cool J's first album. Sadly, portable stereos and high-speed cassette decks are no longer profitable, so you'll now find the Japanese company making low-end TVs.
Unlike other budget brands—Westinghouse, Dynex, Insignia—JVC actually makes an internet-ready model, complete with Netflix and VUDU apps. The SP50M-C (MSRP $799.99) is more than just a cheap smart TV, though. JVC actually offers a moderately attractive display, complete with good picture quality and plenty of extra features. Don't remortgage your house just yet—this may be the budget buy you've been looking for.
The Looks
Boring base, radical remote
JVC's BlackSapphire line—which the SP50M-C belongs to—has a trim physique in addition to internet features. Bezels are minimal on this tele, while a sideways glance reveals a somewhat-slim profile. I'll be honest: This JVC isn't in the same league as high-end models from Samsung or LG, but for $800, it looks great.
I'm amazed to see a keyboard remote bundled with an $800 TV.
You also get a decent selection of ports on this display. When viewed from the back, the SP50M-C's connectivity options are located on the right side. You'll find three HDMI inputs, a USB port, optical and analog audio outputs, a component/composite input, ethernet, and the standard RF input.
If only JVC put a little more emphasis on this TV's base, though. As it stands, you only get a plastic rectangle for the SP50M-C's foundation. Boring, but functional.
At least the bundled remote razzles and dazzles. JVC went with the two-sided approach: normal TV-related buttons on one side and a QWERTY keyboard on the other. The first side has all the features you'd expect, while the QWERTY keyboard makes searching for movies on Netflix and VUDU much, much easier. The actual remote does feel a bit cheap, but I'm still amazed to see a keyboard remote bundled with an $800 TV. Maybe I shouldn't be.
The Experience
A fluid menu and useful apps? What's going on here?
With budget TVs, you don't typically get access to a good menu interface. Before assembling the JVC SP50M-C, I assumed I would get an ugly box in the middle of the screen, with just a few picture options.
Boy, was I wrong.
Numerous picture options are available—not things you'd usually find on a budget display.
JVC's menu is a translucent bar on the left-side of the screen. You can choose between inputs, picture and audio options, and network setup. The delicious creamy filling lies in the picture options, though. Local Dimming, Ambient Light Sensor, and numerous color temperature adjustments are present—not things you'd usually find on a budget display.
Even the audio menu has some great features, like the XinemaSound 3D option, which mimics surround sound. With this feature toggled on, the SP50M-C produces pretty good sound—perhaps a throwback to JVC's boombox days?
The most surprising aspect of this TV's software is its smart "platform." It's hard to accurately call it a platform since there are only four actual apps, but they're all useful. Netflix, Pandora, VUDU, and SlingPlayer are your choices. Yes, the cable-streaming Slingbox has an app on this TV. The Slingbox is typically used to stream cable and DVR content to your computer or smart device, but with the included app, you can stream the same content to your TV. That makes the SP50M-C a great second TV, granted you have a Slingbox.
On the vast, vast majority of budget smart TVs, users get stuck with basic remotes that make searching for movies and shows a total nightmare. But coupled with this JVC's QWERTY keyboard-equipped remote, Netflix, VUDU, and SlingPlayer are a cinch to use. Ditto for logging in, especially if you have an abnormally long password.
Comparable Products
Before you buy the JVC Black Sapphire SP50M-C, take a look at these other televisions.
The Picture
Blue skies are too blue
JVC's SP50M-C produces a perfectly acceptable picture—in fact, I'd go so far as to call it "good." There's just one nagging detail that drags it down. Sort of.
This is the worst representation of the color blue I've ever tested.
When testing a TV's color, we focus on four main points: white, red, green, and blue. The SP50M-C nails white—expect no discoloration when viewing snowy mountains or an incoming car's headlights. Red and green are also quite accurate. But blue... in a nutshell, this is the worst representation of the color blue I've ever tested. The SP50M-C has trouble creating truly detailed blues, and they appear overly vibrant as a result.
Here's a little tidbit that offers the JVC some hope, though: Blue is far less-perceptible to the human eye than red or green. The fact that red, green, and white are accurate really boosts this TV's worth. You won't notice the exaggerated blues as much as you would exaggerated greens.
The SP50M-C has a rich black level.
At least contrast, which is the most important aspect of a TV's performance, is great on this JVC. I tested a rich black level on the SP50M-C, which is something most LED TVs struggle with. This will lead to a more immersive picture, due to better shadow detail.
Its white level is potent enough to fend off some sunlight, although it's not a retina-scorcher like Sony's R520A. Still, I was happy to see minimal light bleeding on dark screens.
Sadly, this JVC succumbs to a shoddy viewing angle, like most LCDs. Wall-mounting should probably be avoided, since that will affect both horizontal and vertical viewing. Don't stray too far from the center of the screen on this one and you'll be fine.
The Verdict
Need a Netflix-ready big screen? JVC has you covered.
I'm really impressed with the JVC SP50M-C. This isn't your typical bargain-bin TV—build quality, picture quality, and sound quality are all represented. You even get a pretty good QWERTY-keyboard remote, which helps navigate this TV's apps. Sure, this is definitely a smart TV-lite: JVC only packages four apps with the SP50M-C. Netflix fans and Slingbox owners can at least find some enjoyment with the included apps.
So is JVC's 50-incher the best smart TV bargain in the land at $799.99? Actually no, it isn't—that honor belongs to Vizio's larger and more app-filled E551i-A2, which retails for the same price. If you see this JVC go on sale for less than $700, though, do yourself a favor and consider it.
Our editors review and recommend products to help you buy the stuff you need. If you make a purchase by clicking one of our links, we may earn a small share of the revenue. Our picks and opinions are independent from any business incentives.