televisions
Insignia NS-42L780A12 Review
If a basic TV is all you need, this could be a reasonable choice.
$599.00 MSRP
42 in.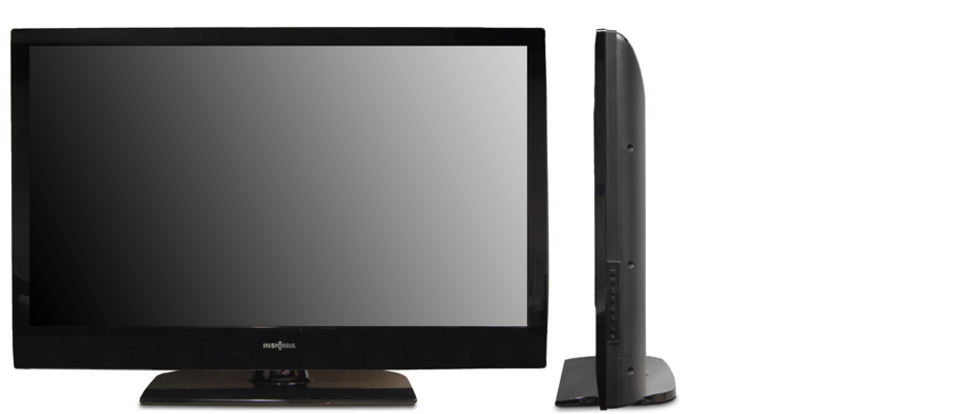 Introduction
Without any fancy streaming features, the Insignia NS-42L780A12 ($599 MSRP) is encased in a homely, black bezel. Yet it knows exactly what it is: a simple, 46-inch TV that has a color-true, 1080p picture. If a basic TV is all you need, this could be a reasonable choice.
Design
The term "Plain Jane" comes to mind when scoping out this TV.
There is really nothing exciting about the design of the Insignia NS-42L780A12. It is quite typical in its glossy, black bezel and stand. The sides and back are just simple, black plastic. The TV is not particularly thin for a modern TV, in part because it is backlit by CCFL tubes instead of the LED edge-lights favored by fancier models.
The Insignia NS-42L780A12 provides the bare minimum in terms of connectivity. The bottom panel has two of the three HDMI ports, an RF connector for cable or antenna, and a VGA input for connecting a computer. There is also an analog audio out, a digital audio out, and an analog audio in to go with the VGA port. The third HDMI port is on the side, below a composite video and audio port. If you still own a VCR or something that uses composite video, you could plug it into the green composite port. The only other ports on the side are a USB port, for viewing photos on a thumb drive, and a 3.5mm headphone jack.
Smart TV Features
No internet features, just crude photo playback.
The menu interface is okay, but it's pretty much the epitome of ridiculous and kitschy, as applied to a television interface. Sure, the categories are laid out at the top of the screen as icons, but they don't become highlighted when you select them. Instead, they simply get slightly larger, with no animation, to indicate your chosen category. Since the icons are odd shapes of different sizes, this is no help whatsoever.
The menu interface is okay, but it's pretty much the epitome of ridiculous and kitschy.
When you insert a thumb drive into the Insignia NS-42L780A12's USB port, it asks if you would like to view its photos. Files populate on the media playback screen and display thumbnails if they are photos. You may view the photos individually, with such customization choices as 'ROTATE' and 'ZOOM,' or you can play them in a slideshow.
Comparable Products
Before you buy the Insignia NS-42L780A12, take a look at these other televisions.
Picture Quality
This budget buy showed off truly accurate color adherence, but it was dragged down by an abysmal contrast ratio.
The Insignia NS-42L780A12 showed off a surprising range of accurate colors, giving even definition to each across its input spectrum and showing almost no visible color temperature error—in short, it plays "color ball" with the big boys like Samsung and Panasonic.
This Insignia tested with a ghastly black level.
Where we have to raise complaint is concerning this TV's contrast ratio. Contrast ratio is a very important aspect—some would argue the most important aspect—of any display device. This Insignia tested with a ghastly black level, showing off blacks that are more dark gray than anything else. It was plenty bright, but its black level was so poor that the resulting contrast ratio is just barely within the usable range, and we don't recommend watching it in the dark.
Motion was quite good on the Insignia NS-42L780A12. Moving objects were a bit blurry, but it was not too extreme. Hard, vertical edges exhibited a bit of stair-stepping as they moved, and those were really the only problems. There was little to no artifacting due to the processing of motion. There is an advanced picture setting, Insignia Motion 120Hz, that can improve motion smoothness, but since it draws in extra frames, it can make film look like a soap opera.
Conclusion
This Insignia is a television of humble intentions.
The Insignia NS-42L780A12 offers great, 1080p color accuracy on a 46-inch screen, eschewing fancy connectivity to bring you a respectable picture for $599 MSRP. Its motion performance and resolution scaling were excellent, so if you can deal with the lean port options and questionable 24fps Blu-ray performance, the Insignia NS-42L780A12 could be a budget workhorse. We liked it as a simple, but still large and color-accurate, screen—especially if you're pinching pennies.
The real major drawback here is in the area of contrast. If you're a videophile who likes to watch in the dark, then this is not the TV for you.
Our editors review and recommend products to help you buy the stuff you need. If you make a purchase by clicking one of our links, we may earn a small share of the revenue. Our picks and opinions are independent from any business incentives.