televisions
Element ELEFT325 LED TV Review
The ELEFT325 is surprisingly more than just a cheap TV.
$229.99 MSRP
32 in.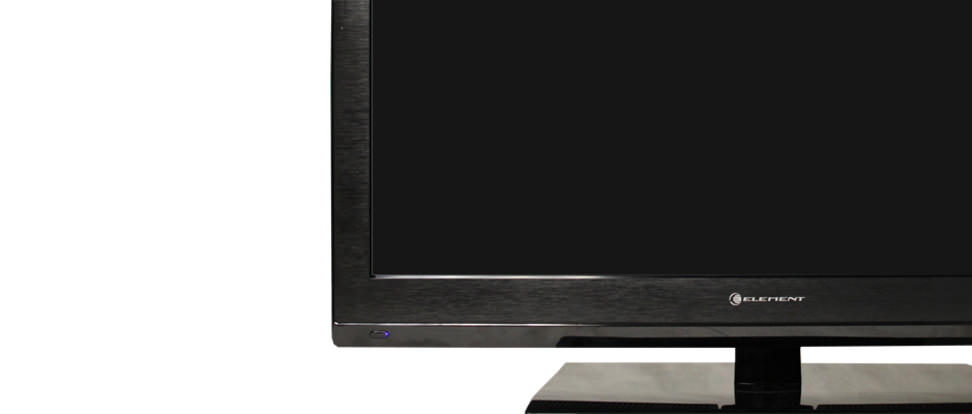 Overview
With all the red, white, and blue flag-waving boxes you see lining store shelves, you'd think Element TVs were cropping up in the golden fields of the Midwest: Just picture the burly men in overalls, riding shiny green tractors through swaying rows of hearty, sun-splashed TVs. True, the Minnesota-based company is currently the only one of its kind with a US manufacturing plant, but for now, it only uses that plant for assembly of its larger displays, in attempt to save on shipping costs. Why didn't your 32-inch ELEFT325 (MSRP $229.99) get the stars-and-stripes motif? Because it was made in China, with all the other small Element TVs.
Expectations for this little TV weren't great, yet testing was not without some happy surprises. With the ELEFT325, you won't rocket into flashy third dimensions, or smartly surf the web via Wi-Fi (motion-sensing wand in hand), making clever social media posts all the while—but if none of that interests you in the first place, this TV should suit you just fine.
Design
Discount TV hit with ugly-stick
When a TV doesn't even break $300, don't expect any razzle-dazzle like chrome or gravity-defying pedestals. The ELEFT325's brushed trim is moderately attractive, but its flimsy plastic stand is just irritating, easily collecting nicks and greasy smudges. And no, the chintzy thing doesn't swivel—we're lucky cheap plastic like this can even hold a TV upright. You could forgo the platform altogether, since the TV provides holes for mounting, but the necessary bracket is not included, and a 32-inch TV would probably look pretty dinky up on a wall anyway.
Hooking up an HDMI cord involves leaning around to the back of the TV at a very awkward angle.
Layout is offensive, too. Hooking up an HDMI cord involves leaning around to the back of the TV at a very awkward angle, and peering upside-down to get a look at the floor-facing ports. Hanging from this inconvenient ledge are three HDMI inputs, a USB input, a PC audio in, a VGA input, an RF input, and a Coaxial audio out. On the right side of the TV, Analog audio outs and a set of both Component and Composite video ports are much easier to reach. Layout is otherwise very straightforward, with a somewhat elusive LED on the front to indicate activation, and a set of simple TV controls on the right side.
Features
Footloose and feature-free
The modern couch potato has so much to choose from. So many of today's TVs offer 3D movies, web browsing, wireless photo sharing with smart phones, and much more; this Element offers nothing of the sort.
The ELEFT325's menus, while legible and fairly user-friendly, are visually very outdated. With the click of a button, the interface appears on the screen, obscuring the TV's picture entirely, and divides itself into six parts: Picture, Audio, Time, Setup, Lock, and Channel. Beyond the simplified equalizer—labeled in terms of Bass, Treble, and Balance—the somewhat effective Surround Mode, and the USB port for playing MP3s and JPEGs, there is little else to do with this TV, other than to stare at it with your eyeballs.
Comparable Products
Before you buy the Element ELEFT325, take a look at these other televisions.
Picture Quality
Frailty, thy name is contrast ratio.
These hues land right where we like to see them.
To begin with, this Element produced a surprising total viewing angle of 94 degrees, which is impressive for any LCD. With generous angles like this, your comfy armrest seat at the end of the sofa should come with a reliable view. Colors came as a happy surprise, as well. Other than some slightly undersaturated reds and oversaturated blues, these hues land right where we like to see them, and the shifts from one color to the next are fairly smooth too, so blocky, unattractive transitions won't plague your picture. Other winning performances include smooth, attractive motion and strong audio, leaving us with a favorable overall impression of this unassuming television.
Perhaps the ugliest issue was the TV's miserable screen uniformity.
Of course, nothing is ever all sunshine and shooting stars. The ELEFT325's contrast ratio of 945:1 is average, at best. Why do we care? The greater this ratio, the more realistic and immersive the picture. But perhaps the ugliest issue we saw was the TV's miserable screen uniformity; when set to a full black screen, we could easily see blotchy, luminous spots in several corners, and even parts of the middle of the display. Luckily, most content is a reasonable balance of lights and darks, so these blemishes shouldn't regularly pester you, but your horror movies may be the worse for wear. Wrap things up with the TV's limited 720p format, and suddenly you're feeling some 230-dollar-TV drawbacks.
Final Look
A quality picture for an affordable price
The ELEFT325 isn't the flashiest TV in town, but for such a small sum, buyers could do far worse. This is a TV for the tech-tired. Buyer description: Endless controls don't make your eyes light up, they make your heart pine for the heyday of the joystick. Okay or maybe you're just broke and you live in a dorm.
The budget-friendly ELEFT325 delivers much more than its price tag would suggest.
The point is, if you aren't set on sleek new technology, and if you don't have much money to spare, this display is worth a look. True, it bleeds a bit of light and its blacks aren't exactly Batcave-dark. Sure, its plastic stand feels like a Barbie appliance and it doesn't even swivel. But with its surprising and favorable combination of excellent color fidelity, smooth color curves, consistent temperature, great motion, and wonderful total viewing angle, the budget-friendly ELEFT325 (MSRP $229.99) delivers much more than its price tag would suggest.
Our editors review and recommend products to help you buy the stuff you need. If you make a purchase by clicking one of our links, we may earn a small share of the revenue. Our picks and opinions are independent from any business incentives.