Toshiba 55VX700 LED LCD HDTV First Impressions Review
$1,699.00
Audio & Video Ports
The 55VX700 has a good set of ports and jacks, as you can see from the image provided by Toshiba below. In all, the TV appears to have 3 HDMI ports (possibly 4), 2 USB ports, and SD/SDHC card slot, ethernet connection, RCA composite inputs, an antenna connector, and a VGA terminal.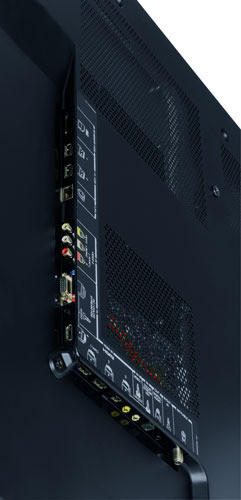 Internet & Other Media
The TV is outfitted with state of the art internet and media options, which Toshiba calls Enhanced NET TV (in conjunction with Yahoo!). You can stream video with Netflix (provided you have an account) or VUDU right on the 55VX700, and you can access sites like Pandora for music or other internet radio stations. The TV has built-in WiFi, so you don't even need to run an ethernet cable to the set if you don't want to.
Placement
The ports are on the back of the 55VX700, but they are grouped in two clusters. One bunch runs vertically, while another runs horizontally near the base of the TV. This isn't a perfect placement setup, but it's not bad.
Sections