Toshiba 47L7200U LCD HDTV Review
$1,899.00
Browser
The internet browser found within Toshiba's ePortal is quite simple. It's really not much different than other 2012 TV browsers, except that the included keyboard makes it much easier to punch in a URL. Navigation is still done primarily by infrared remote--which is terrible--though the TV does give users a "Mouse Emulation" option. It's still terrible. Click here for a more in-depth look at Toshiba's internet browser.
The on-screen keyboard is a multi-tap, cell phone style input system that's frustratingly slow (just like on your old cell phone). The 7200U's included USB keyboard will remedy this problem, but unfortunately doesn't make page navigation any easier.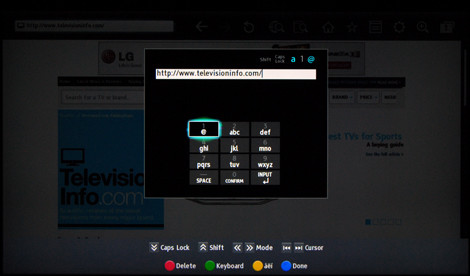 Apps
The apps listed below are VUDU movies, Netflix, CinemaNow, YouTube, VUDU apps, MediaGuide, and the eManual. And those are the only primary apps on this TV. VUDU apps expands the selection a bit, but it's not much. And really, the last two aren't even truly apps. This paltry offering is almost laughable in today's app-heavy TV market. And yet, there it is. Click here for a more in-depth look at Toshiba's and VUDU's app selection.
Other Internet Features
For your edification, here's our video walkthrough of Toshiba's smart platform, ePortal:
Sections