Sony Bravia XBR-46HX929
For approximately $2,500 we expected a lot more from the Sony Bravia XBR-46HX929.
Sony Bravia XBR-46HX929 LED LCD 3D HDTV Review
$2,500.00
Color Temperature
This is the kind of beautiful color temperature we like to see. There is very little variation off of the ideal. Any temperature difference away from the center line at 0 in the chart below will start to show tinting of either warm or cool color. None of the little peaks are large enough for people to be able to tell a difference, so the colors will remain untinted at every luminance level. More on how we test color temperature.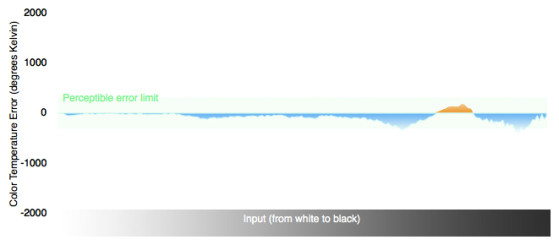 RGB Curves
The color curves in the chart below look great. The curve of the lines is exactly what we hope to see. It demonstrates a consistently increasing luminance along the spectrum from dark to light such that one color value is predictably different from the next. There are no bumps in the line, meaning each of the input values were properly produced. The lines do not peak early, so the brightest colors will still have detail instead of being a wash.
You can notice that the three lines do not quite overlap. The overlap would show that all the colors get brighter at the same rate. There is some oversaturation in the reds, and a little undersaturation in the blues, but they are close enough to each other that it's not too important. More on how we test RGB curves.
The strips below show one vertical line of pixels for each of the luminance inputs from 0 to 255. They are graphical views of the chart you see above. The smooth transition of colors is the most notable aspect of the Sony Bravia XBR-46HX929 bars compared to the other models that have banding in some parts along the spectrum.
Sections