Sony Bravia XBR-46HX929 LED LCD 3D HDTV Review
$2,500.00
3D Effect & Experience
We tend to notice that 3D images these days are either unwatchable or not that 3D. The images can be unwatchable because the objects that project out of the screen are so unbelievable, suffer from so much crosstalk, and the difference between the plane of the television and where we are supposed to focus our eyes contradicts enough to cause severe eyestrain. The alternative is that the 3D depth is reduced, free of physical pain and brain confusion, but just not that 3D.
With our subjective judgement, developed from having experienced all the 3D systems across the television market, we would like to say that the 3D on the Sony Bravia XBR-46HX929 was one of the best we have seen. The Sony Bravia XBR-46HX929 uses active shutter 3D glasses to display full HD 3D images. These images fell in the less depth category, and we think this is the best option of the two. Crosstalk was noticeably absent from most images and we did not experience the discomfort that we expect to endure when testing 3D. The depth was not great, but objects were certainly arranged in front and behind one another in space. 3D is still so new, and like anything, it is best to start small and work your way up from there. We appreciate that Sony is taking baby steps into the 3D realm, rather than jumping all the way in and hoping to correct backwards from there.
If you would like to learn more about 3D technology as it stands right now, Here is an excellent article by the Editor in Chief of TelevisionInfo.com.
3D Black & White
The Sony Bravia XBR-46HX929 maintains a strong contrast ratio when displaying 3D. Often, the peak brightness is completely ruined by wearing the 3D glasses. The lens of the glasses are dark, so any light coming in is heavily dimmed. This Sony gets so bright that the dimness of the lens did not hamper the brightness, and the extra darkness made a better black level, thus preserving a strong overall contrast ratio. Also, knowing that dimmed glasses cause problems for black and white values, we set the 3D glasses mode to Bright in the 3D menu. A contrast ratio over 1000:1 is good, especially in 3D, and this Sony outperforms this standard by a long shot.
3D Color
In 3D, the XBR-46HX929 had problems with color temperature. You can see in the chart that throughout the spectrum, the temperature is noticeably cool. There will be an overall blue tinting to images that stays consistent at all brightnesses.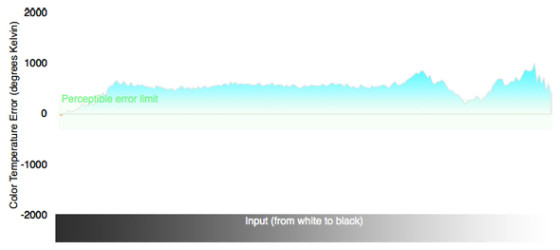 We saw some great color curves in 3D. Frequently we see heavy amounts of processing on the luminance of colors in 3D, probably to make up for a huge loss of brightness caused by wearing dark 3D glasses. We can tell processing occurs when we see huge jumps in the color curves, where the separation of one value from the next is drastic. Companies do this to ensure a difference can be seen on the screen, but it eliminates the possibility of seeing a smooth transition, which helps make a beautiful picture. The XBR-46HX929 did not have brightness issues in 3D. As a result, this TV was able to produce these three beautifully curved, smooth, contiguous lines, representing 255 values of brightness for each of the three primary colors.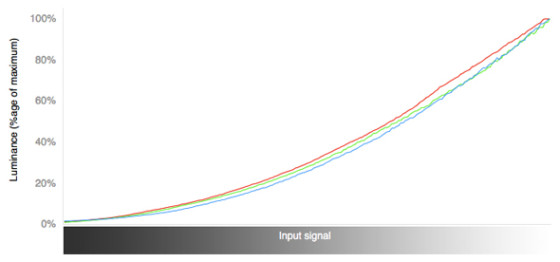 Not too far from the original color gamut produced in 2D, the 3D gamut shows us that the colors are consistent when switching between the two modes. This information, taken with the quality of the color curves, shows a really great 3D color performance out of this Sony.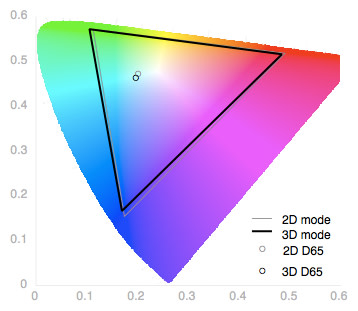 3D Crosstalk
Our crosstalk data shows that when the color black is against any other color, images intended for one eye will slip into the other. In 3D, images are to remain separate, a unique picture for each eye, a process called Stereoscopy. When an image for the left eye shows up in the right, or vice versa, the 3D image becomes more 2D, a result of crosstalk. Black had some large slippage, but the rest of the colors remained separate, even gray values, which are known as the most difficult for crosstalk.
When watching a 3D movie, we saw very little crosstalk. Even black values were not that bad, probably because most images never use pure black. Pure black is the color of a screen deactivated, which usually only happens when transitioning from scene to scene. Black clothes will generally have some light values to them, making them actually dark gray. Since the gray crosstalk data was not bad, the crosstalk visually with "black" was not very noticeable either. Overall, this Sony did a great job keeping images separate. You will not see the haloing that causes a breakdown of 3D immersion that you see in most 3D TVs.
3D Glasses
Luckily we have a stash of Sony 3D glasses on hand, otherwise watching 3D would require a further purchase of at the very least $50/person. Sony does not include any glasses in the box, even though the TV costs over $2000. This is really a kick in the pants of the consumer willing to dedicate enough money to the Sony brand, when other brands will give you a pair of glasses to start, with the purchase of a TV. We suspect that the "3D Craze" trumpeted by the media and marketing executives, is a way to get you to buy a whole bunch of expensive accessories in addition to a TV.
Despite the extra price, these glasses work well. They are not as clunky as some of last years models, or of competing brands. They can be very sensitive though. If your head angles or you look away for a moment, the active shutters turn off. They will reengage when you enter the sensor area again, but the area is narrow such that standing up or changing your seating position may put you outside the range.
We could see the flickering of the active glasses when we weren't wearing them. Like a strobe light hitting each of your eyes separately, we can't imagine such an experience is healthy. Testing for health issues usually takes years, no one has done such testing yet. In fact, we, the collective 3D consumers of the world, are the guinea pigs. Most 3D movies are 3D animated movies intended for a very young audience, an audience with developing eyes and visual cortices. Here is an excerpt from a Samsung issued health warning that has since been removed from the Samsung website (raise any eyebrows?), parts of which can still be read Here: "If you experience any of the following symptoms, stop viewing 3D pictures immediately and consult a medical specialist:
*altered vision

*lightheadedness

*dizziness

*involuntary movements such as eye or muscle twitching

*confusion

*nausea

*loss of awareness

*convulsions

*cramps

*disorientation
Children and teenagers may be more likely than adults to experience these symptoms. Parents should monitor their children and ask whether they are experiencing these symptoms."
If there is even a possibility of "altered vision" that will more likely affect younger people than adults, as described by the producers of 3D technology. Do you think this is a good idea for your kids?
Sections