Sharp Aquos LC-52LE640U LED LCD HDTV Review
$1,199.00
Overall Design
Employing a gray, brushed metal-looking facade, this Sharp looks handsome with over 50 inches of screen. The bezel is slim in every proportion, putting the screen before the casing, something we always like to see. The effect is that this large screen really jumps out at you. This is a good thing.
Front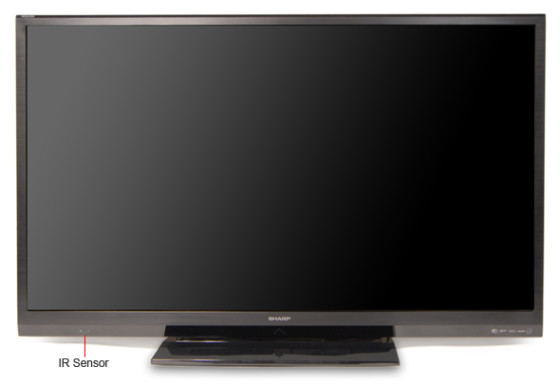 Back
Sides
Stand/Mount
We are a little disappointed with the stand. It needs to be sturdy to hold up such a large screen, but we've seen other types, for even larger displays, that are less conspicuous. Also, the steel girders that you have to install in the back are a little difficult to manage at first and they leave the rig entirely static. The lack of any swivel makes it hard to get at the great selection of ports in the back.
On-set Controls
There are manual controls on the right side of the display, but they are not ideal. Each of these controls feels just like any other, and they are not separated by space enough to know that you are touching a different button. Located around the back on the right side of the panel, you will want to keep the remote close, because these manual controls will be hard to use.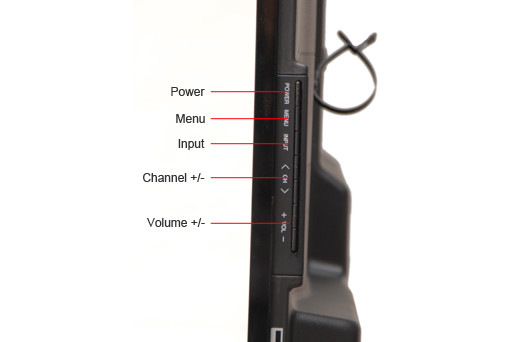 Remote Control
Sharp has struck a good middle ground for the remote and the online features contained in this TV. By keeping the online content to just streaming video, the traditional remote, with a few extra buttons for apps, is perfectly adequate to control the LC-52LE640U.
At neutral, the thumb rests on the main navigation controls. These buttons control the menus and all of the online content masterfully. Each of the buttons is easy to locate in the dark by feel.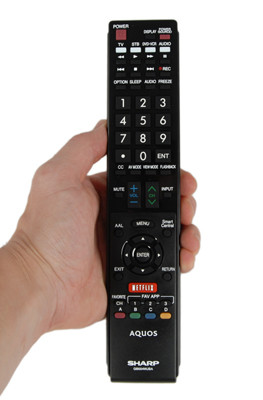 In the Box
Inside this monstrous box, we found the TV, a hefty stand, a three-language manual, a remote, batteries, and some warranty documents.
Sections