Sharp Aquos LC-52LE640U LED LCD HDTV Review
$1,199.00
Menu Interface
The menus are attractive, but the options within are poorly explained and the adjustment numbers are not consistent. It is easy to find the picture settings menu, there are several categories of menus that appear as a bar at the top of the screen. Each of these categories opens into further options on the right side of the screen, which is where the picture settings menu appears. But the options within are confusing. Each has adjustment numbers that do not make much sense and are inconsistent.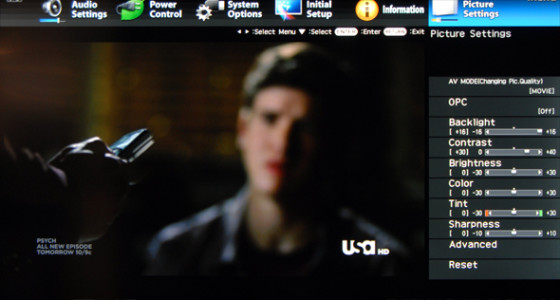 Often settings are unclear as to what they affect, and the pop-up descriptions only further confound the issue. You can find answers to the settings questions in the manual, and the navigation of these menus is not the worst we've seen, but it is clunky. Sharp takes a few settings and makes them look like so much more, when we would prefer the opposite: a simplification of many features to make it look easy.
Other Interface Features
The Smart Central interface is Sharp's collection of their online features, which is really just apps with streaming content. This interface is much like the overcomplicated menus. It tries to take what is very little and make it look like much more. The Smart Central appears as a bar at the bottom of the screen, and you can scroll left, right, up, or down through the apps here.
The weird aspect is that the apps are a loop and you quickly get back to where you started. This looping makes it seem like there are endless apps, but it is really just an optical illusion. We would much prefer to know where we are in this menu, to be able to find the app we were looking for. Simplification and clarity are always better than the illusion of opulence.
Instruction Manual
The manual is a thick booklet containing three languages that thoroughly cover the functions of the Sharp LC-52LE640U. There is a table of contents, the organization of which is questionable, but it will help you navigate this hefty paperback. There is no index, but most options are explained in detail.
Sections