Sharp Aquos LC-52LE640U LED LCD HDTV Review
$1,199.00
Resolution & Formats
The Sharp LC-52LE640U is a native 1080p display, and supports all ATSC and NTSC formats.
Viewing Angle
Typical of an LCD screen, this Sharp showed us a very narrow viewing angle.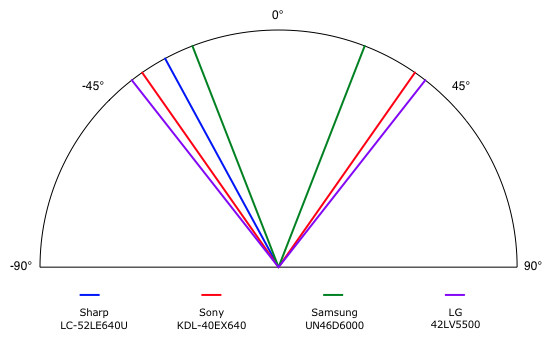 Motion Performance
There is a motion processing feature called 120Hz Fine Motion Enhanced that interpolates frames to create smoother motion. The result is something we have written about many times, it takes film based content and makes it look really cheap . This function works well in our motion tests and in sports broadcasts. In our tests, we saw very little blur, color trailing, shape distortion, or jagged edges.
However, we always recommend turning this feature off when watching film based content, which is just about every television show and movie you have ever seen (other than soap operas). The strange part about the LC-52LE640U is that with the motion processing off, film based content is especially juddery, with moments that seem to speed up, looking like the interpolated 120Hz mode. We fiddled with all the toggles to try and remove all processing features, and we still saw intermittent moments of over-smoothing, mixed with a very juddery picture. The judder on a screen this large is distractingly halting. If you like the way motion processing looks, then this Sharp is the way to go. Otherwise, these motion issues will affect just about everything you want to watch.
Screen Uniformity
The screen showed some flashlighting artifacts, but not the worst we have seen. We saw blotchy gray clouds that covered most of the screen, but these will not be as evident when watching most media.
Sections