Sharp Aquos LC-52LE640U LED LCD HDTV Review
$1,199.00
Conclusion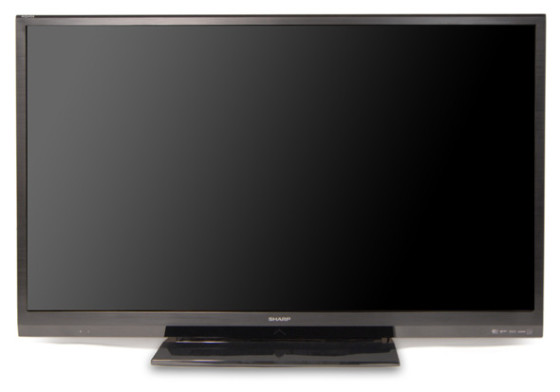 The Sharp LC-52LE640U ($1199.99 MSRP) is one in a series of large-screen, 1080p, Smart TVs, with a heavy motion processing feature. All of these televisions come with AQUOS Link, which allows communication between several AQUOS devices, like DVD players, as well as DLNA to share content across computers and phones. On such big displays, picture quality becomes paramount. When each pixel enlarged, you will want a base level of quality to assure that you are not watching the one of the grandest, and ugliest pictures out there.
The contrast ratio on the Sharp LC-52LE640U stands out as spectacular. A nice, deep black level and a sterling peak brightness make this range sing. In addition to the black and white detail, we also really liked the ports. The selection, depth, and organization are top-notch, making this TV ideal as a central media hub.
If you intend to purchase this Sharp for home use, there are a couple of drawbacks that we should warn you about. The color fidelity is slightly below average. In each of our color tests, the results showed us a TV that was not competitive with the other quality brands. However, the worst offender was the motion processing on this set. There are two unacceptable options: either use the overly smooth motion interpolation, or watch video with way too much judder. With the motion interpolation off, the judder was really noticeable. We shuddered every time someone or something on the screen moved, and then suddenly the motion on the screen would speed up and look like the too smooth video you see with the interpolation on. Either picture is hard to watch, especially when the screen is this large.
We can see the Sharp LC-52LE640U working out for the owner of a sports bar. The set is relatively inexpensive for such a large screen, the motion processing will work well for sports broadcasts which are filmed at 60fps (unlike film which is recorded at 24fps), and the color quality is not as important as watching the action and being able to read the score from far away. At home however, 52 inches (or more) of screen is going to dominate most living rooms. When the focus is directed to a strangely jerky picture, people will probably start to avoid this room in your house.
Sections