Sharp Aquos LC-52LE640U LED LCD HDTV Review
$1,199.00
Browser
There's no internet browser here. This is for the best really. When the remote can't handle typing text or selecting individual links on dynamic web pages, we would rather do without.
Apps
The apps include a couple of the premium partners like Vudu, Netflix, and CinemaNow, but leave out quite a few other major players. To access the apps, you can click the Smart Central button on the remote and they appear at the bottom of the screen, or you can press the designated Netflix button, or try one of the Fav App buttons, which link directly to some preset apps. You can change the favorite button in the main menu, which is out of the way at this point, but it works.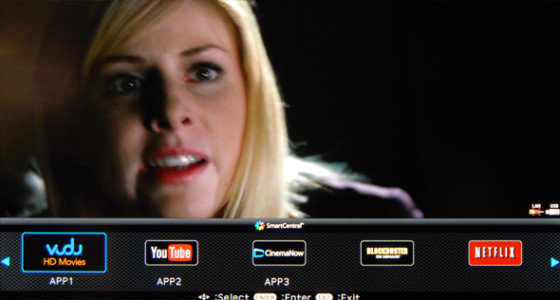 There is no app store per se, but there is Vudu Apps, a collection of streaming videos that are actually really great. You can watch a new TED conference idea every day right from your TV with minimal effort. That's pretty (nerdy) cool. We do have qualms. You cannot add any of these streaming apps to the main app screen in order to make them one of your favorite apps. Essentially, the Smart Central screen only has nine possible, preloaded apps.
Other Media
There are two USB ports where you can plug in a thumb drive, or other USB device like a camera, and share videos, music, and pictures on the big screen. The interface is easy to use and could come in handy for a slideshow of those 1,000+ photos you took while on vacation.
Sections