Samsung UN55ES8000
Samsung's ES8000 series is the company's high-end flagship for 2012, and it shows.
Samsung UN55ES8000F LED LCD HDTV Review
$3,749.00
Software & Internet
The extra features on the ES8000--voice control, a touch pad remote, motion sensing--would probably never have been developed and implemented into the TV's infrastructure if not for the major innovations happening in the way of Smart TVs and their transformation--at least in the eyes of their manufacturers--from passive to active viewing devices.
By this, we mean that the days of being subject to the whims of broadcast devices--satellite or cable--are over. Sure, plenty of people still have and use these, perhaps on a regular basis, and we're not saying there's anything wrong with that. However, the array of content available on internet-ready TVs is no longer a side feature, but a major selling point for big names like Samsung, Sony, LG, and Panasonic.
There's so much content to be found in Samsung's "Smart Hub" that we'd need a separate article to really detail it for you--and it just so happens that we have one. Take an in-depth look at Samsung's Smart TV Platform before you buy any of their internet-ready smart TVs, but especially before digging into the pricy ES8000, which leans heavily on its smart functions.
As for the traditional menu system, it's not as innovative as the TV's all-inclusive smart hub, but it gets the job done and is easy to navigate (however you choose to do so).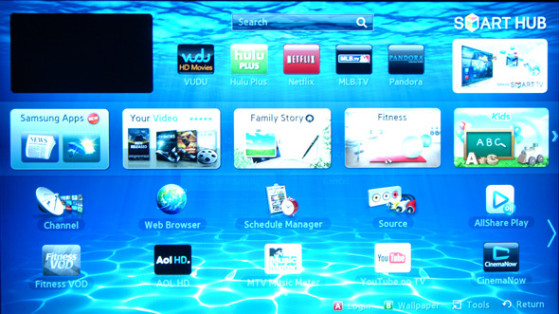 Sections