LG 84LM9600
On the surface, the 84LM9600 may seem like any other 84-inch LG Smart TV. Look closer.
LG 84LM9600 Ultra HD TV First Impressions
$20,000.00
Display Size & Technology
The UHDTV content that LG had available looked phenomenal. "Sharp" is the best way to describe the picture: Since there are four times as many pixels, picture quality was that much more detailed. Colors, especially greens, were more vibrant. Scenes with water and blue skies looked life-like. Going from UHDTV content to regular 1080p content was noticeable, although we wouldn't say the difference is quite the same as the jump from SD to HD was. The aspect ratio is still 16:9, plus we've become used to sharp displays on laptops, smartphones, and tablets.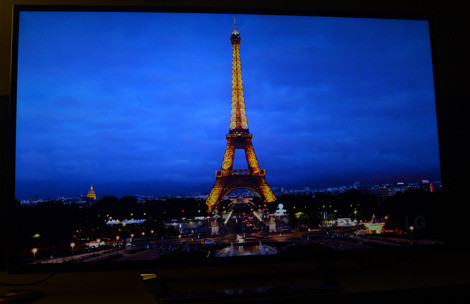 Since there is no UHDTV content available, consumers interested in ultra high-definition TVs should become familiar with the term upscaling. Resolution upscaling is the process of adding extra pixels to compensate for a higher resolution screen. Since UHDTVs have four times the pixels of HDTVs (8,294,400 compared to 2,073,600), upscaling to this resolution technically involves doubling the horizontal pixels and doubling the vertical pixels. For the 720p resolution—yes, you still use that whenever you watch cable—upscaling will technically triple the horizontal pixels and triple the vertical pixels. The whole process isn't really that simple—there are complex algorithms at work—but the gist of it follows those principles.
How does this actually look? We can't comment on upscaling from 720p, since we did not have access to a cable box. Upscaling 1080p content from a Blu-ray produced an effective result: The picture didn't look any sharper, but it didn't have any artifacts from the process, either. An HD television will always have 2,073,600 pixels, no matter what size it is. This means that the larger a TV gets, the larger the pixels get.
We played a Blu-ray of 300 on the 84LM9600 and also on a 47-inch LM6700, side-by-side. Both TVs were given identical calibrations. The content that was displayed looked nearly identical. We noticed that the 84LM9600 had a slightly deeper black level and a slightly cooler color temperature. The fact that the 84LM9600 displayed 1080p content that looked just as good as it did on a smaller screen speaks volumes for LG's upscaling process.
While we could go on and on about UHDTV technology, we need to give the sound quality a mention. The audio experience on the 84LM9600 was superb. There are two speakers on the back of this TV, each with its own subwoofer, for a total of 50-watts of pure sonic power. These speakers were plenty powerful, with actual bass (a rarity in TVs) that added depth to the audio. Cranking the volume up all the way did not add any noticeable distortion, which is a tough feat to accomplish.
Formats & Resolution
The LG 84LM9600 has a native resolution of 3,840 x 2160, which was officially dubbed "Ultra High-Definition" by the Consumer Electronics Association in October. Previously, the term "4K" was used to reference this resolution. "4K" is still an accepted term for the content—cameras are still described as shooting in 4K.
Brightness, Blacks and Contrast Ratio
When we put an all-black image on the screen, light was leaking in from all 4 corners. Also, the 84LM9600 did not seem to get as bright as other LG TVs we've reviewed. When we turned the local dimming feature on, an all-black image on the screen went from being a bright and blotchy affair to a complete absence of light.
Motion & Refresh Rate
Viewing Angle
We didn't calculate any hard data on the 84LM9600's viewing angle, but we can say that it looked very good. There wasn't a huge degradation in picture quality when viewing from wide angles. We should note that this TV has an IPS (in-plane switching) panel. These screens typically have good viewing angles, at least as far as LCD TVs are concerned.
Sections