LG 55LM9600
A great TV overall, but smart buyers might want to wait on a price drop.
LG 55LM9600 3D LED LCD HDTV Review
$2,999.00
3D Effect & Experience
The LM9600's 3D effects are superb: they are consistently smooth, with very little crosstalk, while managing to maintain good color fidelity. All the things we look for in good 2D content, but with the added bonus of depth perception.
The LM9600's 3D glasses are simple in their appearance and comfortable, so you won't mind wearing them for any physical or aesthetic reason. But the best thing about them? They're free.
3D Color
Unlike its 2D content, the LM9600 had some fairly noticeable color temperature errors across the input spectrum while displaying 3D content. Fortunately, this is due (in part) to the darkening effect of the glasses, and is not terribly noticeable while actually viewing content (despite looking like a staggering problem in the chart below).
The LM9600 tested some decent 3D color curves. They're not as good as its 2D curves, but that's to be expected. Most colors ramp up a little too quickly, which is unfortunate, but we didn't notice anything too heinous during our subjective viewing.
The black input color gamut chart is a very good visual cue as to how consistent a TV's color is going to be. Judging from the LM9600's 3D gamut results, perfect color is not going to be possible while viewing 3D content, and users who are looking for perfect color regardless of how many dimensions its rendered in should keep that in mind.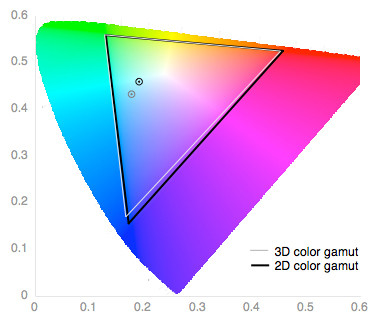 3D Crosstalk
With the LG 47LV6700, we saw some of the best 3D crosstalk performance out of any 3D TV we've yet reviewed, and the LM9600 gives users that same level of quality.
Sections