LG 47LM6700 3D LED LCD HDTV Review
$1,749.00
Browser
The internet browser is the most usable we have ever reviewed. With built-in WiFi, you can get onto your local network during setup, and on to the internet in no time. LG recommends a high-speed connection for most of the 3D streaming content.
Generally, we advise against using the internet because it is slow in every way. Why would you use the clunkiest interface ever devised, when you have an tablet or a smart phone sitting right next to you? Typing text, clicking icons, scrolling up and down are beyond difficult on most smart TVs, whereas these functions are the main features of the magic remote.
Though you do not have a full keyboard, we are willing to concede that text is easy to type with an on-screen keyboard and the ability to point and click each letter. You are not going to write your memoirs on this TV, but you may type in a few website URLs. Once you have input your favorite websites, you can have them as clickable images right on the front page, or as bookmarks in a list. After a while, you may be only using the digital keyboard sparingly.
While it may not be the fastest or easiest browser out there, we do think that if you are watching TV already, it would be an quick transition over to the internet to check something out on Wikipedia or on a Google search.
Apps
What a load of App! Actually, using Apps on this LG makes the most sense of any television we have reviewed so far. You can add Apps to the Home page or along the Apps bar, which will appear on the bottom of the screen when you press the My Apps button on the remote.
To purchase Apps, you may simply click on the LG Smart World button in the Home screen. The organization of the store allows you to filter Apps by cost, genre, and recent buzz.
If you want to check the weather, get updates on the entire NBA, see NY Times headlines, or really whatever, there's an App that will perform said function. Apps may be a speedier way of getting information from the internet, given the graphically based, rather than textually based, interface.
LG has some unique Apps that we think add to the smart TV experience. The LG 3D World App is a center for streaming online content, filmed and produced in 3D, on a wide range of subjects. Even if you do not have a 3D BluRay player, LG 3D World will submerge you in so much 3D it will make your eyes bleed (figuratively. If your eyes actually start to bleed, contact a physician....at your leisure).
There is also the LG Social Center, a way to monitor your Facebook and Twitter feeds while you watch TV simultaneously. The interface is simple, allowing you to switch back and forth between the two social media sites by clicking two small icons near the top of the page. The integration of television and social media is something that companies really want to get going (for many reasons, including boosting the importance all of their products for free by having people gab about them online) and LG's simple interface helps this trend right along.
Other Internet Features
The LG Smart Share feature is another great little tool. If you have content on your tablet, phone, or other device, you can pop it up on the TV provided you are connected to the same wireless network. LG Smart Share can be accessed by the Apps bar on the bottom. As soon as you list your device, the 47LM6700 will search for usable media and display it in a clickable list.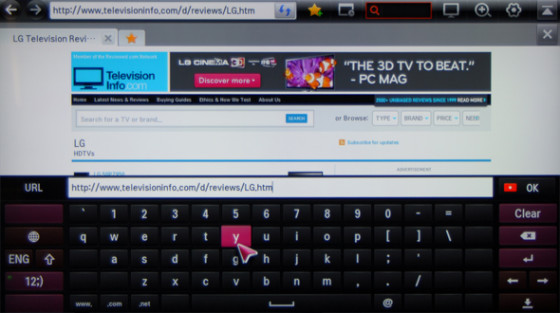 Other Media
Don't count out the USB media port! The USB media interface on this LG is quite intuitive. Sifting through photos and selecting the ones you want for a slideshow is quick and easy with the scroll wheel and the point-and-click nature of the remote.
Photos, videos, and music are not separated into their component categories, a segregation we never understood. Instead, the 47LM6700 allows you to select whatever is on the media drive and play it regardless of the type of content. We had no problems playing any of our various files. There are options to add music to slideshows, and ways to control the transition speed and type. It's a super easy way to look at photos from a camera, or to share a video you carry around on a USB port.
Other Models in the Series
For more information on other models in this series, check our Series Comparison Page.
{{ attachments(5123ac4be0d94aaf8a000848)
Sections