LG 47LM6700
Unconvinced about 3D TVs? LG is here to change your mind.
LG 47LM6700 3D LED LCD HDTV Review
$1,749.00
3D Effect & Experience
The LG Cinema 3D creates a truly immersive experience. We immediately noticed a difference between last year's product and this new generation. Even the stalwarts among us were persuaded to say that this new 3D is worth watching. Such acceptance is unheralded here at Televisioninfo.com; a huge compliment and a strong endorsement of LG's work here. We are not the only ones to think so, as the International 3D Society gave LG an award this January for advancing the industry with LG Cinema 3D.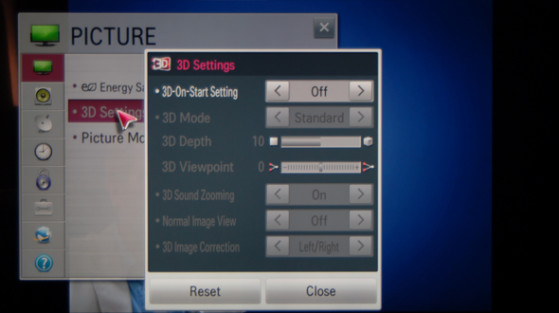 The glasses are the kind you get at the theaters. These passive FPR glasses are super light and unobtrusive. LG was kind enough to put six pairs of these glasses in the box. They don't cost much, but they also could have forced the consumer to buy more at about $10 each.
These glasses still don't look the definition of chic. That could change too though. LG is planning to work with designers of sunglasses to make UV protected, FPR glasses that will work outside and as 3D lenses.
For now, these spectacles are light, they work, and they do not look awful.
3D Contrast
Though the FPR lenses are not too dark, they did diminish the peak brightness. Somehow, the black level also increased by a couple of important points. The contrast ratio as usual, is hacked to a fraction of the 2D range.
3D Color
Televisions often show errors in color temperature when in 3D. The LG 47LM6700 did well here, maintaining a consistent color temperature throughout the brightness spectrum, with only minor errors.
These curves are showing some severe errors. We often see a drastically different color output in 3D than we do in 2D, but we did not expect it here. Considering the technology does not change the picture quality, merely it doubles up.
3D Crosstalk
The LG 47LM6700 showed the fewest crosstalk errors of any 3D television we have ever tested, and the improvement was noticeable as well. Whenever part of an image intended for the right eye ends up in the left eye, this is called crosstalk. Crosstalk significantly reduces the 3D illusion because your brain is no longer combining two separate images, but ghosted half images. We use scenes with high contrast, which are the hardest to reduce crosstalk. Often, we would see haloed ghost images around white objects on a black background, but there was nothing of the sort on this LG. We saw no haloing at all, and our numbers back this impression up.
Sections