LG 42LV5500
The positives on the LG 42LV5500 LED LCD HDTV definitely outweigh the handful of flaws.
LG 42LV5500 LED LCD HDTV Review
$1,099.00
Audio Quality
The audio quality of the LG 42LV5500's built-in speakers is surprisingly decent, at least by the low standards of TV speakers. The bass response is certainly not astounding, but there's far more clarity than the muffled garbage we've seen in so many televisions. There are plenty of options to tweak the performance: five preset modes, treble and bass controls, and a surround sound emulator that works decently (though it's no replacement for a real 5.1 or 7.1 channel system).
Menu Interface
The new LG menu system, found only on the LG 42LV5500 and a few other series that offer streaming content, is truly excellent. As you can see in the picture below, they've taken a novel approach. When you hit the Menu button now, you arrive at a sort of "mission control." The live video feed (via HDMI, composite AV, etc.) appears in the upper left corner. The rest of the screen is a menu of all the other types of media the TV has access to: premium content providers, LG Apps, local media like USB memory sticks, and a full web browser.
As you can see in the next picture, the LG 42LV5500 does have traditional menus, too. Once you locate the picture quality settings, the live picture fills the screen again and the menu becomes a transparent overlay. Change a setting like backlight, and the graphics bar gets even smaller so you can watch how your changes affect picture quality.
Overall, we really like the approach that LG has taken here. It treats the TV as an entertainment platform rather than simply a device. Samsung has taken a similar tack, perhaps with a slightly more elegant and efficacious interface.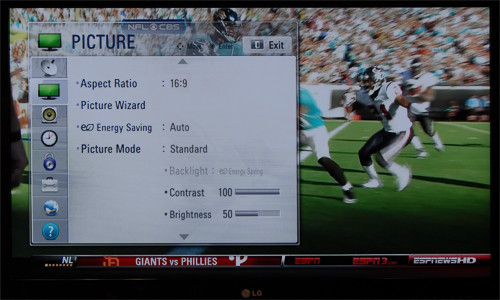 Instruction Manual
The instruction manual certainly covers all the features of the TV, but it can be difficult to narrow down exactly which TV you mean. Likely as a cost-cutting measure, LG chose to produce just one instruction manual to cover a huge list of models, ranging from LEDs to LCDs to plasmas. As a result, the manual is littered with asterisks indicating that such-and-such a feature may only be available in such-and-such a series.
Sections