If you need an HDMI cable, whether it's for your TV, game console, Blu-ray player, or laptop, our recommendation is a two-pack from AmazonBasics, Amazon's house brand. Our testing shows that—as far as picture quality goes—all newer HDMI 2.0 cables are basically the same. The two-pack provides the cheapest per-cable price of the ones that we tested, and you're probably going to need an extra at some point.
Why are HDMI cables so expensive? For the most part, there's no good reason. Though some come with right-angle adapters, braided cables, and slim connectors, buying an expensive cable doesn't improve picture quality. It's just marketing hooey.
How do we know? Well, we tested a bunch of them down to the nitty gritty details, and they all performed about the same. Unless you need a durable cable or you're willing to pay more for style, the cheapest HDMI cable is the best HDMI cable.
Updated January 11, 2018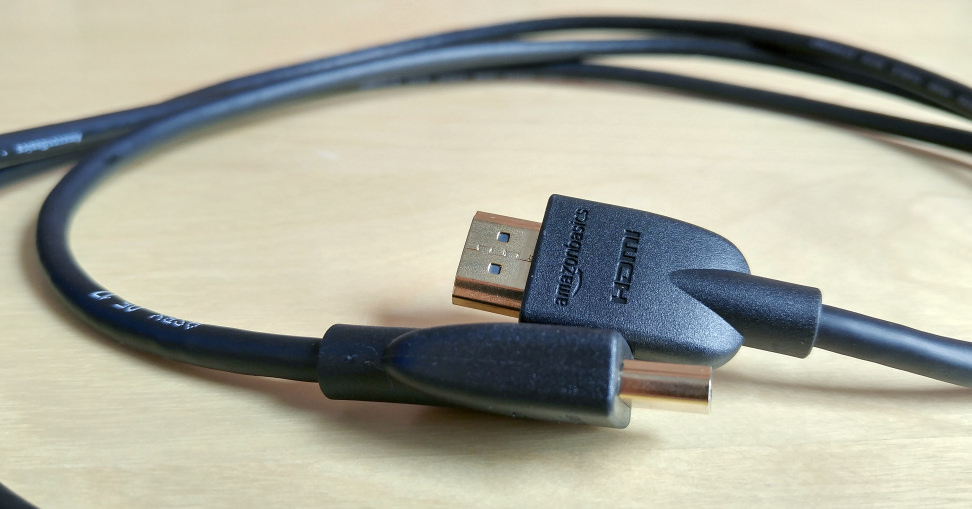 AmazonBasics HDMI 2.0 (6ft. 2-pack)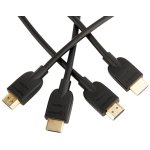 AmazonBasics HDMI 2.0 (6ft. 2-pack)
Best Value
This 2-pack of 6-foot cables is one of the cheapest on the list, but considering all of them passed muster in our cable test, this is the one to go with if you just want to save money, as each cable technically only costs about $4.80.
They don't seem like the most durable cables out there, but that's only a concern if you're moving it around a bunch. The heavier/stiffer cables are great in longer lengths where wear and tear is more of an issue, but for a basic six-foot cable you don't need anything fancy. Even if you're installing it in a wall, all modern HDMI 2.0 cables should be just fine for years to come.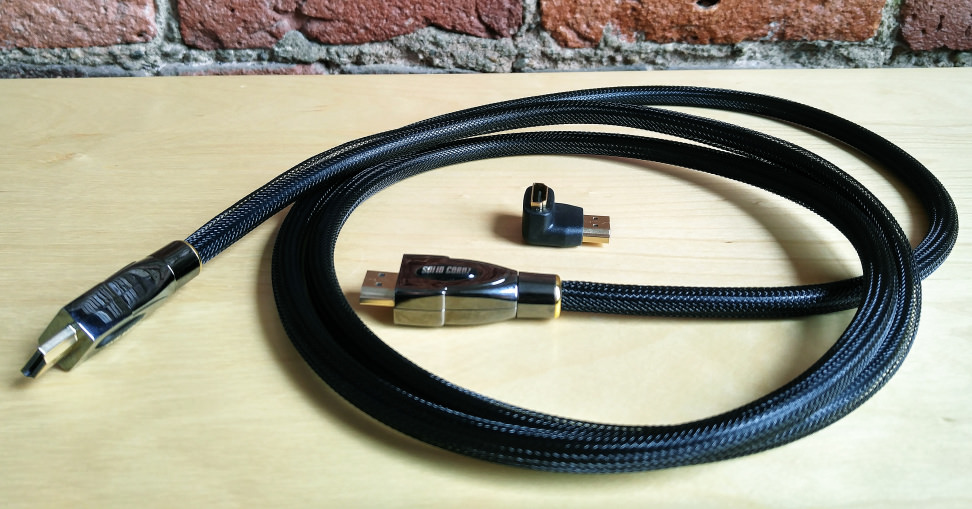 Solid Cordz HDMI 2.0 (6ft. 2-pack)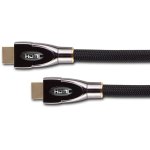 Solid Cordz HDMI 2.0 (6ft. 2-pack)
Most Flexible
This 2-pack of 6-foot High Speed HDMI from the goofily named Solid Cordz steals the spot for most flexible primarily because it checks off more boxes than anything else.
Each cable technically costs about $15, but for that you get similar durability to the priciest cables on the list, including a unique design with a heavy-duty cable wrapped in a mesh netting.
This gives you the flexibility of a non-braided cable with the grip-factor and durability of a braided one—at least, that's what Solid Cordz seems to be going for. They also come with two right angle adapters, which is especially useful if this will be plugged into a wall-mounted TV with rear-facing HDMI ports.
Farstrider HDMI 2.0 (6ft.)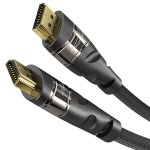 Farstrider HDMI 2.0 (6ft.)
The Farstrider High Speed HDMI cable typically sells for under $20, which is a bit pricier than the cheapest options on this list. That said, you're overspending a bit if you just need a basic cable.
It's also one of the thicker, more nicely designed cables in the bunch, with some decoration making it easy to identify amongst a mass of identical connectors.
MediaBridge HDMI 2.0 (6ft.)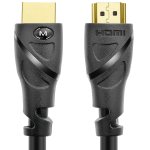 MediaBridge HDMI 2.0 (6ft.)
The MediaBridge is a good alternative to the AmazonBasics cable. It's a bit pricier at $9.99 for a single cable, but has additional thickness and durability, which may appeal to some shoppers.
It's not nearly as thick or durable as some of the other cables, but at this price it delivers more than enough reliability to last through normal wear and tear. If for some reason you hate Amazon Basics, this is a good backup.
Belkin HDMI 2.0 (6ft.)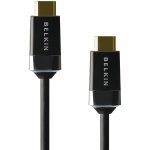 Belkin HDMI 2.0 (6ft.)
Belkin's become a popular maker of tech accessories and small gadgets, but we definitely wouldn't pay $20 for this High Speed HDMI cable.
While it's one of the more "stylish" of the bunch—with thin-but-sturdy connectors, and the nicest-feeling cable out of the rubber options—it's still going to end up tucked away behind your TV or entertainment center and forgotten. Kudos for the design, but not the price.
Kabel Direkt HDMI 2.0 (6ft.)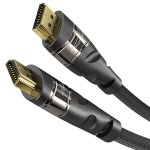 Kabel Direkt HDMI 2.0 (6ft.)
The Kabel Direkt brand kind of smacks of misdirection, but at $10.99 this High Speed HDMI cable isn't the worst choice. It delivers more durability than the pricier Belkin, though the braiding is so stiff it's actually hard to use.
My one concern here is the connectors. The cable is so stiff/heavy I'm that its weight will wear out the connectors, which aren't very well reinforced.
Fusion4K HDMI 2.0 (6ft.)
Fusion4K HDMI 2.0 (6ft.)
The Fusion4K High Speed HDMI cable delivers a robust form factor and strong connections, but so do many of the cables on the list. For its $50 asking price, the Fusion4K feels like a bit of a ripoff, frankly.
While the connector metal is of a nicer quality than some of the other durability-facing cables, it's not nearly enough to justify the price tag. When a cable is transmitting digital signals—like all HDMI cables do—the quality of the connector just doesn't make a big difference and isn't worth paying extra for.
AudioQuest Cinnamon HDMI 2.0 (2 Meters)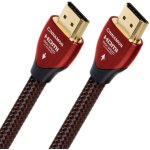 AudioQuest Cinnamon HDMI 2.0 (2 Meters)
Okay, I can't even feign my disbelief here. At $98, what are you paying for with this one? It's indeed the most svelte combination of durable braiding, reinforced connectors, and slim/stylish design approach in the bunch.
I love the "Cinnamon" red color, and if I had unlimited money, ALL of my cables would be Cinnamon. But for just sending a 4K/UHD or other signal? 3D? ARC? All of these cables work, so if you're like me and don't have unlimited money, don't get bamboozled.
How We Tested
To test TVs, we use a device called a "signal generator." It's essentially a pure source device for sending test patterns of various resolutions and refresh rates to TVs for measuring their performance.
Our signal generator, the Quantum Data 780a handheld HDMI test instrument, has a really cool feature: it can test HDMI cables. Because it has both HDMI input and an HDMI output, you simply plug both ends of the cable into the generator, and it runs a series of tests to determine whether the cable passes muster.
We ran every cable through our generator's test pattern and—surprise, surprise—They all perform exactly the same! Below you can see what the report looks like for an error-free cable, which was identical for every cable we tested.