If you want the best 40-inch TV you can buy, our top pick is the Samsung MU7000 (available at Amazon). This model is new for 2017 and delivers sharp 4K resolution, Samsung's newest smart platform, and head-turning brightness that can take full advantage of the next generation of HDR content.
It's a bit pricey with an MSRP of $700, but it's already on sale in many places and it's worth it if you want a premium TV. Of course, if you want to save some money there are plenty of other TVs in this list that are nearly as good for far less money, and you may also want to consider stepping up to a 50-inch or 55-inch model.
Either way, there are loads of 40-inch TVs that are just plain bad. I've personally tested at least one model from every series in this list, so I can vouch for the kind of picture quality you can expect if you stick with our picks. Without a doubt, these are the best 40-inch TVs you can buy right now.
Updated July 17, 2017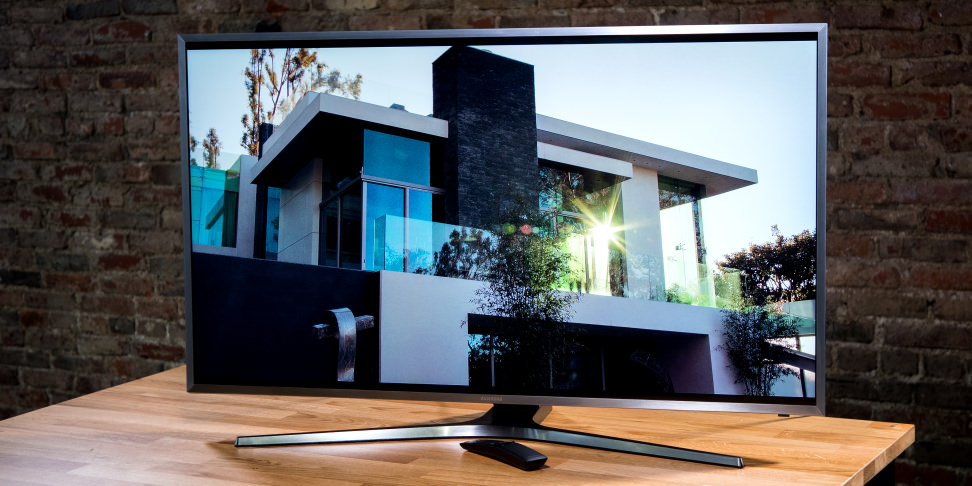 40-inch Samsung MU7000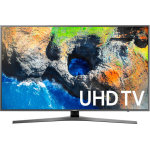 40-inch Samsung MU7000
Best Overall
The 2017 Samsung MU7000 series may fetch a pretty penny right now—the 40-inch MU7000 starts at $699—but it's the best choice if you want a truly premium 40-inch TV right now. This TV boasts the full suite of fancy extras, like 4K resolution, the latest Tizen-based Samsung Smart Hub platform, and HDR functionality. It's also an extremely handsome TV.
Of course, you're paying for a lot you may not totally need, like a full suite of HDMI 2.0-compatible ports, HDR-level brightness/color, or even the TV's snazzy design. But if you want a truly next-gen TV that should hold up well for years to come, this is the way to go. Read our full review
40-inch Vizio D Series (2016)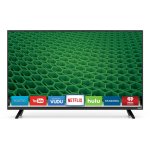 40-inch Vizio D Series (2016)
Best Value
The Vizio D Series was a huge hit in 2016 because it came in a ton of sizes for rock bottom prices, many of which came in both full HD and 4K/UHD resolutions. The 40-inch D Series is available in both full HD (1080p) and 4K/UHD resolutions, but we have to recommend the 1080p version for its affordability: you can find it for around $300.
With this product, you'll still get Vizio's full-array local dimming backlight system, but you don't get the "Smart Cast" system and the D Series isn't going to win any awards for its design. Still, if you're just looking for something simple and frills-free that still packs a punch, it's a great choice. Read our full review
40-inch Samsung KU7000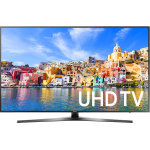 40-inch Samsung KU7000
The 2016 KU7000 series is quite similar to our "Best Overall" 40-inch MU7000, with Samsung keeping its naming convention stable from 2016 to 2017. The KU7000 delivers a similar list of features, including 4K resolution, HDR compatibility, and a pleasing design.
The difference? It's about $100 cheaper, a little harder to find now, and doesn't offer up the same level of HDR performance as the newer MU7000. But it's a good way to get that premium vibe and save a little cash. Just be aware that, compared to the MU7000, you don't get quite the same future-proof experience, though this should still look great for a few years. Read our full review
40-inch Samsung KU6300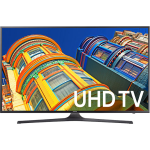 40-inch Samsung KU6300
The Samsung KU6300 Series is a step down from the KU7000, but you don't give up much in the exchange. The 40-inch KU6300 is available for about $500, and for that price you still get all the bells and whistles: 4K/UHD resolution, HDR compatibility, and Samsung's 2016 Smart Hub platform.
The KU6300 is also a very good-looking TV from a design perspective. Unfortunately, the 40-inch KU6300 has gone up in price since it launched, indicating it may be near the end of its life. We'd hunt around a bit, but if you can find one for under $400 then it's a great mid-range value. Read our full review
40-inch Hisense 40H4C1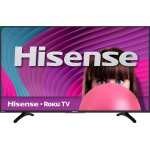 40-inch Hisense 40H4C1
This 40-inch Hisense is a particularly good choice if you want to save money, but also love streaming content. It has built-in Roku functionality, giving you access to a huge array of streaming options right out of the gate in an easy-to-use interface.
While the picture quality isn't the best we've ever seen, it's definitely good enough for the sub-$300 asking price, and the design isn't half-bad either. If you want a good all-around TV for short money, this is a solid pick. Read our full review