For most people, shopping for a TV is pretty simple: You find the biggest, best one at the lowest price. But if you spend more time with a PlayStation or XBox than watching sports or news, there's an extra element to consider when shopping for a TV. Beyond the basics of dark shadows, bright highlights, and rich colors, you also want low input lag. That's why our #1 pick is the Samsung KS8000 (available at Amazon) .
In short, input lag refers to the amount of time that passes between when you input a command and when the game responds to it. With lower input lag it's easier to respond to what's happening on the screen, which can save your bacon. The time is usually measured in milliseconds, so any extra image processing or scaling that has to happen can have a big impact.
So you want a fancy full-HD or UHD TV that's also good for gaming? Fear not. Using our own input lag testing methodology and cross-referencing resources like DisplayLag.com and Rtings, we've found TVs that not only introduce as little input lag as possible, but also look great while doing it.
Updated July 17, 2017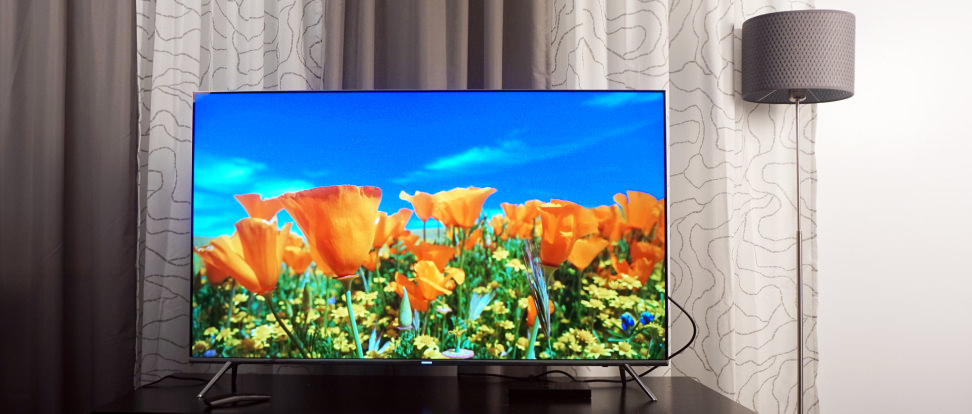 Samsung KS8000 Series
Best Overall
The Samsung KS8000 series (also known as the KS7000 outside the US) is available in 49-, 55-, 60-, and 65-inch sizes starting around $1,000. For that price, you get a 4K/UHD smart TV with incredible brightness and color saturation, as well as 4K resolution, snappy smart features, and excellent High Dynamic Range performance.
Despite all of its pomp and circumstance, however, Samsung's KS8000 series also happens to be an excellent choice for gamers. While it doesn't have the lowest LED LCD input lag on record, our own testing and that of some of our colleagues revealed an average input lag (in Game mode) around 30ms, even with HDR enabled. Some older, low-resolution games may do a bit worse, but this should be nearly imperceptible on newer games, whether you're playing a competitive match of Overwatch in 1080p or the 4K/HDR-compatible Gears of War 4.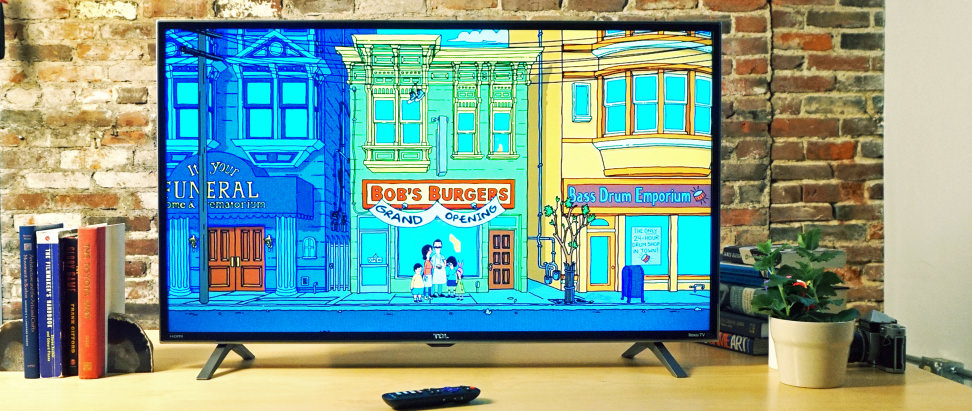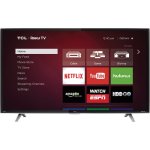 TCL FS3800/FS3850 Series
Best Value
While far from a premium TV, the TCL FS3800/FS3850 Series sets are simply a great choice if you're a gamer on a budget. The FS38 TVs are mostly 1080p sets (the 32-inch is 720p), but with the average lag hovering around 27ms, you're getting some of the lowest LED/LCD input lag you can find on the market.
The low price tags may have gamers wondering if they're trading picture quality for faster response time, but fear not; we reviewed the 50-inch FS3850, and found that it performed well with good contrast and accurate-enough colors for what you're paying.
Best of all, these TCL TVs include Roku's excellent, robust smart platform built right in.
While you likely won't need access to apps like Netflix if you're already using a modern gaming console, Roku remains one of the most easy-to-use streaming platforms around. This makes the FS3800 an extra smart purchase for the non-gamers in your life who'd rather not deal with your fancy game box just to watch Gilmore Girls.
Again, just be aware of the resolution differences if you're buying a smaller model in the FS3800 and FS3850 series. The 32-inch models are 720p sets, which are perfect for last-gen consoles but won't take advantage of the 4K output of the new PS4 Pro or the Xbox One S.
Samsung KU6300 Series
The Samsung KU6300 Series is available in an incredible range of screen sizes—40-, 43-, 50-, 55-, 60-, 65-, and even 70-inch options are available—at prices starting as low as $400. They're all 4K/UHD sets with smart features, slick designs, and HDR compatibility.
Of course, the KU6300's main draw for the gamer crowd is its low input lag. In Game mode, the TVs boast input lag results as low as 20 ms, with peaks around 36 ms, depending on the resolution and timing mode of the input.
The one downside here is that while the KU6300 is an HDR TV, it doesn't take full advantage of what HDR can do. It will play games in HDR, but it's not nearly as bright or colorful as something like Samsung's KS8000. Like with the KS8000 and most of the TVs on this list, this one's still best for Xbox One/PS4 or newer consoles with native outputs at 1080p or higher. Lower-resolution games will likely still look good, but there will be extra image processing involved to scale outputs up to 4K.
Vizio P Series (2016)
Another great choice for gamers, the Vizio P Series is one of the most valuable 4K/HDR sets around due to its great combination of core performance and low input lag. It's most comparable to the best-rated KS8000 series, but there are a couple caveats you should know about before jumping headlong into the 2016 P Series.
The 50/55/65/70 inch 2016 P Series TVs all deliver good input lag numbers, but you have to use the "faster" HDMI 2.0b/HDCP 2.2-compliant HDMI 5 input. It's marked on the TV, but if you own multiple consoles it's a hassle to have to switch. However, with that port you should see an average input lag of 20 ms or less with modern consoles, making the P Series a great choice for gamers.
Starting at $1,000 for the 50-inch model, the P Series gives you a 4K/UHD smart TV with both HDR10 and Dolby Vision compliance as well as the built-in Google Chromecast "SmartCast" system. You even get a decent little Android tablet to control the TV, so this one's a great choice for technophile gamers looking for a future-proof fraggin' machine.
Vizio E Series (2016)
Vizio's E Series continues to be one of the better TV values out there, and thankfully—like the much more posh P Series TVs—each E Series model this year (4K or not) delivers solid picture quality and low input lag, both. The E Series is available in a whopping number of screen sizes—15 or so, starting from a 720p 32-inch model for around $200 through a 4K 70-inch model for $1,300. But no matter how to slice the screen size, the prices tend to be very good, with input lag between 20-30 ms depending on the resolution of the particular E Series TV and the native resolution of the game console in question.
The one thing to be very aware of here is the high degree of variation in E Series TVs where 4K is concerned. If gaming is your main concern and you have a standard Xbox One or PS4, you're fine aiming for one of the more affordable 1080p options, like the E50-D1. However, there's also a 50-inch 4K version (E50u-D2), which is the better choice for Xbox One S or PlayStation 4 Pro owners. Double check the specs before you buy anything—and happy gaming!